Fans, former Cub stars get an early start on World Series rally
By Karie Angell Luc For Chronicle Media —

October 25, 2016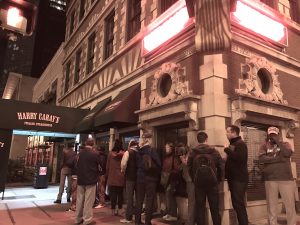 Cubs Fever began officially at 2:45 a.m on Oct. 25 for Marlon and Melissa Davis of Chicago who were first in line at Harry Caray's River North for the World Series Rally at 33 W. Kinzie St.
"I became a Cubs fan when I married my wonderful husband," said Melissa Davis, who arrived by special transport.
When the fans were dropped off on a 49-degree morning, they were surprised to be the first in line.
"We're here for the Cubbies!" Marlon Davis said.
Harry Caray's in River North opened at 4 a.m. to the public. The World Series Rally was slated to include Dutchie Caray, former Cubs Kerry Wood, Dave Otto and Steve Trout.
Performances by Wrigley Field organist Gary Pressy and National Anthem singer Wayne Messmer of Glenview plus appearances by actors and Second City alums Joel Murray and Joe Nuñez were fan treats.
The rally was scheduled to run until 10 a.m. Breakfast was served along with a happy hour from 7 a.m. until 10 a.m. (when the bar can legally serve alcohol) with $1.08 Budweiser drafts.
Harry Caray's was featuring glass case displays highlighting the number 108 phenomenon credited as being originated by Grant DePorter of Chicago, Harry Caray's Restaurant CEO.
"It's been 108 years since the Cubs last won the World Series and all of the signs are pointing to the number 108," DePorter said. "I've been predicting this year for a long time."
Circa 3 a.m., DePorter installed an oversized photo cutout of the late Harry Caray. That image was among the first smiles to greet fans as they crossed the threshold to Chicagoland sports history.
"Harry Caray is most definitely here in spirit," said Asta Gass of Chicago, Harry Caray's director of operations.
"I'm sure he would be so excited, he would be beside himself I'm sure," said Dutchie, wife of the late Harry Caray of how he might react.
"They remember him saying, 'As God made little green apples, it's going to happen.'  
"And this might be the year that we really do do the series. We're there.," said Caray.
Wood, a beloved Cubs pitcher who has remained involved with the team since his retirement, also was on hand.
"It's been an exciting time to be a Cubs fan. It's about everybody. It's about the fans, the generations of fans before us," he said.
"It's about the players before me. It's about the players that didn't get to see this, that didn't get to make it happen that tried year after year after year after year to make it happen. It's just been a long time coming. Chicago is well overdue and very deserving," Wood said.
Wilmette native and member of one of Chicago's most famous acting families Joel Murray said, "It's unbelievable to me. It's time."
When asked if he thinks a Cubs World Series win will change the city, Murray said,
"I think it won't change a bit. We'll all just be smiling a little bit more."
ChIcago legend Wayne Messmer of Glenview, who will sing at Friday's game, added, "We're kind of pinching each other. Everyone is in such disbelief."
Related content:
For Cubs fans, a night to remember forever
A tip of the hat to the Cubs World Series
Cubs ready to host the NLCS after historic comeback win
Bloomington first-grader to be Honorary Bat Kid for Chicago Cubs Saturday
Cubs to celebrate division title, fans hope hope for big things this postseason
Zobrist family loving being Cubs fans
Cubs have brightest outlook for 2016
— Fans, former Cub stars get an early start on World Series rally —