ICE raid of Chicago street-corner day labor site protested
By Jean Lotus Staff Reporter —

August 15, 2016
Aristides Banegas was waiting with a group of other men to pick up construction work at a street-corner laborer site on Chicago's North Side Aug. 5 when the group observed a blue Ford Explorer enter the parking lot at Belmont and Milwaukee, he said.
Banegas said two men with the word "Police" on their backs exited the car and demanded the waiting men show their "papers."
Banegas, a native of Honduras who has legal immigration status in the United States, told his account to about 70 people who gathered Aug. 9 to protest raids by the Department of Homeland Security Immigration and Customs Enforcement (ICE).
"I'm saying this is wrong," Banegas said through a translator. "We're here to look for work to pay for rent, to pay for bills."
Banegas has been working from the lot for 23 years, he said.  He described being grabbed by the arm and asked to show his state ID. Agents scanned fingerprints with a handheld biometric scanner. Three laborers were detained by ICE agents, Banegas said.
"They took some chains, and chained their arms and their legs and they put [them] in the car," he told the protesters. One man was detained for 71 hours over the weekend, in spite having Temporary Protective Status.
The corner has been a historic spot for 25 years where day laborers and employers negotiate work, said organizers. Waves of immigrants, mostly men, have worked from the site, including Poles, Latinos and others.
The protest was organized by Latino Union of Chicago with other groups who said the scanning of the immigrant's fingerprints without cause was a violation of the 4th Amendment. Latino Union filed a complaint with the DHS office of Civil Rights and Civil Liberties alleging ICE was "engaged in unlawful profiling and retaliation against day laborers for exercising their constitutional rights."
Organizers from Latino Union, Organized Communities Against Deportations and the #Not1More Campaign said the handheld fingerprint scanners are "a device … inherently used to target individuals for suspicionless fingerprinting," and called for the DHS to stop the practice.
Speakers called out Chicago's ICE Director Richard Wong of the Chicago Enforcement and Removal Field Office for reckless raids that allegedly targeted Latino men without probable cause.
"I would like to ask all public officials to speak on our behalf," Banegas said. "As a day laborer I ask for better treatment. We are here in this country looking for a better life, not to be mistreated."
Former detainee Anibal Fuentes of Albany Park told the group how he was detained by ICE.
"Three years ago ICE agents entered my house and used a biometric machine to take my fingerprints, and put me in detention," he said through a translator. "If it wasn't for the help of the community, I would be separated from my son."
Ald. Carlos Ramirez Rosa (35th Ward) told the crowd he represented thousands of immigrants in his ward, which covers the Avondale and Logan Square neighborhoods.
"How interesting that Immigration and Customs Enforcement was here, in an immigrant and Latino community, asking people for their fingerprints," Ramirez-Rosa said Tuesday. "But they didn't go downtown and ask the men in their suits for their fingerprints. This is racism," he said.
Ramirez Rosa said he supported proposed ordinances in the Chicago City Council that would, "completely divorce the city of Chicago from ICE." Chicago and Cook County are already "sanctuary" areas.
"[Council members] have said these ordinances need to pass in case there's a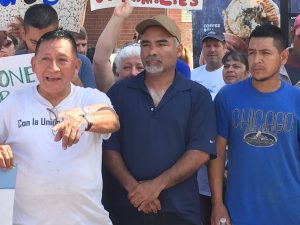 President Trump. But let's look at the reality: Under President Obama we've had 2 million deportations."
ICE Director Wong said recent 2016 raids have been "the latest effort by ICE to arrest and remove convicted criminal aliens" including gang members.
But Tania Unzueta, spokesperson for the #Not1More Campaign said the men detained did not fall into that category.
"I can't speak to why ICE says they were targeting people. I can tell you that none of the people detained had anything to do with gangs, and were not detained or taken into custody because of gang-related issues."
The coalition of immigrants rights groups also announced they would be filing a Freedom of Information Act (FOIA) request with the Chicago Police Department to try to determine the extent of local CPD involvement with the Friday raid.
"We want transparency and accountability," said Analía Rodriguez, director of the Latino Union.
Read the current issue of the Cook County Chronicle
Free digital subscription to the Cook County Chronicle
— ICE raid of Chicago street-corner day labor site protested    —