Making connections along suburban Metra lines
By Igor Studenkov For Chronicle Media —

April 17, 2017
Like most commuter rail systems, Metra's 11 lines follow the hub-and-spoke pattern, going from the suburbs to the city.
While this set-up is useful for riders commuting to work, it becomes a problem if one has to travel from one suburb to another. There aren't many ways to transfer from one line to another without going all the way to Downtown Chicago and back out again. There are Pace and CTA bus routes that make up for the gaps, but even then, there are still gaps in the service
The issue of inter-connectivity may become a bigger concern if the current trends hold. According to Metra's most recent state of the system report, a number of riders who use the system to commute to the jobs in the suburbs is increasing, especially along the lines serving North Shore suburbs.
The growth of employment in the suburbs "left many commuters with limited transit accessibility to jobs."
All of the current Metra lines trace their roots to railroad lines, which were built in the second half of the 19th century that were designed to move both cargo and passengers between the suburbs and the city. By the start of the 20th century, some suburb-to-suburb connection emerged in the form of electric-powered interurban trains, For example, Aurora, Elgin and Fox River Electric Company ran an Elgin-Aurora Line until 1935. Later, bus routes would fill some of the gaps.
For most of their existence, different lines were owned by separate companies, so there was little incentive to create transfer points even at spots where different tracks crossed. But some connections do exist. River Grove station, which serves the eponymous suburb, is the spot where North Central Service line, which serves the northern suburbs, splits off from Milwaukee District West Line, which serves the western suburbs. In Blue Island, Rock Island District Line's Vermont Street station is located across the street from the Metra Electric Line Blue Island branch's Blue Island station. Since the branch only runs Monday-Saturday, that connection isn't available on Sundays.
Further from Chicago, Libertyville is served by both North Central Service and Milwaukee District North Line, and both have stations called Prairie Crossing within the walking distance of each other, near the spot where the two lines cross tracks. In the southwestern suburbs, Joliet Union Station currently serves as an endpoint for both the Rock Island District line and the Heritage Corridor, which serves northwestern suburbs.
Unlike all other Metra lines, Heritage Corridor is rush hour only, with trains going from Joliet to Chicago in the mornings and from Chicago to Joliet in the afternoon, so the utility of that connection is limited.
Within the Chicago city limits and nearby suburbs, riders can take advantage a combination of Chicago Transit Authority buses and trains, as well as CTA buses, to move between lines without heading all the way downtown. For example, Milwaukee District North Line's Mayfair station is located within walking distance of Montrose Blue Line El station. The next Blue Line station, the Jefferson Park El station, doubles as Union Pacific Northwest Line station.
But the further one moves from Chicago the more sparse the bus service becomes. But some links do exist.
In the western suburbs, Pace route 801 links together Milwaukee District North Line's Elgin station and Union Pacific West Line's Geneva station, while route 802 links Geneva station to BNSF Line's Aurora station. In August 2015, Pace extended Route 550 further north, creating a link between Elgin station and Union Pacific Northwest Line's Crystal Lake station.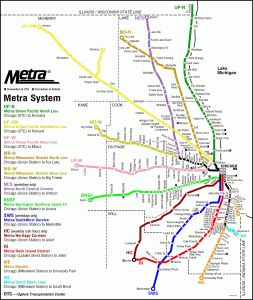 Those links help save riders time. According to the official schedule, while the trip by Meta alone would take around two hours, Route 802 would take 30-40 minutes, while Route 801 would take 40-50 minutes.
Some connections are more limited. The Route 806 is a rush-hour only service that links together the Crystal Lake station, Union Pacific Northwest Line McHenry Branch's McHenry station and Milwaukee District North's Fox Lake station. From Fox Lake, riders can take Route 570 to the College of Lake County, where they can transfer to Route 572, which would connect them to Union Pacific North Line's Waukegan station.
In the southwest suburbs, Route 834 links together Joliet Union Station and BNSF Line's Downers Grove station, also stopping at the Heritage Corridor's Lockport station. Route 832 links together the Lockport station and Southwest Service Line's 153rd street/Orland Park station, and riders can can take it to Orland Square and transfer to Route 364, which links together Rock Island District Line's Oak Forest station and Metra Electric Line University branch's Harvey station.
In the early 2000s, Metra considered creating what would be its first suburb-to-suburb line. The Suburban Transit Access Route (STAR) line would use Elgin, Joliet and Eastern Railway tracks and the median along I-90 and 290 highways, traveling through Joliet, Crest Hill, Plainfield, Naperville, Warrensville, Elgin, Hoffman Estates, Schaumburg, Rolling Meadows, Arlington Heights and Des Plaines, and linking together the lines that served those areas. As of 2003, the project was estimated to cost $1.1 billion. However, as of 2012, Metra decided not to pursue the project any further due to lack of funding.
The ability to make connections between lines without going downtown could become more important in the coming decades. The 2016 State of the Metra System report shows that, while most riders still use trains to get downtown, the number of riders who get off in the suburbs or further-flung Chicago neighborhoods is growing. On Union Pacific North line, as of 2014, 20 percent of riders boarding during morning rush hours are taking the train to the suburbs. Davis Street station in downtown Evanston is cited as a major destination, as are Lake Forest and Braeside stations. The report predicts that those numbers will increase for all stations in the North Shore suburbs, as well as in the suburbs north of Waukegan.
On Milwaukee District North Line, the Lake Cook Transportation Management Association, a nonprofit association of employers in Lake and Cook counties, works with Pace and Metra to provide Shuttle Bug services — a system of rush-hour shuttles that link together Metra stations with major area employers. As the result, the lines, Lake Cook Road station has seen the highest number of morning arrivals in the entire system outside of downtown Chicago.
On Metra Electric line, almost as many people get off the station serving University of Chicago and other parts of Hyde Park neighborhood as they did downtown.
In other lines, the increases are smaller, but still evident. On North Central Service line, Rosemont station is a major destination, while BNSF line shows significant number of riders taking Metra to Naperville, Aurora and Hinsdale.
On Union Pacific Northwest Line, all stations between Des Plaines and Barrington have seen increases. The report also states that areas near the northwest end of the line, around Crystal Lake and Pingree Road stations, would add nearby 40,000 jobs by 2040. At Union Pacific West Line, Oak Park, Elmhurst and Wheaton stations are major destinations, and the report suggests that there's potential for growth.
"In particular, the DuPage Business Center in West Chicago has the potential to become a significant employment draw along the UP-W Line," the report stated. "The Center's master plan calls for 5.5 million square feet of industrial space on 800 acres when the property is fully built out."
The Heritage Corridor line, Rock Island District line and Southwest Service Line were singled out in the report as having virtually no reverse-commuting. The Heritage Corridor's rush-hour-only service makes it impossible. For remaining two lines, the report suggests that there hasn't been as much employment growth in the areas they serve as there has been among other lines.
The report suggests that Southwest Service would get more reverse commuters in the future.
"In SWS station market sheds from 179th Street/Orland Park to Manhattan, CMAP projects a 356 percent increase in employment by 2040," the report stated. "Business expansion is already visible throughout the corridor, following completion of the I-355 South extension in 2007. In addition, Silver Cross Hospital's relocation to New Lenox, completed in 2012, could have an impact on commute trips on the SWS Line."
The same could potentially be true for the Rock Island District Line
"Joliet, at the end of the RID Line, is Illinois' fourth-largest city and was one of the fastest-growing cities in the state between 2000 and 2010," the report stated. "Areas near the New Lenox, Hickory Creek and Mokena Stations, just east of Joliet, also expect significant gains in employment and population."
— Making connections along suburban Metra lines —