Vehicles hijacked in Chicago's Harrison district
Chronicle Media —

April 22, 2019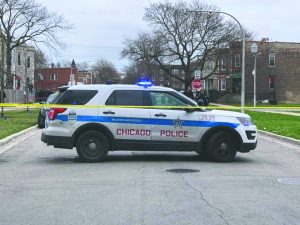 Chicago police are searching for men who have committed three early morning vehicle hijackings within the past month in the city's Harrison police district.
Police said between two and five men have robbed victims at gunpoint and taken their cars in the 11th Police District.
The aggravated vehicle hijackings occurred at:
1 a.m. March 29 in the 3000 block of West Madison.
4 a.m. April 9 in the 4400 block of West Jackson.
4:45 a.m. April 14 in the 4600 block of West Madison.
The men approached the victims in their cars and ordered the drivers out at gunpoint. The offenders then fled in the stolen cars.
In one of the incidents, the offenders rear-ended the victim in a white Dodge Durango and then confronted the victim at gunpoint.
The offenders are described as between two and five black men, standing 6 feet tall. In one incident, they were wearing T-shirts with unknown writing on the shirts, blue jeans, and ski masks.
In another incident, one of the offenders was described as having dreadlocks.
Police offered the following tips to avoid being the victim of a carjacking:
Be aware of the situation and alert neighbors in the area about the crimes.
Report any suspicious people or activity in the area.
Pay special attention to any people loitering in the area.
Anyone with information about the crimes or offenders should call the Chicago Police Department's Bureau of Detectives for Area North at 312-744-8263.