DeKalb seeks feedback from residents on potential Metra rail extension to city
May 19, 2023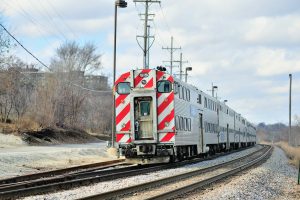 The City of DeKalb is seeking feedback from residents on possible Metra commuter rail service to the city.
On May 15, the city's DeKalb Metra Extension Feasibility Study posted an invitation on Twitter inviting participation.
"The project team for the DeKalb Metra Extension Feasibility Study wants to hear your feedback on the possible service extension to DeKalb," the city stated. "A brief community survey can be completed (at): http://cityofdekalb.com/metra
First phases of the Metra Extension study revealed in April found potential riders include more than 10,000 people who travel daily between DeKalb County and communities along the Union Pacific-West rail line.
The data is among the key findings of the first two phases of the feasibility study being created in partnership between the city and Northern Illinois University.
These approximately 10,800 people traveling daily from DeKalb County along the Union Pacific West Line are part of the potential ridership for an extension of commuter rail service from Elburn to DeKalb.
"We are very excited to see such a large number of people already traveling in the UP-West corridor," said City Manager Bill Nicklas. "A commuter rail extension would provide these commuters with a safe, reliable option for traveling to employment, entertainment and higher education destinations, including those here in DeKalb."
A significant source for ridership would come from Northern Illinois University. The feasibility study has found 64 percent of NIU students come from the six-county Chicago Metropolitan Area, including 14 percent from communities along the UP-West line. Additionally, 17 percent of NIU employees live along this line.
Despite many of its students and employees traveling in the UP-West corridor, NIU is the largest university in the state without passenger rail service. In fact, the top five Amtrak stations in the state each connect to a nearby university.
"Northern Illinois University students, faculty and staff would make up a substantial share of the potential ridership for the service extension," said Nicklas. "And the existing stations serving college towns demonstrate the mutually beneficial relationship between passenger rail and higher education facilities."
Capital needs and operational costs are being explored and will be detailed when the third and final phase of the study is complete.
It is known the project will require construction and use of 15 miles of third track along with other infrastructure upgrades. There are federal and state grants available to help fund these improvements, and the study will identify those programs.
Also, several models for operating revenue are being analyzed, and a range of scheduling options for the commuter service are being considered, from four to 16 round trips each weekday, along with the potential for weekend service.
Since January, a working team representing the City, NIU and Sam Schwartz Consulting, which is creating the study, has been meeting every two weeks to compare and discuss data as it is collected. Meetings have been held with representatives from Metra and Union Pacific, and community input is being gathered through a survey of large employers and two informational booths being planned for April.
In May, a public meeting will be held on the completed feasibility study to share its findings with the community.