NIU cuts out-of-state tuition to lift enrollment
October 23, 2017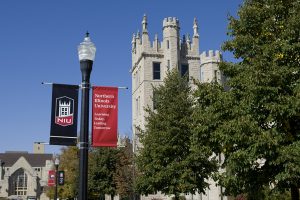 With enrollment down by more than 7,000 students in the past decade, Northern Illinois University is looking to recruit out-of-state for a boost.
The NIU Board of Trustees last week approved a new domestic rate structure for tuition that will set out-of-state tuition for domestic students at the equivalent of the in-state tuition rate, effectively making NIU more affordable to U.S. students from outside Illinois.
The change will apply to domestic students enrolled as NIU undergraduates or through the NIU Graduate School. It will take effect beginning with the fall 2018 semester.
Freshman enrollment this fall was up for the first time in six years, but NIU still reported an enrollment of 18,042 in September, the eighth straight  year of declines. The university had a enrollment of of 25,242 in 2007. 
Currently, full-time domestic undergraduates from outside of Illinois are assessed roughly double the in-state tuition rate, with the exception of students from six Midwestern states who pay a premium of 40 percent above the in-state rate. Similarly, out-of-state full-time domestic students enrolled through the Graduate School are assessed higher tuition rates than their Illinois peers.
Board Chair Wheeler Coleman hailed the change as an exciting moment for the university.
"We believe that moving to this new structure is better for all of our students, as well as the university and our state," he said.
Sol Jensen, NIU vice president for Enrollment Management, Marketing and Communications, said the change will enhance enrollment by making NIU a much more attractive option for students from around the country.
"When you look at other universities in the greater Chicago area—public and private—this immediately makes us a far more affordable and accessible alternative," Jensen said. "We offer outstanding programs in high-demand fields in a traditional university setting that sits on the doorstep of Chicago. Students get to enjoy the lifestyle of a large, rural Midwestern university, while still having the opportunity to experience internships, employment and the cultural life of one of the world's great cities. We believe it is a combination that students from other states will find very attractive."
Jensen also noted that Illinois has led the nation in population decline in recent years and is among the largest net exporters of college freshmen to other states. Ultimately, the change should help strengthen the state's workforce by attracting talented individuals who are then more likely to live and work in the region, he said.
While the prospect of attracting more out-of-state students is exciting, Freeman said the new tuition-rate structure in no way signals a change in the university's traditional mission.
"We will continue to focus the majority of our recruitment efforts on expanding enrollment of students from our home state—that won't change," she said. "This will not reduce opportunities for students from Illinois to enroll at NIU, and will only enrich the experience they receive by making our campus more geographically diverse."
While the Board of Trustees today approved the new tuition structure, actual tuition rates for FY19 will be proposed in December.
—NIU cuts out-of-state tuition to lift enrollment–