Retiring owners, fans say they'll miss Sycamore's Riccardi's Red Hots
By Jessi LaRue For Chronicle Media —

March 30, 2016
Frank Riccardi loves a good hot dog.
He considers himself almost a connoisseur of hot dogs and has enjoyed them since his childhood.
His father always talked about opening a hot dog cart business, but never did. Ten years ago, Frank's wife Suzi bought him a cart of his own. In 2008 they expanded by opening a storefront for Riccardi's Red Hots next to the Sycamore State Theater, 420 W. State St.
"We had no restaurant experience," Frank said. "We wanted it to feel like you're eating hot dogs in your living room."
Now, he and his wife Suzi are retiring from the popular business, located at 418 W. State St. The Riccardi's learned last weekend that the property has been leased to a new tenant and the diner's last day is April 30.
When the owners posted the news on Facebook, it received almost three hundred Facebook shares. Among more than 150 comments included notes like "best deep fried pickles!" "sad," and "that place is the best!"
It wasn't an easy decision for Frank and Suzi to make, but with Frank's health issues, including diabetes and enduring two heart surgeries, Suzi, the main operator of the restaurant, realized she needed to spend more time at home.
"If someone's interested in keeping it going, we're totally up for that," Suzi said. "It was a real struggle to decide to close. I'm really still torn but I think it's the right decision. But, I would really love to see it continue. We put a lot of sweat in here, and a lot of time."
The Riccardis said they would be interested in a couple of options for their business: a straight equipment sale, in which someone can purchase their restaurant equipment, or a business sale, which would give the buyer the entire business: the name, image, recipes and more. They originally hoped their son Tony, who is a manager of the restaurant, would take it over.
"It doesn't generate enough volume for younger people," Frank said. "We take out what we need, but he needs more, he's starting a family, and wanting to buy a house."
But Tony has enjoyed his time with the restaurant.
"It's a lot of fun, especially on the late shift. You meet so many interesting characters," Tony said. "I'll definitely miss this place."
Everything about their business, including the "interesting characters" dates back to a decade ago when Frank first started selling his hot dogs out of a cart in downtown DeKalb.
On the weekends he parked his cart near what was once Otto's, located on Lincoln Highway, and sold hot dogs to people leaving the bars. His food became so popular that Otto's invited him inside, Frank said.
When the small storefront next to the Sycamore State Theater opened eight years ago, Frank and Suzi decided to try out a "grab and go" style shop.
But people wanted to hang out, Suzi said, so when the larger storefront opened on the opposite side of the theater, they took the plunge and moved into the larger restaurant space, expanding their space by four times. They found themselves serving the bar crowd once again, this time in downtown Sycamore.
Frank said most Saturday nights around 2 a.m. there's a line out the door of people wanting to get a hot dog.
"We kept the concept of selling hot dogs to drunks because I thought it was a good idea," Frank said. "If they spend a couple hours here eating hot dogs, they're not on the road after drinking."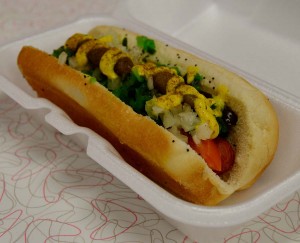 Frank and Suzi said they have always tried to offer a warm, personal experience for their customers. Suzi said she tries to work at the register so she can speak with everyone who comes in. She said she may not remember everyone's orders, but if someone comes in more than a couple of times, she'll remember his name.
"She can't go through Walmart without people recognizing her," Frank said with a laugh.
Regular customer Eric Mapes said he'll miss the restaurant's personality and small-town feel. He regularly drives from his home in Loves Park to have dinner at the Sycamore diner.
"The people are great," Mapes said of the staff. "The food is unique and always has a great flavor. You don't get that anywhere else."
But hot dogs aren't the only menu item. One of the most popular items is the bacon egg cheeseburger, Suzi said. The menu also offers unique and throwback items like fried bologna, The Spaminator (half a can of deep fried Spam on a bun,) and the six-feet-under burger, which includes 10 quarter-pound beef patties and 12 slices of bacon.
They also offer The Elvis, a peanut butter and banana sandwich, which touches on the diner's 1950s theme. Diners can enjoy golden oldies tunes, and order a kids meal in a classic car-shaped box. The checkered floor, "Three Stooges" posters and vinyl records dangling from the ceiling also add to the retro theme.
"I like the '50s; it was simple," Suzi said. "It brings you back to good times."
Although the Riccardis feel bittersweet about their retirement, they're also planning some good times of their own. They're planning their first vacation in almost 30 years, a two-week trip to Canada.
Suzi said she wants all customers to know that they've appreciated their business and time spent at their diner and hopes in the last few weeks people can "get their last fill."
"It's been a lot of fun," Frank said. "Thank you to everyone."
— Retiring owners, fans say they'll miss Sycamore's Riccardi's Red Hots  —