Axe throwing trend takes off in the suburbs
By Kelli Duncan for Chronicle Media —

December 27, 2019
Combining axe throwing and alcohol may seem like a recipe for disaster, but Mohsin Ali says the new trend is not as risky as it seems.
"People think axe throwing is going to be so dangerous," said Ali, owner of Naperville's Axe Zone Throwing Lounge, "But any sport is dangerous if you don't play the right way. You just have to follow the rules."
Naperville's Axe Zone Throwing Lounge, 1592 W. Ogden Ave., is one of many such facilities popping up across the region as the humble hand tool — in use for thousands of years — is now being thrown for fun.
Meanwhile, Bull and Bear Axe Throwing (formerly Kill Shot Axe Throwing) plans to add two new locations — one in Stratford Square Mall in Bloomingdale and the other in the Massacre Haunted House in Montgomery, according to a statement on their website.
Bad Axe Throwing has over 40 locations throughout the United Kingdom, Canada and the United States, including two locations in Chicago as well as one in Aurora at 1022 N. Farnsworth.
Last spring, Chill'Axe Throwing announced plans to open in Aurora but has yet to disclose when they will officially open their doors.
"People have seen darts, bowling, all that is old news," Ali said. "I think people want a change and axe throwing is a very unique, fun activity."
His favorite part? Hearing the thud of the axe sinking into the wooden target.
"Trust me, when that axe hits the target, hits into the wood, it's a different feeling … very satisfying," he said.
Ali said he opened his first Axe Zone location in Schiller Park about one year ago and has plans to open another near Loyola University.
The Naperville location is in its fourth week of operation and Ali said that, thankfully, they have not had any safety issues there or in Schiller Park. He said they have trained coaches who give safety orientations when guests arrive and monitor groups to ensure they are throwing correctly.
"We give them about a 10-minute overview before we even let them start throwing where we cover where to stand, how to throw the axe, different techniques and different games they can play," he said.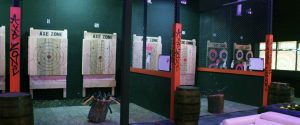 Ali said he recently opened a lane where guests can throw knives at targets, but it has not been very popular.
"People definitely prefer the axe throwing," he said. "they maybe think knife throwing is too dangerous."
Ali said they are in the process of obtaining a liquor license and will be building out a bar at the front of the venue. He added that, once they do begin serving alcoholic beverages, guests will be limited to two drinks each.
Axe Zone does not have a minimum age requirement, but requires parental supervision of minors at all times.
"We have kids who are five years old who come to play," he said. "We just make sure that the kid is strong enough to hold a two and a half pound axe."
The facility welcomes larger groups for birthdays, bachelorette parties and other events. They allow groups to bring their own food and decorations.
"One special thing we do around birthdays is we have a balloon on the target and the birthday boy or girl can throw an axe to pop the balloon," Ali said.
Axe Zone Throwing Lounge is open Tuesday-Sunday. Ali said they allow walk-ins but recommended making a reservation online at axezonelounge.com.