Aurora police chase ends in crash and injuries
By Erika Wurst For Chronicle Media —

March 28, 2017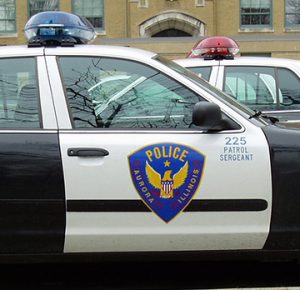 The Kane County Sheriff's Office and Aurora Police Department are continuing to investigate a pursuit and crash that left two people injured in Aurora on Monday, March 27.
According to Kane County Sheriff's Department Director of Administration Patrick Gengler, a deputy spotted a black Ford Fusion speeding north on Lafayette Street in Aurora around 3:35 p.m. on Monday.
When the deputy attempted to stop the vehicle, the driver fled, turning south on Route 25 and continuing toward Ashland Avenue in Aurora where he struck a traffic signal pole on the southeast corner of Ashland Avenue and Route 25.
The pursuit lasted about two minutes.
Gengler said that following the crash, the vehicle's driver, a 38-year-old man, fled the scene on foot but was taken into custody a short time later. He was taken to an Aurora hospital where he is being treated for injuries.
The only other person inside the vehicle, a 37-year-old male front-seat passenger, suffered potentially life-threatening injuries during the crash and was transported to an Aurora hospital for treatment.
Due to the ongoing nature of the investigation, and the fact that charges have not yet been authorized, the sheriff's office is not releasing the names of the subjects involved, Gengler said.
"At this point the investigation is focusing on why the driver fled when the deputy attempted to stop him and determine what charges might be sought as a result of the pursuit and crash," Gengler said.
Due to the injuries to the front seat passenger, per Illinois State statute, an independent agency will conduct the investigation. This investigation has been turn over to the to the Aurora Police Department.
— Aurora police chase ends in crash and injuries —