Fire severely damages Geneva home, family dog killed
Chronicle Media —

October 27, 2016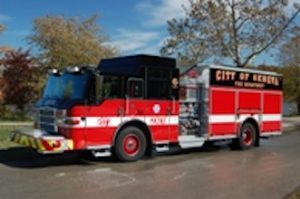 A family dog was killed in a severe house fire Oct. 26 at 702 Redwing Drive on Geneva's west side.
The Geneva Fire Department responded to the call at 1:53 p.m. Nobody was home when the fire ignited, but the homeowners called 911 after finding their house on fire as they returned home.
Firefighters found thick, dark smoke coming from the two-story house with heavy fire visible in the rear of the home, according to the fire department.
The fire crews mounted an aggressive interior fire attack using multiple hose lines and had the blaze under control by 2:36 p.m., according to the fire department.
One firefighter sustained a minor injury while fighting the fire.
The cause of the fire is under investigation. Damage estimates still are being compiled, but the home sustained severe damage and is uninhabitable.
Firefighters from Batavia, St. Charles, Elburn, West Chicago and the North Aurora fire departments provided assistance to Geneva at the scene.
The South Elgin and Winfield fire departments filled in at the Geneva fire stations and responded to several other fire and medical calls in the City during the duration of the fire.