Kane County news briefs
June 12, 2019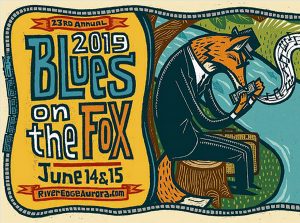 AURORA
Blues in the Fox returns to downtown
Blues on the Fox 2019, RiverEdge Park, 360 N. Broadway, Aurora, 6-10 p.m. Friday and Saturday, June 14 and 15. Twenty-three years ago a seemingly simple music festival began. It honored the historic 1930s blues recordings that took place at the Leland Hotel in Downtown Aurora. For more information, call 630-896-6666.
AURORA
Brian Wilson cancels June tour, including RiverEdge park stop
Former Beach Boy Brian Wilson has cancelled a series of June tour dates, including a June 23 stop at Aurora's RiverEdge Park.
In a recent post on his Facebook page, Wilson said he was feeling "mentally insecure" and planned to rest and recover.
"In the last year or so I've had 3 surgeries on my back," he wrote. "The surgeries were successful and I'm physically stronger than i've been in a long time. However, after my last surgery I started feeling strange and it's been pretty scary for awhile. I was not feeling like myself."
All tickets will be refunded in full to the purchaser's original form of payment.
If paid with cash or gift card, a check will be mailed. If paid with an account credit, the credit will be reissued to the user's account.
Refunds were already being processe. Credits will post immediately, and refund checks will mail within 1-2 weeks.
KANE COUNTY
Health Department says more than 300 exposed to measles
Kane County Health Department officials said they have identified more than 300 people who may have been exposed to the measles virus at six locations in central Kane County between May 20-24.
Health Department officials said the case confirmed on May 28 is no longer infectious, but the department is continuing intensive efforts to ensure the disease is not spread.
Uche Onwuta, Division Director of Disease Prevention, said that as of June 6, the Health Department is actively monitoring about 70 people daily for symptoms.
"If one of these contacts does become infected with measles, the whole process begins again, and each of that secondary case's contacts must be identified," she said. "Obviously, limiting the number of people being exposed to a measles case greatly reduces the chance that this virus will spread."
The person with the confirmed measles diagnosis was at six locations during time periods including the At Home store, Best Buy, Colonial Cafe and Meijer on Randall Road and Northwestern Medicine Regional Medical Group St. Charles offices on Foxfield Road in St. Charles.
Any person who was at the locations and is experiencing symptoms should call their healthcare provider before going to a medical office or emergency department so that special arrangements for evaluation can be made to protect other patients and medical staff from possible infection.
KANE COUNTY
Repair work set to begin this week on Fabyan Parkway
Drivers in central Kane County can expect delays this summer and fall, as the Kane County Division of Transportation works to repair the Fabyan Parkway bridge over the Fox River.
Repair work is scheduled to begin this week with anticipated completion date in December.
Work will consist of median and deck removal and replacement, light pole cleaning and painting, and bridge structural repair and maintenance. The work will be conducted in three stages — and traffic will be down to one lane for most of that seven-month time period.
The first stage will be median removal, which will reduce traffic on Fabyan Parkway to one lane each direction for about eight weeks.
"Subsequent stages will also reduce Fabyan Parkway to one lane of traffic in each direction until the project's completion." KDOT officials said in a statement. "As this portion of Fabyan Parkway can experience heavy traffic, longer than normal traffic delays are expected during construction."
Motorists are to be cautious and be alert for new lane configurations as well as equipment on the bridge and workers walking within the work zone.
Questions and concerns regarding this work may be directed to KDOT Project Manager David Boesch at 630-845-7875 or boeschdavid@co.kane.il.us.
AURORA
Plano man charged with felony drug possession, resisting arrest
Tremaine Jyles, 25, of the 3000 block of Hoffman Street, Plano is being charged with felony possession of a controlled substance and resisting arrest fter police were called to investigate a disturbance between Jyles and a 20-year-old Aurora woman.
At 4:45 p.m. Thursday, May 30, members of Aurora Police Department's Special Operations Group were on patrol in the area of State St. and Fourth St. when they were flagged down by a citizen who reported a quarrel between a male and female near a car.
The officers located the couple in the 400 block of State and observed what appeared to be a domestic disturbance between Jyles and the female.
As officers attempted to intervene, Jyles reportedly pulled away and resisted the officers, finding himself under arrest for resisting/obstructing a police officer, a Class A misdemeanor.
As the officers searched Jyles, they located a bag of suspected cocaine in his pocket, and another bag lying on the ground near the disturbance. Jyles was also charged with possession of a controlled substance, a Class 4 felony, and taken to the Aurora Police Department, where he would await arraignment.
The female, who was not injured, declined to pursue charges against Jyles for this incident.
PLATO TOWNSHIP
Authorities say duck or bird  may be cause of fatal accident
The Kane County Sheriff's Office said a large duck or bird might have caused a driver to lose control of his vehicle early on June 6 on Plank Road, killing the driver and injuring his passenger.
According to a Sheriff's Office news release, deputies responded at around 12:35 a.m. to a report of a traffic crash with injuries on Plank Road between Switzer Road and Russell Road in unincorporated Plato Township.
The initial investigation indicates that a 2004 Chevrolet Impala driven by Aaron Beason, 20, of Burlington was traveling east on Plank Road when Beason tried to avoid a large bird or duck that was in the road.
Investigators said Beason lost control of the Impala, causing it to roll over several times.
The Sheriff's Office said Beason was not wearing a seatbelt and was ejected from the vehicle. His passenger, 20-year-old Semaj Jackson of Burlington, was wearing a seat belt and was not ejected from the vehicle.
Both were transported to AMITA Health St. Joseph Hospital in Elgin, where Beason was pronounced deceased. Jackson sustained minor injuries, officials said.
The crash remains under investigation by sheriff's detectives and members of the Kane County Accident Reconstruction Team.
Plank Road was closed between Switzer Road and Russell Road for about three hours while the crash was investigated.
GENEVA
City plans redevelopment of historic Mill Race property
The city of Geneva and the Shodeen Family Foundation have commissioned a team of planning, architecture, engineering and marketing economics experts led by Hitchcock Design Group to plan for the redevelopment of the former Mill Race Inn property.
Working together as co-sponsors, the city and Shodeen expect the two-phase, five-month planning process to produce a consensus redevelopment strategy and appropriately entitled Preliminary Development Plans that the Shodeen Family Foundation will use to develop the property.
The Shodeen Family Foundation owns the parcels along the east banks of the Fox River and is the contract purchaser of the property at the southwest corner of State Street and Route 25.
The Mill Race Redevelopment website has been launched and provides the scope of the project, supporting documents and answers to frequently asked questions.
Public participation is a critical component of the planning charrette. Residents and stakeholders can share their feedback via an online survey available on the website and attend the following community sessions on June 24, 26 and 27 at Riverside Receptions & Conference Center, 35 N. River Lane:
To stay connected with the Mill Race redevelopment process, residents can subscribe to receive "de at 630-232-0814 or Economic Development Director Cathleen Tymoszenko at 630-232-7449 or ctymoszenko@geneva.il.us.
GENEVA
Four Cougars named as Midwest League all-stars
The Midwest League has announced the rosters for the 2019 Midwest League All-Star Game, which will be held on June 18 Four Winds Field in South Bend. Ind..
Four Cougars players have been selected to represent the Western Division:  infielders Blaze Alexander and Buddy Kennedy, outfielder Alek Thomas as well as pitcher Blake Workman. Alexander and Thomas have been selected for the starting lineup.
Thomas will start in the outfield for the Western Division team. As of June 5, he leads the Cougars in multiple categories with five home runs, 24 RBI and 38 runs scored. The 63rd overall pick in the 2018 MLB Draft out of Mount Carmel High School in Chicago is currently ranked by MLB.com as the D-backs seventh-best prospect.
Alexander will start at second base for the West. Currently ranked as the D-backs ninth-best prospect, his 20 RBI sit third overall for the Cougars.
Kennedy currently leads the team with a .317 batting average and is second overall with 22 RBI while Workman has the lead among Cougars pitchers with five saves thus far. Over 26 innings, he has recorded 38 strikeouts with a 1.73 ERA.
AURORA
Search leads to seizure of drugs, jailing of Aurora man
An Aurora man remains behind bars after a search of his home results in the seizure of cocaine and ecstasy.
Markus Russell, 31, of the 1400 block of Golden Oaks Parkway, Aurora, was arrested last weekat his home after members of the Aurora Police Department Special Operations Group executed a search warrant for drugs there.
At 6:15 p.m., May 30, SOG executed a search warrant at the home of Markus Russell and discovered just over 60 grams of powder and crack cocaine, two ecstasy pills, and other drug-related equipment.
Russell, who was home at the time of the search warrant, was taken into custody without incident and charged with the following offenses:
Manufacture/Delivery of Controlled Substance (Class X Felony)
Possession of Controlled Substance Greater Than 15 Grams (Class 1 Felony)
Possession of Ecstasy (Class 4 Felony)
Russell was transported to the Kane County Jail to await arraignment.
Police noted that Russell was one of 12 charged in "Operation Fallen Angel," a 2011 joint investigation between the Aurora Police Department and the FBI. At the time of this arrest, Russell remains on federal probation for charges related to that incident.
The Special Operation Group deals primarily with gang, narcotics, and vice-related criminal activity in the city of Aurora. SOG conducts patrols of neighborhoods known for drug/gang related crimes as well as criminal investigations.