FBI fugitive could be in southwest suburban area
Chronicle Media —

March 12, 2018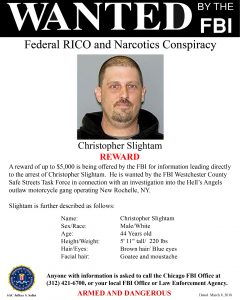 The FBI is asking for the public's assistance in locating a man wanted in connection with an investigation into the Hell's Angels outlaw motorcycle gang.
Authorities believe Christopher Slightam, who pleaded guilty to federal charges as part of the investigation, may be in the Will County area.
Slightam, who pleaded guilty to narcotics conspiracy and charges under the federal Racketeering Influenced and Corrupt Organizations Act, was ordered to surrender to U.S. Marshals in July but failed to appear.
He was charged as part of an investigation into the Hell's Angels gang operating out of New Rochelle, N.Y. Slightam was released on bail after being arrested and charged in February 2017.
The Federal Bureau of Investigation is issuing a reward of up to $5,000 for information leading to Slightam's arrest.
He is a white man, 44, 5'11", 220 pounds, with blue eyes and short brown hair in a buzz cut. He was last seen with a short goatee and mustache, although FBI agents believe he may have changed his appearance to avoid capture.
Authorities said he should be considered armed and dangerous.
Anyone with information on Slightam or his whereabouts is asked to call the FBI's Chicago office at (312) 421-6700.
— FBI fugitive could be in southwest suburban area —-