Oswego H.S., police boost security after messages left in bathroom
By Erika Wurst For Chronicle Media —

October 4, 2018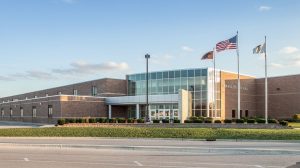 Extra police officers will be on hand at Oswego High School this week after a second cryptic message was found written on a bathroom wall at the school.
The message, which reads "10/9/18 you got the wrong guy", was written a week after school officials located the first message on Sept. 25.
That message, which threatened violence against several specific people, also mentioned Oct. 9 as the day the event would occur. Oswego police arrested a 16-year-old student from Montgomery in that case. He was charged with felony disorderly conduct. School officials said they are working hard to help secure another arrest in relation to the second message.
"Again, we are working closely with the police on the investigation of this matter. With the help of surveillance footage, along with student and staff tips and information, we are confident that the individual will be found," OHS principal Mike Wayne wrote in an email to parents.
He again stressed the importance of speaking up and reporting anything that doesn't seem right.
"Also, please discuss the seriousness of making threats and the significant consequences that may follow," Wayne wrote. "The police department and our school administration take all threats very seriously."
Wayne said the district is working diligently with Oswego Police to find out who wrote the new message and that an additional police presence will be seen at OHS until the case is resolved.
"We encourage the individual responsible to come forward now, or for those with information about the person responsible, to come forward and report it," Wayne said.
Oswego Police are asking anyone with information should call the Oswego Police Department at 630-551-7300 or the School District's emergency hotline at 630-636-4679. Alternatively, anonymous reports can be made to Kendall County Illinois Crime Stoppers at 630-553-5999, where tips leading to arrests may receive a cash reward of up to $1,000.