Vietnam Moving Wall Memorial will come to Oswego
By Kelli Duncan For Chronicle Media —

July 11, 2016
The Vietnam Moving Wall Memorial will return to the area for five days next summer (June 29 – July 3, 2017) after coming to Aurora in 2013, this time to Oswego, according to a local organizer and Vietnam War veteran.
Vietnam War veteran and Montgomery resident Herschel Luckinbill said that when he saw how much veterans and military families were impacted when the Moving Wall came to Aurora during the week of Veteran's Day in 2013, he knew that he had to campaign for it to come to Oswego as well.
"I was sitting at my computer one morning thinking about my shipmates that lost their lives 50 years ago and I put the application into the Vietnam Veteran Combat Veterans Association to get the Wall and four days later I got the call that I had the Wall," Luckinbill said. "It took me eight months to get the Wall in Aurora and only four days to get the Wall in Oswego."
The Moving Wall is a half-size replica of the Vietnam Veterans Memorial in Washington, D.C. that has been traveling to around 23 cities across the U.S. each year since 1984, Luckinbill said. This gives military families and veterans, like Luckinbill, the opportunity to remember the fallen without having to travel.
Although the Moving Wall was a huge success in Aurora with approximately. 250,000 visitors throughout the week, Luckinbill said that he thinks the turnout will be even bigger in Oswego next summer.
According to Luckinbill, planning and fundraising for the Moving Wall in Oswego has been a joint effort between many different local organizations.
President of the Oswegoland Park District Board and Oswego resident David Krahn said that the Village of Oswego as well as the Oswego Chamber of Commerce, Park District and School District have all been very supportive of the effort to host the Moving Wall.
"It's a unique opportunity for us to bring our community together and put on an event that showcases what Oswego is all about," Krahn said. "And part of our goal is to make Oswego a very veteran-friendly community."
The community will need around $50,000 and 1,800 volunteers to help host the Moving Wall, Luckinbill said.
Krahn said that they are just beginning their fundraising efforts and are already getting calls from people wanting to help out.
The Veteran Moving Wall organization in Oswego will be selling American flag kits to help raise funds as well as sending sponsorship letters to solicit donations, according to Luckinbill.
Luckinbill said he is confident that they will be able to raise the money as they received very generous sponsorship for the Wall in Aurora, but stresses that any and all donations are appreciated.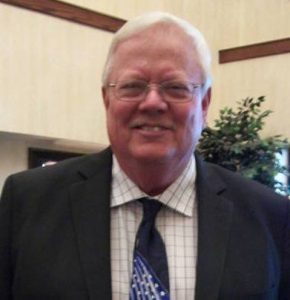 When the Moving Wall does come to Oswego in 2017, there will be an entire week of events and ceremonies to honor its presence in the town as well as a few events prior to its arrival, Luckinbill said.
Krahn said that the Park District is donating space in the Prairie Point Community Park off of Route 71 in Oswego for the Wall to be set up.
There will be a "healing field" set up around the Wall with as many American flags as possible as well as a reflecting pool and a case with a POW/MIA flag, Luckinbill said. The POW/MIA flag is a Military emblem that remembers military personnel who were taken as prisoners of war (POW) or declared as missing in action (MIA) during a time of war.
There will also be an "eternal flame" torch that will remain burning throughout the entire week to honor our nation's veterans, Luckinbill said.
When the Moving Wall arrives in Oswego, there will be a parade from the Holiday Inn Express — where members of the Moving Wall organization will be staying — to the memorial site in Prairie Point Park, according to Luckinbill.
"We will leave the hotel at 8 a.m. in the morning with the parade and probably around 700 to 1,000 motorcycles in support of the Wall," he said.
After the wall has been set up and opening ceremonies have concluded, the Wall will be open to any visitors that wish to come and pay their respects, Luckinbill said.
There will be different events every day including a flag retirement service where locals can burn American flags that are no longer flyable and a wreath laying ceremony where family members and friends can lay wreaths next to the names of lost loved ones, according to Luckinbill.
Luckinbill served in the U.S. Navy during the Vietnam War and survived an attack on his ship that took the lives of two of his shipmates and close friends, so the Moving Wall project is very close to his heart.
"December 23, 1966 early in the morning, 10 o'clock, we were in our bunks and general quarters sounded the call, 'go to your battle stations.' As we went to our stations, I jumped out of my bunk and my shipmate jumped out of his bunk right behind me and we ran up the passageway in the ship," Luckinbill recalled. "I was three seconds in front of him, I dropped down into the entry room and he took the shell and was killed that day. And another shipmate of mine in the next compartment over was killed that day."
His initial campaign to bring the Wall to Aurora as well as the current campaign to bring it back to Oswego were done in remembrance of what happened that day, a day that he will never forget, Luckinbill said.
"It just sticks with me. Dec. 23 of this year it will be 50 years and it's just something that you don't forget," he said. "…When the wall gets here, it's like being able to spend time with my shipmates so it's pretty powerful."
Fox Valley group reaches out to all veterans
Herschel Luckinbill is the president of the Fox Valley Veterans Breakfast Club, an organization of over 80 veterans that meet every other Thursday morning to eat breakfast and to share their own stories that cannot be forgotten, he said.
He has served as the president of the club since 2005 when he took over the organization from State Sen. Robert Mitchler.
He said that the club was originally only for naval veterans. However, Luckinbill said that soon after becoming president, he expanded the organization to include all veterans regardless of the combat or military branch that they served in.
"In our organization, if you're a veteran, you're a veteran," Luckinbill said. "If a veteran signs his name on the dotted line and says he'll give his life for this country he's a veteran and that's the way I've always looked at it."
He is now campaigning to bring the Illinois Fallen Hero Wall Memorial to Oswego as well which has the name, information and picture of every Military member from Illinois that lost their lives in armed conflict since Desert Storm in 1990.
Luckinbill said he hopes that these campaigns will create an open, supportive community amongst all veterans in the Oswego/Aurora area.