Yorktoberfest celebration a fundraiser for local causes
By Erika Wurst For Chronicle Media —

October 10, 2018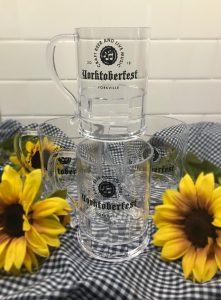 Fall will be in full swing this weekend as the season comes to life during Yorkville's Yorktoberfest.
Think hayrides and pumpkin races, Halloween egg hunts, music and food and it all will be there to enjoy.
The City of Yorkville, the Yorkville Kiwanis Club, and the Knights of Columbus are teaming up to host this year's festival, held Saturday, Oct. 13, from noon to 11 p.m. at Riverfront Park, 131 E. Hydraulic Ave.
"Since the formation of our club, our members have wanted to bring the community together for a large-scale event to raise money for a good cause," the Kiwanis Club said in a statement. "Our partnership with the United City of Yorkville Parks and Recreation Department is helping turn this idea into a reality."
Beginning at noon, families can enjoy tons of free all-ages activities that will remind them of the best autumn has to offer.
Take a hayride around the festival in a John Deere tractor as you make your way through the park along the Fox River. Families can also decorate a pumpkin together at no charge.
Little explorers will have fun during the festival's Haystack Hunt, which sends them digging and diving through mounds of hay in a quest for tokens they can later redeem for prizes.
The hunt is held every half hour beginning at noon, with the last hunt taking place at 4:30 p.m.,  which is when the main event takes place.
Everyone's favorite race, the Pumpkin Pull, kicks off at 4:30 p.m. at Riverfront Park.
Festival-goers can purchase a single pumpkin for $5, or three pumpkins for $10, and watch them race down the Fox River in hopes of winning dozens of prizes.
Hundreds of pumpkins will be released into the river during the event, sponsored by the Knights of Columbus.
Musical entertainment, featuring a lineup of country entertainers, begins at 5 pm. and goes throughout the evening. Enjoy food trucks and craft beers while you kick-back along the Fox River.
At 7 p.m. families with children ages 10 and younger are invited to Town Square Park, 301 N. Bridge St., for the Annual Halloween Egg Hunt. The hunt brings a new twist to an old tradition and children are encouraged to wear costumes as they scour the grounds for candy-filled eggs. Don't forget baskets and flashlights.
Proceeds from the festival will go to the Kiwanis Club of Yorkville Foundation, a non-profit organization that completes services projects benefiting local residents. The money will be used for scholarships that will be awarded to students who show a commitment to serving others.
—- Yorktoberfest celebration a fundraiser for local causes —