'Mob princess' tells tales of notorious Shelton gang
By Elise Zwicky For Chronicle Media —

May 26, 2016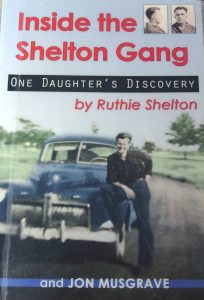 Many people have skeletons in the family closet but few have discovered one as big as Ruthie Shelton's.
The Shelton family was notorious in Peoria and southern Illinois for running a lawless gang that controlled gambling, alcohol and prostitution in the 1930s and '40s. However, Ruthie grew up in Florida and never knew about any of that until her dad, "Little Carl" Shelton, began talking about his past after surgery in 2003.
"Pop was nothing but fun, but I was never allowed to ask anything about his past when I was growing up. Not even for school projects," Shelton said to a packed room during a talk last week at the North Branch of the Peoria Public Library.
Ruthie Shelton published a book in 2013 about the Shelton gang and how it felt to learn about her family's infamous past titled "Inside the Shelton Gang: One Daughter's Discovery." She also recently published the third in a trilogy of fictionalized accounts of what happened to the Sheltons after they fled Illinois and moved to Florida in 1951.
"A lot of people seem to think that when they packed up in '51 and headed to Florida, the Sheltons became law-abiding citizens," Shelton said.  "That was not quite the case, as I found out later."
Ruthie Shelton, who was a tomboy raised around guns and pool halls, wrinkled her nose when her co-author and publisher, Jon Musgrave of Illinois History, quipped, "Imagine one day waking up and discovering you're a mob princess."
Little Carl Shelton was the nephew of brothers Carl, Earl and Bernie Shelton, the three ringleaders of the Shelton gang. In his younger days in Illinois, Little Carl worked as a bodyguard to the brothers. As his daughter later found out, he continued to work in some shady dealings for them while she was growing up, although she always thought he was a carpenter.
Having been warned by his doctors that her dad might have mental defects when he woke up from heart surgery, Shelton thought he was delusional when he started mumbling in his hospital bed about people trying to kill him and used his finger as a gun to apparently shoot at someone.
"This went on for awhile, and one day he started telling me a story about his Uncle Carl driving a jeep in a place in Illinois called Pond Creek and being gunned down and murdered. I thought it was just the anesthesia, but he finally looked me in the eye and said, 'You have to listen to me.' That's when I realized he was telling me about his past," she told the hushed crowd.
Based on four years of research, Shelton's book tells the story of how the Sheltons started the gang that rivaled Al Capone's crime syndicate. In fact, the Sheltons had an agreement at one time with Capone that basically gave them control over downstate Illinois.
"When I heard the Shelton gang referred to as 'the bloodiest gang in America,' I thought: those are my people?" said Shelton, who has four grown children with her husband, James, and two grandchildren.
"You can see the anger and other emotions I was going through in the book because I wrote it as I was living it," she said. "I got over the anger because my dad was very old, and I didn't want to be upset with him if something happened to him," she added. "Writing the book was therapeutic."
Although Shelton's father died in 2009 before she wrote the book, she said he knew about and supported her plans.
One way Shelton has found to cope with the truth is by focusing on some of the positive stories that have emerged. People in Wayne County, where the Shelton boys grew up, have told her how they helped the poor and out-of-work families.
Audience member Judy Harrmann Miller told the crowd how she used to go to Bernie Shelton's Peoria home after skating at his roller rink to eat cupcakes and play croquet when she was 10.
"I never once heard the brothers say a swear word around us kids," Miller said. "After awhile, my dad said he didn't want me to go over there anymore. Two weeks to the day, Bernie was killed."
Bernie Shelton was gunned down July 26, 1948, outside a tavern he owned on the outskirts of Peoria.
One of the best things to come from learning about her family's history was reuniting with her older half-sister, Elaine, who knew about their father's past but had been raised with a different last name by her mother in Illinois, Shelton said.
"I think Pop was glad the truth came out. Not just for the fact that it lightened the load off his conscience, but definitely for the fact that it brought him and Elaine back together and me and Elaine back together," she said.
While the crowd at the Peoria Library seemed mostly positive as a long line formed to meet her and get an autograph after her talk, Shelton said she's had mixed feedback from her first book.
"More than 90 percent have been fantastic," she said "But my family did a lot of really wicked things, shall we say, to a lot of good people, and some of their descendants have contacted me. All I can say is I'm sorry. And I mean it. But it doesn't change the history, and we can't sweep it under the rug."
She added, "I think it kind of makes people want to look into their own closets and their own parents and grandparents and see what they might not have been told."
— 'Mob princess' tells tales of notorious Shelton gang —