Risk and reward: No guarantees in the business of flipping houses for profit
Lynne Conner For Chronicle Media —

April 12, 2017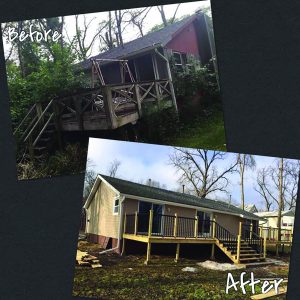 It's fair to say that Mike Lunde never saw a house that he couldn't improve.
This can-do attitude has led Lunde, a broker for Team Lunde at Rockford's Gambino Realtors, to start a house flipping venture.
"About two or three years ago, I got together with a group of investors who were interested in the house flipping business," he said. "So I developed a game plan, and, with the investors we have flipped about 30 homes so far."
Flipping has been defined by some real estate experts as the process of purchasing a property — sometimes distressed or a "fixer upper"  — make investments to restore or upgrade and then sell for a profit
The Chicago Tribune reported last year that flippers earned a return of 74.2 percent on homes they bought and then sold in Chicago in early 2016.
But in every house flip there is a fine line between risk and reward.
Lunde functions as a scout and realtor in the house flipping process, often driving hours each day to investigate possible properties to flip and show other completed homes to prospective buyers.
"The goal of any house flip," he said, "is to make a return on your investment and you don't win on every one."
He considers several factors before beginning a house flip.
"There are tons of things we have to look at and evaluate in a possible flip,"  Lunde said. "We have to look at the title work and see what kinds of liens are against the property.  A lot of the times we are buying homes 'as is' and therefore have to accept the liabilities of the property."
Beyond the possible legal glitches, Lunde also evaluates a property's neighborhood and the cost of renovation versus the return on investment.
One of Lunde's house flips that is currently on the real estate market is a three bedroom home at 10891 Edgemere Terrace in Roscoe.
The house was purchased for less than $30,000; gutted and reconfigured to add a third bedroom and a master bath.  Lunde estimates that about $75,000 went into the renovations which also included a contemporary kitchen and three new patio doors on a freshly built deck that runs the length of the home and looks out onto the Rock River.
Lunde says that the typical house flip takes roughly six to 12 months depending on whether or not the home is classified as a "distressed property".
Foreclosures, bank owned properties and homes bought at auctions make up most of Lunde's house inventory and he usually has six to 10 properties in the process at one time.
"I haven't found one city or town in this region more desirable than another as far as where home buyers want to live," he said.  "Buyers are looking for a value-based home to purchase and it all comes down to personal preference and where people want to live."
Lunde sees his house flipping venture as something beneficial to local neighborhoods and communities.
"All these properties that get acquired and fixed up really help to stabilize the real estate market as a whole," he said.  "Distressed homes that we and fix up and sell for a fair price; people can still get a very good deal on a home and almost everything in the home is new and updated.  This process is helping real estate market by increasing local home values."
According to David Dale Johnson, a broker with Berkshire Hathaway HomeServices Crosby Starck Real Estate, foreclosure trends in Winnebago County have seen a dip in the last several years.
"The impact of foreclosure sales on the overall real estate market appears to be weakening" Johnson said. "In 2011, the Rockford MLS (multiple listing service) documented that nearly 28% of the single family houses sold in Winnebago County were REO (real estate owned)…foreclosed properties.  In 2012, 32% of the houses sold were foreclosed properties and in 2013, REO sales increased again to 37% of all house sales in Winnebago County.
"In 2014, foreclosed property sales declined to 33% and by 2016, REO properties accounted for just 17% of the single family home sales documented on the local MLS," he added.
Since the 2008 housing market crash, and even in the time that Lunde has been flipping homes, he has also seen a marked reduction in the number of distressed properties available to rehab.
"It's getting more challenging all the time.  Distressed properties, short sales and foreclosures are substantially down and it's a dwindling market," he said.  "The opportunity for this business model is not as profitable going forward.  I would say that the last few years have been the best for house flipping."
Johnson acknowledges that some flipped homes can be a great investment for buyers, but advises potential house hunters to thoroughly investigate a rehabbed home before making an offer.
"As with any in industry there will be some people that will do just enough to get by … All buyers should look for signs of shoddy workmanship.  A good real estate agent should be able and willing to point out obvious flaws that can affect the long term condition of the home and its market value," he said.  "Once a contract is negotiated buyers should always have a professional home inspector perform a detailed inspection.  A detailed home inspection will identify problems that are not as apparent…for example unsafe conditions of the furnace, roof and electrical systems."
Despite hours of driving to check on prospective flip homes, the inevitable construction delays and the financial wrangling that can happen during a house flip, Lunde takes great satisfaction in seeing rehabbed homes sold to eager buyers.
"Seeing the before and after product of a house flip is just an amazing transformation," he said.  "Taking a home from something that you would never want to live in to someone's dream home is really a joy.  The home is the center of a family and when you can give a first time buyer the keys at closing; that's what it's all about."