Salvation Army gets early start on holiday giving in central Illinois
By Holly Eitenmiller For Chronicle Media —

November 6, 2017
The time has come again to bring a little warmth and happiness to those who may be less fortunate during the forthcoming holiday season.
The Salvation Army is taking applications for Christmas assistance, which includes food baskets, toy giveaways and free children's outerwear.
Last year, 1,269 families visited the Salvation Army toy shop, and around 3,000 toys were given away. 2,905 Christmas food baskets were handed out and more than 1,500 kids were given coats.
"We set up the toy shop in our gym at the Peoria Corps center," Rich Draeger, director of development for the Salvation Army Heartland Division said. "People who sign up get a personal shopper, and there are different sections for different ages."
The gifts, coats and donations come from multitudes of people in central Illinois and provide for Peoria, Woodford, Tazewell and Fulton counties. Coats, hats, scarves, gloves and mittens, can be dropped off in barrels at local businesses, including OSF St. Francis Medical Center and Jim Maloof Realty.
Through Dec. 8, new or used cold weather gear will be accepted at the Peoria Civic Center near Guest Services, the Great Hall and the Toyota Box Office. The Coats for Kids program began 20 years ago, and coats for adults are also welcome.
Remaining donations from 2016 are available now at the corps center at 2903 W. Nebraska Ave. "When people come in to sign up for a food basket, if they need a coat, they can get that, too. We have it all set up," Draeger said.
Families in need of a Christmas basket, should sign up in person there, or by calling Salvation Army office manager Lisa Alexander at (309) 655.7272.
Lindy's Market in Washington purchases the food, and all remaining funds rollover into the next year's campaign.
"It's kind of a neat setup, the food baskets and how it all comes together with Lindy's in Washington," Draeger said. "Kids from St. Patrick's Grade School in Washington volunteer and we set up the baskets at Midwest Food Bank in Peoria."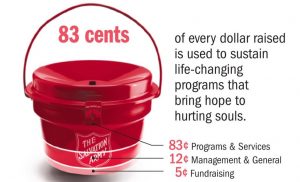 Sign-ups for a basket at the Salvation Army are Nov. 6 – 9 from 9 a.m. – 7 p.m. and Nov. 10 from 9 a.m. – 3 p.m. Another opportunity, also at the Nebraska center, will be Dec. 4-8, 9 a.m. – 3 p.m.
Tazewell County residents should contact the Salvation Army at 243 Derby St., Pekin, and the Heart House at 300 Reagan Drive, Eureka serves Woodford County.
"We receive around 200 food baskets each year," Heart House program manager Blaine Troyer said. "Signups are the week of Nov. 13-17, and two additional dates, Nov. 28 and Dec. 5."
Troyer said requests on those days may be made by calling (309) 467.6101. All counties will distribute food baskets Dec. 18.
And, of course, let's not forget the toys. As always, the U.S. Marine Corps Toys for Tots Foundation will assure that the Salvation Army and other such organizations will have a toys handy for those in need.
Toy distribution at the Salvation Army corps building for Peoria, Tazewell and Woodford counties are Dec. 19 – 20, 8 a.m. – 8 p.m. and Dec. 21 from 8 a.m. – 1 p.m. Monetary donations may be made online at www.toysfortots.org/, and drop box locations may be found on that website, as well.
— Salvation Army gets early start on holiday giving in central Illinois —