Rockford's John Anderson served in Congress before 1980 presidential run
By Jack McCarthy, Chronicle Media —

December 5, 2017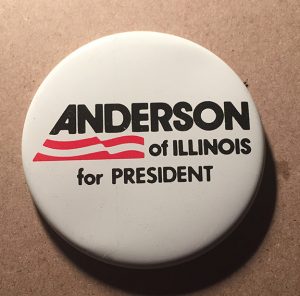 John B. Anderson represented the Rockford area in Congress for 10 terms as a Republican and then broke with his party in 1980 to run for president as a third party independent.
Anderson, noted for his oratory, silvery mane and evolution from staunch conservative to social progressive, died this week at age 95 in Washington, D.C.
"John Anderson dedicated his life to serving the Rockford community and this great nation – and he served us well," said U.S. Rep. Adam Kinzinger, a Republican who now represents much of Anderson's old district. "We are better for his candor, his focus, and his honesty – and his pragmatic approach and self-awareness continues to inspire me on a daily basis."
Anderson's last ballot appearances came in 1980 when he ran for the Republican nomination for President and later as a independent against incumbent President Jimmy Carter and Ronald Reagan, the GOP nominee.
Reagan beat Anderson in an Illinois primary that featured two favorite sons and eventually won the GOP nomination. Anderson then opted to run as an independent and was drawing as much as 20 percent support in some polls.
He and running mate, former Wisconsin Gov. Patrick Lacey, ended with seven percent of the vote against Carter and Reagan, who became the nation's 40th president.
"He really, really believed the two-party system was broken in 1980," Anderson's daughter, Diane, told the Associated Press. "He wanted to express that, and he did."
Called "last liberal Republican" this week by New York Magazine, Anderson was noted for evolving social views and opposition to an increasingly more conservative Republican party.
In a 1979 speech to New Hampshire Republicans in the University of Illinois at Urbana-Champaign library archives, Anderson talked about renewing faith in the system and make it work.
"We need to restore faith in government, not destroy it," Anderson said. "We need to restore not only respect for American in the world, but our self-respect at home. That will take a willingness as a party to take new and creative approaches. … We must think anew and act anew. We must demonstrate not with word but with deeds that we are a party with a heart."
Anderson is survived by Keke, his wife of 64 years, plus five children and 11 grandchildren.
Family members told the Politico web site that a memorial service is planned in Washington in the spring.