RVC men and women seek national championships
Chronicle Media —

March 10, 2015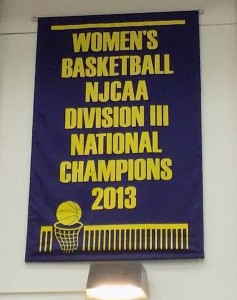 Basketball teams from Rock Valley College are bound for different destinations but they each one one goal in mind: a national championship.
The RVC men — the defending National Junior College Athletic Association national champions and top tourney seed — will compete this week in New York. The Rock Valley women, champions in 2012 and 2013 will play in the finals in Pennsylvania.
"We will continue to have the same 'one-game, one-play at a time' mentality that we've had all season," third year Golden Eagles coach Craig Doty said. "We have a lot of offensive depth that features seven very capable scorers. As long as we can control the glass each game, we feel very confident with our ability to compete at a high level in the tournament."
Last year's national title was the program's first in its 48-year history, and this year's squad includes the returning NJCAA National Player of the Year, Jared Mayes, as well as multiple other highly touted NCAA Division 1 and NCAA Division II level players.
"We are excited about our third consecutive trip to the NJCAA DIII National Tournament at SUNY Sullivan," Doty said. "The national tournament is well-run, loaded with talent, and features some outstanding programs from around the country."
The RVC men will take on Roxbury Community College (14-10) at 7:00pm (EST) on Thursday at Paul Gerry Fieldhouse in Loch Sheldrake, N.Y., home of SUNY Sullivan Community College.
The RVC women (24-7) drew the No. 2 seed and will face No. 7 Nassau Community College (18-3) at 8 p.m. on Thursday at the Arthur L. Scott Spartan Center in Bethlehem, Penn, home of Northampton Community College.
This is the third straight season that Rock Valley College has sent both the women's and men's teams to the NJCAA tournament.
The women won back-to-back national championships in 2012 and 2013 and the men won the program's first title in history last season and will look to repeat as champions.