Gov. Rauner reviewing Senate budget bills in Springfield
By Jean Lotus Staff Reporter —

January 24, 2017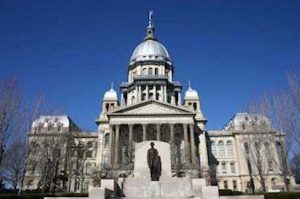 The complicated bill bundle hashed out by the Illinois Senate leaders at the end of the General Assembly's "lame duck" session appears to be a scaffold on which a state budget may yet be constructed.
John Cullerton (D-Villa Park) and Christine Radogno (R-Lemont) announced a package of bills for a first stab at the "Grand Bargain" proposed by Gov. Bruce Rauner in his Turnaround Agenda. These included revenue-generators such as bumping the state income tax up to 4.95 percent and borrowing $7 billion to pay bills. Senate leaders also proposed a penny-an-ounce state soft drink tax and state approval for six new casinos, including one in Chicago. But these bills were linked to "reforms."
These included tweaking the worker's compensation laws, freezing local property taxes, term limits on the leadership roles in the House and Senate and abolishing legislator pensions for new lawmakers. An amendment cementing the package together means it's all-or-nothing — the bills are all meant to be passed simultaneously.
"We haven't had a budget for the state for two years. It's an embarrassment for the state and it's causing some real damage," said Cullerton Jan. 9.
Gov. Bruce Rauner's office issued a 100-plus page analysis of the omnibus proposal Jan. 18. Still to come is a response from the third leg of the three-legged stool that would support a new budget — the House.
Speaker Michael Madigan did not refer to the budget bundle in remarks for the opening of the General Assembly's 100th Session Jan. 11. Madigan offered another corporate tax idea: Rather than lower wages, decrease workers compensation or union benefits, Madigan said, "let's lower the rate of tax on the Illinois corporate income tax by at least 50 percent," he said. "Regrettably, many Illinois corporations do not pay the Illinois corporate income tax. If we lower the corporate rate there must be one caveat: Every corporation has to pay at least something; there can be no free lunches."
During the lame-duck session, the House approved a special bill authorizing funding for the second half of the year, including $400 million for higher education and $258 million for social services. Both houses approved an extension of the EDGE tax credit until April 2017.
Other bills proposed in the Senate package that may end up in the Grand Bargain plan included consolidating services of overlapping local governments, and a bill to boost minimum wages to $9 per hour, ending up at $11 by 2020. One bill also proposes simplifying university procurement practices.
Proposed casinos would open in Chicago, Lake County, Rockford, Danville, the southern Chicago suburbs and unincorporated Williamson County near the Big Muddy River. Downstate license fees would be applied to state debts, but Chicago's casino revenue would be applied to police and fire pensions.
The bill package also helps Chicago Public Schools by guaranteeing the $215 million payment vetoed last fall by Rauner and committing to a $221 million 2018 CPS pension payment.
The Senate package proposes borrowing $7 billion over seven years to pay down the state's $11 billion bill backlog.
Legislators claim the state will generate $4.1 billion yearly with a personal income tax increase from 3 percent to 4.95 percent. The proposed Senate bill also bumps up the corporate income tax from 5.25 percent to 7 percent.
I-55 toll lanes project requires cooperation
The Illinois Department of Transportation issued a statement Jan. 19 that cooperation is needed between the Illinois House and Senate if the 25-mile I-55 toll lane project is to proceed. IDOT needs a joint resolution to approve construction funding through private-public partnership, or "P3" financing.
IDOT's first privatized highway project would outsource design, construction and possibly maintenance of the two optional inner toll lanes between Chicago and I-355 in exchange for toll revenue. IDOT met with 17 construction and finance companies in November.
The resolution was introduced Jan. 19 by GOP Senate leader James Durkin and State Rep. Martin Sandoval (D-Cicero).
"Without the passage of the joint resolution, the I-55 Managed Lane project will be shelved and a tremendous opportunity to rebuild a key piece of our transportation system will be lost," said Illinois Transportation Secretary Randy Blankenhorn in a statement. "Too much is at stake for continued inaction. This project enjoys widespread support and will help keep Illinois as the transportation hub of North America."
— Gov. Rauner reviewing Senate budget bills in Springfield  —