Illinois Representatives' Votes in Congress
Chronicle Media —

October 14, 2015
United States House of Representatives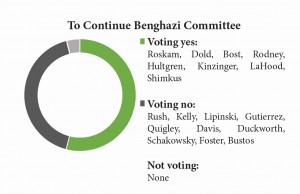 Continue Benghazi Committee: The House on Oct. 7 voted, 240 for and 183 against, to stand by its Select Committee on Benghazi despite comments by Majority Leader Kevin McCarthy that the GOP has been using it as an instrument to lower Democrat Hillary Clinton's presidential poll numbers. As a privileged resolution, this measure was not debatable.
McCarthy said Sept. 29 on Fox News: "Everybody thought Hillary Clinton was unbeatable, right? But we put together a Benghazi special committee, a select committee. What are her numbers today? Her numbers are dropping. Why? Because she's `untrustable.' But no one would have known any of that had happened had we not fought and made that happen." McCarthy has since disavowed those remarks.
The resolution to shutter the committee said, in part, it is "an outrage that more than $4.5 million in taxpayer funds have been used by Republicans in the House of Representatives, not to run the government, but to interfere inappropriately with an election for president of the United States…."
When the select committee was created in May 2014, its stated purpose was to investigate U.S. government actions before, during and after an attack on the American consulate in Benghazi, Libya, on Sept. 11, 2012, that resulted in the deaths of Chris Stevens, the U.S. ambassador to Libya, and three other Americans. Comprised of seven Republican and five Democratic seats, and with no fixed ending date, the panel was charged with developing new information while consolidating the work of several other congressional investigations that found mistakes but no shirking of duty or malfeasance by U.S. military and diplomatic officials in the Benghazi tragedy.
A yes vote was to keep the Benghazi committee in operation.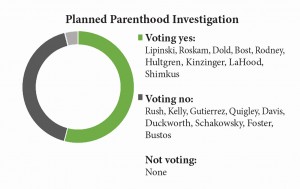 Planned Parenthood Investigation: By  a vote of 242 for and 184 against, the House on Oct. 7 approved a GOP measure (H Res 461) to establish a select House committee to pursue allegations that the Planned Parenthood Federation of America has engaged in misconduct if not illegality with its abortion practices and supply of aborted fetal tissue to medical researchers. Republicans said secretly recorded discussions by Planned Parenthood officials demonstrate the need for a special congressional probe, while Democratic critics said several state and congressional inquiries into the non-profit healthcare organization have found no evidence of wrongdoing. Abortion is legal in the U.S. with certain restrictions and federal funds, by law, cannot be used to pay for it.
Virginia Foxx, R-N.C., said: "Even for those who support abortion on demand, it should be simple to unite behind the principle that organizations receiving hundreds of millions in taxpayer funds are subject to congressional oversight, particularly when their divisive practices may violate federal law and are, frankly, barbaric."
Carolyn Maloney, D-N.Y., said: "Six states have investigated Planned Parenthood and found nothing. Four committee hearings have found nothing. Planned Parenthood has handed over tens of thousands of pages of documents to Congress, and there has not even been a whiff of wrongdoing."
A yes vote was to establish a committee to investigate Planned Parenthood.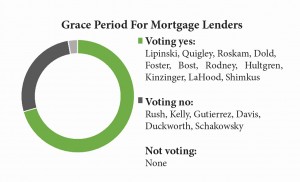 Grace Period For Mortgage Lenders: Voting 303 for and 121 against, the House on Oct. 7 passed a bill (HR 3192) granting a four-month grace period in which home-mortgage lenders acting in good faith could not be prosecuted for violating a new Consumer Financial Protection Bureau rule intended to streamline and add transparency to home-buying in the U.S. This bill was disputed over its shifting the burden of proof in lawsuits brought under the Truth in Lending Act during the four months from plaintiffs (home-buyers) to defendants (lenders). The grace period would start retroactively on Oct. 3.
Steve Stivers, R-Ohio, said the bill ensures that buyers and sellers "acting in good faith will be protected from both regulation and litigation" during the grace period.
Carolyn Maloney, D-N.Y.,  said "this bill does nothing but roll back consumer protections."
A yes vote was to send the bill to the Senate.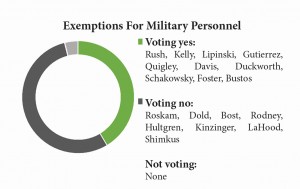 Exemptions For Military Personnel: Voting 185 for and 240 against, the House on Oct. 7 defeated a Democratic bid to exempt active-duty military personnel, veterans, seniors and students from provisions in HR 3192 (above) that would limit the ability of plaintiffs to prevail in lawsuits against mortgage lenders under the Truth in Lending Act. In part, those provisions shift the burden of proof to the plaintiff (consumer) in disputes over whether the defendant (lender) acted in good faith during the four-month grace period.
Seth Moulton, D-Mass., said the amendment was needed because "far too often, the people with the fewest resources pay the heaviest price when they are deceived by bad actors in the financial marketplace."
Jeb Hensarling, R-Texas, said that by exposing lenders to more liability, the motion could increase borrowing costs for veterans and others.
A yes vote backed the Democratic motion, which, had it prevailed, would have immediately amended the bill.
United States Senate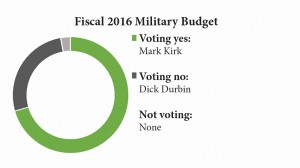 Fiscal 2016 Military Budget: Voting 70 for and 27 against, the Senate on Oct. 7 approved the conference report on a bill (HR 1735) authorizing a $604.2 billion military budget for fiscal 2016, including $50.9 billion in emergency spending for U.S. combat operations abroad. The GOP-drafted bill faces a likely presidential veto over its shifting of $38 billion in routine military spending to an emergency war account in order to evade Pentagon spending caps imposed by the sequester. Democrats said they want sequester caps repealed for both domestic and military programs.
The bill authorizes more than $50 billion for active-duty and retiree healthcare; $3.8 billion for Afghan security forces; $715 million to help the Iraqi military fight Islamic State forces; $600 million to boost Syrian opposition forces; $350 million in military aid to Ukraine (including $50 million for arms) and $120 million for securing the U.S. southern border. The bill sets a 1.3 percent pay raise for uniformed personnel and begins a 401(k)-style retirement plan for active and retired service members as an alternative to the military's defined-benefit retirement plan. In addition, the bill requires military personnel to obey the Army Field Manual's ban on torture of prisoners.
A yes vote was to send the conference report to President Obama.
— Illinois Representatives' Votes in Congress —