Illinois Representatives' Votes in Congress
Chronicle Media —

October 27, 2015
United States House of Representatives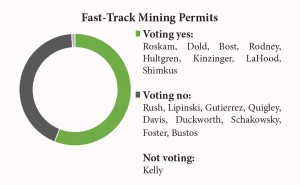 Fast-Track Mining Permits: Voting 254 for and 177 against, the House on Oct. 22 passed a bill (HR 1937) that would waive environmental rules and limit lawsuits in order to speed agency reviews of companies' applications to mine critical and non-critical minerals on federal land in the West. The bill would quicken action on permits for mining rare-earth minerals as well as sand, gravel and other non-strategic materials. The bill would designate mining activities as "infrastructure projects" to make them eligible for fast-tracked government reviews.
Dan Newhouse, R-Wash., said the bill would "remove unnecessary and burdensome bureaucratic hurdles, which can delay some mining activities and projects by up to a decade –10 years — which is an outrageous amount of time."
Jared Polis, D-Colo., said the bill would allow "nearly all mining operations to circumvent the important public-health and environmental review processes that are required under the National Environmental Policy Act."
A yes vote was to send the bill to the Senate, where it appears likely to fail.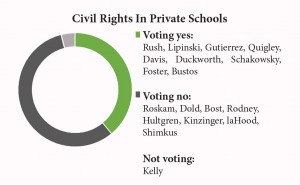 Civil Rights In Private Schools: Voting 185 for and 242 against, the House on Oct. 21 rejected a bid by Democrats to ensure that non-public schools participating in the District of Columbia tuition-voucher program (HR 10, above) obey laws such as the Civil Rights Act of 1964, Equal Educational Opportunities Act of 1974 and Americans with Disabilities Act of 1990 in their dealings with students.
Sponsor Robert Scott, D-Va., called his measure needed because "religious schools that accept vouchers are permitted to discriminate on the basis of religion in hiring, a violation of traditional principles prohibiting discrimination based on religion when using federal money."
Jason Chaffetz, R-Utah, said wording in the bill already bars discrimination "against program participants or applicants on the basis of race, color, national origin, religion or sex."
A yes vote was to adopt the motion, which, had it prevailed, would have immediately amended the bill.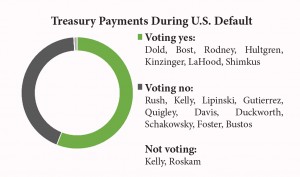 Treasury Payments During U.S. Default: Voting 235 for and 194 against, the House on Oct. 21 passed a GOP-drafted bill (HR 692) directing the Treasury to give payment priority to Social Security recipients and domestic and foreign bondholders over domestic, national-security and foreign-affairs programs if the U.S. government were to enter default due to a failure by Congress to extend Treasury borrowing authority. The vote occurred about two weeks before the date on which the existing national-debt ceiling of $18.1 trillion is expected to be reached. Many Republicans say they will support increased borrowing authority at that time in exchange for Medicare and Medicaid cuts that congressional Democrats and President Obama say they would not accept.
Tom McClintock, R-Calif., said the bill "simply guarantees that the sovereign debt of the United States will be paid in full and on time — period. How could that possibly be controversial?"
Sander Levin, D-Mich., said the bill "is a ploy, and ploys should not be used putting at risk the full faith and credit of the United States and payments at risk for millions and millions of Americans."
A yes vote was to send the bill to the Senate, where it was dead on arrival.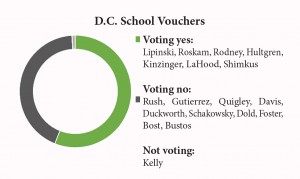 D.C. School Vouchers: Voting 240 for and 191 against, the House on Oct. 21 passed a bill (HR 10) to renew the District of Columbia's school-voucher program at a cost of $20 million annually between fiscal 2017-2021. Under the 11-year-old program, more than 1,000 D.C. public-school students from poor families each year receive $8,000 to $12,000 to cover tuition and other fees at private schools in the metropolitan area. The bill also authorizes $20 million annually for charter schools in D.C. and $20 million annually for the city's public schools.
Luke Messer, R-Ind., said the bill would "bring greater educational opportunities to the most underprivileged students in the District of Columbia" while taking "zero dollars away from D.C. public schools."
Bonnie Watson Coleman, D-N.J., said the bill "weakens D.C.'s public school system. Instead of taking public dollars to outsource our children's education to private schools, we should be focusing on truly reauthorizing the Elementary and Secondary Education Act."
A yes vote was to send the bill to the Senate, where it stands a chance of moving forward.
United States Senate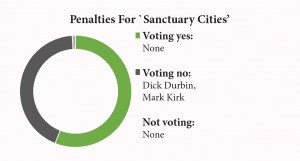 Penalties For "Sanctuary Cities'"Voting 54 for and 45 against, the Senate on Oct. 20 failed to reach 60 votes needed to advance a GOP-drafted bill (S 2146) that would deny certain types of federal financial aid to any police department or other unit of state or local government that refuses to help the federal government enforce federal immigration laws. The bill targets the hundreds of so-called "sanctuary cities" in the U.S. that do not wish to act as an arm of the Department of Homeland Security in dealings with their immigrant residents, both legal and illegal. Other provisions of the bill require local police to help Immigration and Customs Enforcement (ICE) detain illegal immigrants when asked to do so and stiffens criminal penalties for illegal immigrants who re-enter the U.S. after being deported.
David Vitter, R-La., said: "These sanctuary policies and sanctuary cities that enact them are dangerous and counterproductive to both law enforcement efforts and reducing illegal immigration."
Richard Durbin, D-Ill., said the bill would "make us less safe by threatening communities with the loss of millions of dollars" for law enforcement while "discouraging immigrants from cooperating with local police."
A yes vote was to advance the bill.
— Illinois Representatives' Votes in Congress —