Roller-coaster, rodeo part of this year's Illinois State Fair
By Kevin Beese Staff reporter —

August 9, 2018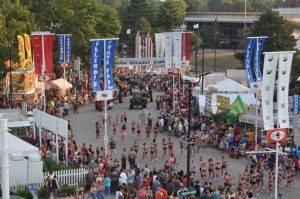 State Rep. Tim Butler will be on sensory overload for the next few weeks and he wouldn't have it any other way as State Fair festivities take over his neighborhood.
"I live right down the street and I will smell it and hear it for the next two weeks which is always a good thing," said the Springfield Republican, who is also on the state's Bicentennial Commission. "Our theme for the bicentennial this year is 'What's Born, Built and Grown in Illinois' and nothing really underscores that better than the Illinois State Fair. The State Fair has its roots in agriculture and that is what is born, built and grown in Illinois."
This year's fair opens Thursday (Aug. 9) and runs through Aug. 19. The fairgrounds are located two miles from Interstate 55's Sangamon Avenue exit (Exit 100 B).
Entertainment includes country artist Thomas Rhett on Aug. 16, Boy George and Culture Club on Friday (Aug. 10), Foreigner, and Joan Jett and the Blackhearts on Sunday (Aug. 12), Paris, Ill.'s own Brett Eldredge on Aug. 17, and Flo Rida and Ludacris on Aug. 18.
Raymond Poe, director of the State Fair, said at a press briefing Thursday (Aug. 2) that the fair means $86 million in business to the Springfield area economy and $35 million in wages.
"It's a family event and what we want to brag a little bit about is how important it is to the value of Springfield and the surrounding communities," Poe said. "… It's just a big plus for the state, city and (Sangamon) county."
Poe, who has done everything from selling cowboy boots to loading manure during the night in his 50 years at the fair, said the forecast looks great for the fair's run with only one day projected to be above 90 degrees.
"I don't know about the lemonade vendors, but we're sure going to be happy," Poe said of the weather forecast.
He noted that the fairgrounds' Coliseum will get another $7.5 million of work this year and be ready for visitors in 2019.
The year-round facility under construction will be "another big asset to the state fairgrounds and the city of Springfield," Poe said.
"When you spend money on the fairgrounds, that also generates money," he noted. "It's a win-win for the state and it's a win-win for the Department of Ag(riculture)."
Stock car races will once again be part of the closing weekend of fair activities.
The State Fair will have a roller-coaster for the first time this year, The Crazy Mouse, as part of its ride offerings. A demolition derby and a rodeo, including bull-riding, are other fair activities this year.
Luke Sailer, manager of the State Fair, said it takes a slew of help to make the 11-day event happen.
"We are blessed and honored to have the titles that we have, but it's a team effort," Sailer said. "We are truly blessed to have one of the best teams in state government."
Erin Cleary, marketing bureau chief for the fair, said the Agriculture tent will feature specialty growers and include such fresh fare as apple cider slushies, watermelon, sweet corn and cantaloupe.
"They are always a crowd favorite here at the tent," Cleary said of the specialty growers.
She noted that at 5:30 p.m. every night of the fair, 200 samples of Illinois products will be shared with fair goers in honor of the state's bicentennial. One of the sample products. Cleary said, will be Twinkies with banana cream filling.
There will be agriculture activities for kids, including an area for kids to play in corn, Cleary said.
Sailer said an icon of the fair, the Butter Cow, being worked on by Sara and Andy Pratt, will be unveiled at 3 p.m. Thursday (Aug. 9). The Butter Cow has been an icon of the fair since the 1920s. Five hundred pounds of unsalted butter are used to sculpt the life-size figure by hand.
Another dairy-related feature at this year's fair will be "Scoop It Forward," where people will be asked to spare their change from ice cream purchases in order to pay for an ice cream party for children and families at the Ronald McDonald House in Springfield.
—- Roller-coaster, rodeo part of this year's State Fair —-