Springfield much more than just a state capital
By Bill Dwyer For Chronicle Media —

June 13, 2019
Springfield, Illinois' state capitol, is much more than just the seat of state and Sangamon County government.
The city of Lincoln is also an excellent choice for an overnight or long weekend getaway, offering a great mix of history, recreation, dining and relaxation. Visitors can choose from numerous restaurants and watering holes. And with more than 30 accommodations ranging from the towering President Abraham Lincoln Springfield Double Tree Hilton to locally run hotels and B&Bs, Springfield can fit into just about any travel budget.
And the majority of Springfield's historical sites, restaurants and hotels are within walking distance of its downtown. In fact, everything of interest except the Illinois State Museum and the current state capitol building farther west, are within a six- or seven-square-block area that includes the beautiful original Springfield train station.
Since 2005, the absolute must-see attraction has been the Abraham Lincoln Presidential Library and Museum. The museum was planned and launched under the expert and devoted eye of U.S. presidential historian Richard Norton Smith. It is a remarkably comprehensive set of exhibits, all accessible from a large entry area called "The Plaza."
Over a roughly two-hour walk-through, the public can follow Lincoln's life from lonely frontier boy to adventurous and ambitious young man to successful lawyer and finally arguably America's greatest president and tragic historical figure. Less than two years after it opened in April, 2005 the 1 millionth visitor walked through its doors, and it now ranks as America's most visited state-controlled museum.
Several blocks west of the museum sits the rebuilt Old State Capitol Building at South 6th Street and East Adams Street. It's free (though a donation is suggested) and for history buffs, fascinating with many historical artifacts.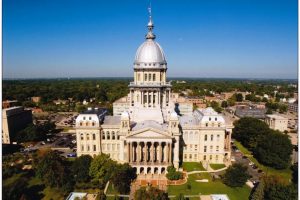 The building is the site of Lincoln's second most famous speech, "A House Divided" in 1858 during his senatorial campaign, and also where 75,000 people viewed him lying in state before his burial.
The building was dismantled in 1966, and the stone exterior reassembled. The interior was completely reconstructed, enabling moderns to appreciate the scale of detail of the spaces where our state's early leaders conducted their business, an experience all the more compelling due to much of the old furnishings and office equipment remaining onsite.
The Lincoln family home at the corner of Eighth and Jackson Streets is another must-see, offering a look at the comfortable but hardly opulent nine-room home Lincoln enjoyed for 17 years in Springfield as a successful lawyer. The two-square-block area around the house is undergoing a gradual restoration back to what it looked like in the mid-19th century, with crushed stone street surfaces.
The U.S. Park Rangers assigned to the area really know their history, and share myriad interesting details throughout the tour, which takes about 30 minutes with several stops for questions and answers.
As my friend put it, "It feels like for a couple square blocks you're transported to the past."
About two miles north of the Lincoln Home is the Lincoln Tomb, an impressive white marble presence in Oak Ridge Cemetery. It's open from 9 a.m. to 5 p.m. seven days a week.
Another remarkable house related to another famous Illinoisan is the Dana Thomas House, designed by Frank Lloyd Wright. The 12,000-square-foot house features 250 windows, doors, panels and vaulted ceilings, as well as more 200 light fixtures. Tours are available between 9 a.m. and 4 p.m., Wednesdays through Sundays.
Springfield boasts a nice roster of restaurants and pubs. Two blocks west of the Lincoln home is Obed & Isaac's, a restaurant and microbrewery with a young, friendly staff and a great funky old time feel inside.
The Reuben sandwich was very good, as was my friend's lamb burger. But it was the fries that were the star, soft inside, crispy outside and wildly tasty.
Obed and Isaac's also features an excellent selection of craft beers and a nice array of scotches.
Food and history overlap at Cozy Dog Drive In, about a mile directly south of downtown, at 2935 S. Sixth St. It is the original home of the now ubiquitous corn dog.
The idea for the corn-breaded wiener came out of Oklahoma, but was allowed to be mass produced when a man named Don Strand came up with a corn meal batter that could adequately coat the dog and then be deep fried. Strand's friend, Ed Waldmire Jr. sold the corn-meal-coated hot dogs as "crusty curs" after returning from the Army in 1946.
Waldmire's wife, Virginia, didn't think much of "crusty cur" moniker, so together they came up with "Cozy Dog," complete with a logo of two amorous hotdogs snuggling each other.
If you're willng to take a short road trip, the rebuilt New Salem settlement, 20 miles west and north on Route 97 is a rewarding destination. It's where a young Abraham Lincoln came in 1831 via boat on the Sangamon River, left the hard physical labor of the river life behind, became a merchant, was appointed town postmaster and began studying law.
The site has been meticulously rebuilt to reflect the hard scrabble reality early residents like Lincoln had to deal with. Entry to the property is via a first-rate museum featuring period implements and clothing and informational graphics.
Of course, Springfield is more than just its downtown area. It boasts nine golf courses, five colleges, five bike trails and numerous campgrounds. And it's home to the State Fair in August, visited by everyone who's anyone in Illinois politics.
Starting in May, there's also the Old Capitol Art Fair and Springfield Air Rendezvous, the International Carillon Festival in June, the LPGA State Farm Golf Classic in August and the International Route 66 Mother Road Festival and Springfield Mile in September.
Located 186 miles from downtown Chicago in central Illinois, Springfield can be reached by either car or train in about 3 1/2 hours. The Highway 97/Clear Lake Avenue off of the I-55/I-72 Interchange takes you right into historic downtown Springfield.
If you want to avoid the stress of driving, Amtrak will drop you along the western edge of the historic downtown area, a block or two from a dozen historic sites and museums. It's a relatively fast trip, taking about 3 hours, 15 minutes from Chicago and about an hour less from Joliet.  A quicker trip is promised — eventually — as track improvements will allow for high-speed runs of up to 110 miles per hour.
Amtrak trains offer wide seats, reliable free Wi-Fi and a lounge car with food and alcoholic and nonalcoholic beverages. Outside of the Chicago area, the route becomes almost exclusively rural and — in parts — runs parallel to Interstate 55 or the Mother Road, the former Route 66.
Six round-trip trains depart Chicago's downtown Union Station daily, the earliest leaving from Chicago at 7 a.m. The last return train from Springfield departs around 7:30 p.m.
One-way tickets for adults start at $24 from Chicago Union and $18 from Joliet. Reserve and pay in advance to secure those rates and do it as early as possible. The cheap seats are often quickly snapped up.
Reservations are required but Amtrak offers an easy options at www.amtrak.com.
Jack McCarthy contributed to this article