PRIME TIME WITH KIDS: Crispy plantain chips — a global family treat
By Donna Erickson —

November 9, 2017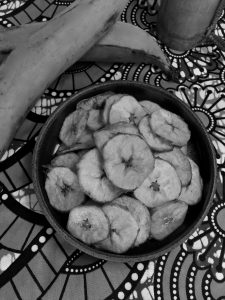 Go for an international twist when you embark on your next family cooking adventure. Discover healthy plantains. You've no doubt seen them in the produce section of your grocery store, and possibly mistaken them a time or two for unripe green bananas. But don't be fooled by their appearance. Unlike bananas, they have thick skins, and they're not eaten raw.
Part of the banana family, plantains typically are grown around the globe in equatorial regions of Asia, Africa, Latin America and in the Caribbean. Different cultures have their favorite preparation methods of baking, boiling or frying the fruit. Since my recent trip to the Democratic Republic of Congo, I've been preparing the nutritious food the way I enjoyed with families I visited — yummy crispy chips!
Plantain chips are versatile as a snack with a sprinkle of salt and a squeeze of lime for a Caribbean twist, or served as a side with rice and a main dish such as peanut chicken stew, common in West Africa. The chips are equally tasty with a scoop of guacamole, salsa or your favorite dipping sauce.
PLAINTAIN CHIPS
Makes 6 half-cup servings.
2 medium, ripe plantains (if purchased green, let ripen on the counter to a yellow-green color)

Vegetable oil

Salt
Cut off the ends and carefully peel the plantains with a knife. Thinly slice into 1/8-inch equal-size rounds. I use my mandoline slicer on its thin setting for ease and consistency in size. Plan on approximately 50 chips per plantain.
Pour about 1/2 inch of oil in a deep skillet or medium-size saucepan. Heat the oil on medium to 350 F. Fry rounds in one-layer batches (do not overcrowd) until the chips turn a deeper yellow and edges are slightly brown. They cook quickly, about 3-4 minutes per batch.
Remove with a slotted spoon and drain on paper towels.
Salt lightly to taste and serve immediately.
NOTE: This recipe should be prepared by an adult or your kitchen-savvy teen. The younger ones can sprinkle salt and serve.
***
Donna Erickson's award-winning series "Donna's Day" is airing on public television nationwide. To find more of her creative family recipes and activities, visit www.donnasday.com and link to the NEW Donna's Day Facebook fan page. Her latest book is "Donna Erickson's Fabulous Funstuff for Families."
© 2017 Donna Erickson
Distributed by King Features Syndicate
—PRIME TIME WITH KIDS: Crispy plantain chips — a global family treat–