Libraries embrace digital age, role as community gathering space
Cathy Janek for Chronicle Media —

September 7, 2017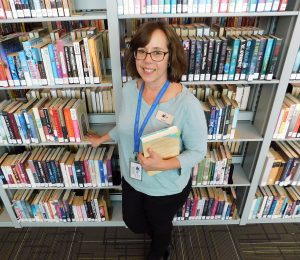 Once stuffy, quiet centers for solitary study, today's libraries and their role in the community is in flux.
Library building are increasingly being transformed into vibrant, airy, open gathering places complete with stylish lounge spaces, media design centers and state of the art computer labs—while still housing many, many books.
At the same time, changes in technology over the last 10 years have led to a significant change in how libraries go about providing resources to patrons.
The release of both the iPhone and Kindle in 2007 profoundly changed people's relationship with technology and information, said Michaela Haberkern, Deputy Director of the Aurora Public Library said.
The Internet had been around for some time by then and had already begun to change the way libraries provided information. But the release of these products marked the beginning of "a big, big change," she said.
"In the palm of your hand you had access to instant information," Haberkern said.
With a Kindle, it was easy to buy an ebook, she added. There were other hand-held devices that never caught on because they were clunky, and couldn't be read in the sunlight. But the technology in the Kindle really changed the ebook market.
Libraries quickly followed suit and also began to provide ebooks delivered through different methods—like the one used at the Elgin's Gail Borden Public Library.
Patrons can borrow eBooks through a cloudLibrary which four other area libraries participate in, Denise Raleigh with Gail Borden Public Library District said.
While physical collections of books and magazines have stabilized after years of substantial growth, Haberkern said, libraries are filling another void.
"People want that third place—a place to be, to study, to work, and to take all those mobile devices that we have and do in a place other than our office or home," she said. "Libraries place a really important role in the community in that way, we are often the only noncommercial public space."
A real focus for us is providing meeting rooms for both large and small groups, she added.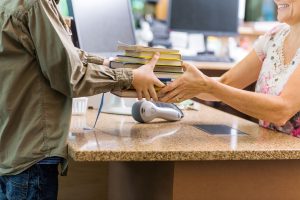 The latest addition to the Aurora Public Library system—the Santori Public Library, opened two years ago was designed to fit that new model of library use.
"We definitely have a very robust, physical collection," Haberkern said. "We also have much more open space for people to read, study, collaborate, and work."
There also is a big trend in libraries to meet patron's interest in creating art, she added. "People want to create art, music, design, and build things."
A "maker space and media studio" was blended into the new Aurora Public Library, Haberkern said, "Patrons can record music or create and edit a film, or even create physical items."
–Libraries embrace digital age, role as community gathering space–