Spring Bloom Arts Festival
April 23, 2014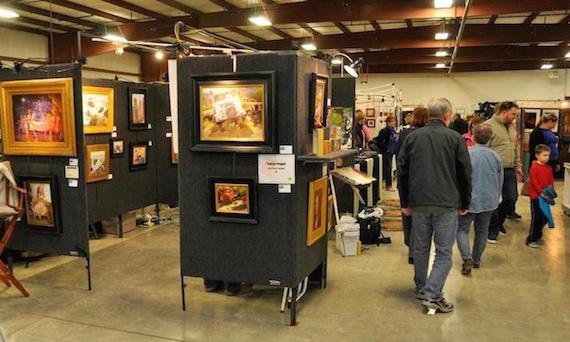 Photo Courtesy of McLean County Arts Center.
This Saturday, April 26th, The McLean County Arts Center will be holding the 10th annual Spring Bloom Arts Festival at the Interstate Center in Bloomington. 
The Spring Bloom Arts Festival is a juried show that features both fine art and fine crafts from exhibitors from around the country. 
"There will be a real cornucopia of different art styles and mediums," Ian Carey, Project Coordinator for the McLean County Arts Center, said. "We'll have oil paintings, water colors, wood sculptures, iron sculptures, photographs and various types of jewelry, glass, and pottery amongst other things."
With 80 artists from around the country exhibiting their artwork, the variety is one of the biggest attractors to the festival. 
"Some of the artists at the festival are from the area, but there will also be some from multiple states away, giving the festival a national presence," Carey said. "A lot of them are professional artists, this is how they make their living, so they're really eager to show their work."
Every piece of artwork on display is available for purchase through the artist. Each artist is given a booth that measures roughly 10'x10' to display their work. Artists have a chance to win first or second place in two categories, fine arts and fine crafts. First and second place in each category will be awarded both a ribbon and will also receive cash prize of $150 and $75 respectively. 
Artists will be judged by Susan Emerson, an accomplished local artist with a Master of Fine Arts degree in painting from the Art Institute of Boston and a Bachelors of Fine Arts degree in studio art and art history from Illinois State University. 
Artists will be judged based on their work as a whole, and how it is presented. 
The event is open to people of all ages, with special art related activities being available for children. The McLean County Arts Center Education Coordinator is working on activities that will both engage and teach kids about art. 
Food will be available throughout the day so that patrons can stay as long as they wish. In the morning and early afternoon Bloomington's own, Kelly's Bakery and Cafe will be at the festival. The Nacho Mama's Grilled Cheese food truck will be at the festival in the afternoon as well. 
There will also be live music at the festival, with David Berchtold and Friends playing Folk, Blues, Roots, and Rag music from 10-1:30 pm and The Old Men Boys playing from 2:30-4 pm. 
The festival typically attracts around 1,000 visitors each year, with hopes of attracting more every year. The entrance fee for the festival is only $5 per person, with children under the age of 12 being allowed in for free.
The festival will take place from 10 am through 5 pm on April 26th at the Interstate Center (McLean County Fair Grounds) at 1106 Interstate Drive in Bloomington. 
For more information on the McLean County Arts Center and the Spring Bloom Arts Festival, you can visit their website at http://www.mcac.wildapricot.org or call them at 309-829-0011.