Knitting for Stillborns
April 16, 2014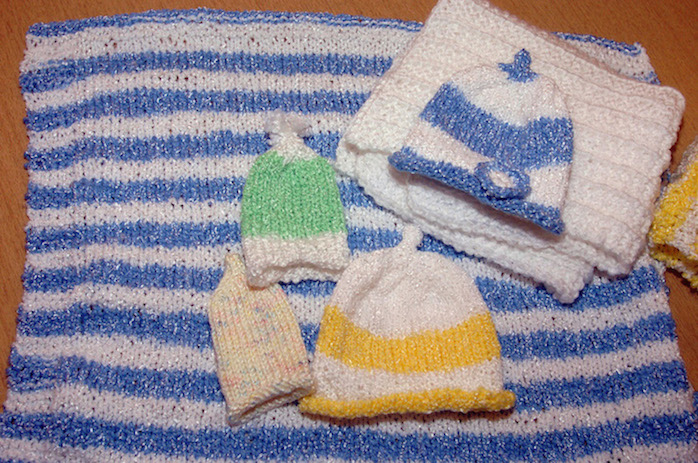 The Heart of Illinois Knitting Guild has begun knitting tiny hats and blankets like these to help comfort bereaved parents of stillborn babies at OSF St. Francis Medical Center.  Photo by Elise Zwicky.
With knitting needles clacking, Shirley Selke of Morton is making an impossibly tiny blanket that will wrap a stillborn baby at OSF St. Francis Medical Center and provide a small bit of comfort for the baby's grieving parents.
Selke is part of the Heart of Illinois Knitting Guild, which began making the blankets and tiny hats for the hospital's labor and delivery department about six months ago.
"When women had stillborns back when we were having babies, they were not given the baby to see," said Selke, 79. "Now they are given the baby to hold to have the closure."
Selke said the Knitting Guild learned of the need through the daughter of a fellow knitter who had a stillborn baby a year ago. "She asked her mother if we would make blankets for the stillborn children," Selke said. "So we called OSF and found they are in dire need of them."
The blankets are 14×14-inches or 24×24-inches and are being made in all different styles and patterns. The hats are being made in two very small sizes. "All babies are not the same size," Selke said.
Sarah Greer, OSF's perinatal supportive care coordinator, said the blankets and hats are something tangible bereaved parents can take home to treasure.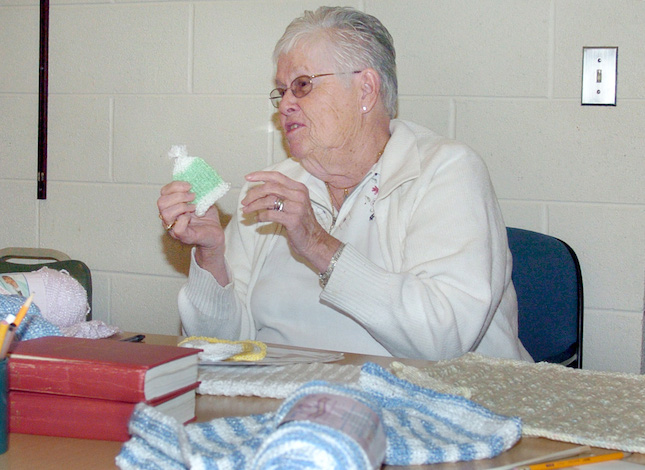 Shirley Selke of Morton holds up a tiny hat she knitted that will be given, along with other hats and blankets, to OSF St. Francis Medical Center's labor and delivery department for stillborn babies by the Heart of Illinois Knitting Guild.  Photo by Elise Zwicky.
"We just want to be able to give these parents something they can hold their babies in, and something they can hold on to afterwards," Greer said.
Selke added, "To me, it would be something I would cherish. I know the girl who lost a baby has her blanket in a special box in a special place, and it's comforting for her to know it's there."
The Knitting Guild, which has about 32 members, delivered 35 blanket and hat sets blessed by a priest to OSF at Christmas and plans to deliver more soon.
"This is just something I never would have thought about," added Selke, who also knits with several groups that make hats and slippers for premature babies, hats and scarves for a battered women's shelter and blankets for hospice care.
"I get satisfaction of being able to help someone else. I've been knitting since I was 7, and it's just a love that I have," she added.
Greer said OSF takes pictures of the parents holding their babies and places the photos, blankets and hats in memory boxes that the hospital purchases for the parents to take home. Anyone wanting to help may donate toward the memory boxes or donate yarn to the Knitting Guild.
"The parents are just so appreciative of the mementos that they have been given to remember their babies," Greer said. "We are so appreciative of the time these ladies take in doing this for these parents."
Monetary donations should be marked for labor and delivery grief support and mailed to OSF St. Francis Medical Center, 530 NE Glen Oak Ave, Peoria, IL 61637.
The Knitting Guild meets at 9 a.m. the first Tuesday of each month at Maple Lawn Homes in Eureka. For more information, visit the group's website at www.hoiknittingguild.org.