Illinois GOP defend health care votes while Democrats focus on 2018 campaign
By Jean Lotus Staff reporter —

May 8, 2017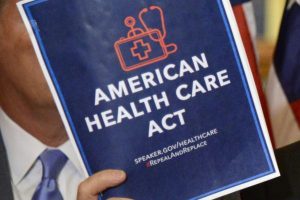 Political junkies are observing the progress of the American Health Care Act of 2017 bill in the U.S. House with a sense of deja vu.
The May 4 vote by House Republicans mirrors that of the 2009 Congress, when the Affordable Care Act was passed.
"[The AHCA vote] guarantees Democrats will have at least one major on-the-record vote to exploit in the next elections," wrote political analyst David Wasserman, of the Cook Political Report, who predicted a "midterm wave" saying the 2018 elections resembled 2010, when voters responded to the Affordable Care Act, or Obamacare.
When it came to the vote May 4, all seven Illinois Republican congressmen voted to approve the bill, which repealed ACA. The 217-213 House vote was so close that had just one Illinois Republican congressman broken ranks, he could have been blamed for the loss of the entire bill, which required 216 votes for passage.
The GOP congressmen defended their votes last week by stating the problems with the ACA, calling it "unsustainable," promising that the GOP plan would reduce insurance costs and improve healthcare. The bill (or something similar) still awaits passage in the U.S. Senate and then must be approved by President Donald Trump.
But repealing Obamacare had low approval ratings in national polls, such as a March Quinnipiac poll that showed approval at 17 percent. State and national Democrats hope the vote will have a negative effect on Illinois congressional GOP races in 2018.
More than 300,600 households, or 6.2 percent of 4.79 million households in Illinois bought health insurance in 2016 on the Illinois exchange through the Affordable Care Act, according to statistics provided by the federal government. Of those, 234,400 received some Advance Premium Tax Credit to help bring costs down. The average credit in Illinois was $439 per policy.
On the national level, the Democratic Congressional Campaign Committee, or "D-Triple C" has targeted Peter Roskam (R-6th, Wheaton), Randy Hultgren (R-14th, Plano) and southern Illinois congressman Rodney Davis (R-13th, Taylorville) for a boost in challenger campaign funding and assistance, according to a February memo. But local Democrats in Winnebago and DeKalb County believe that Adam Kinzinger (R-16th, Channahon) is also vulnerable. Peoria Republican Darin LaHood (R-18th, Peoria) is considered safe in a strongly GOP-held district, but healthcare has been hot-button issue among his constituents.
Some Southern Illinois Madison County Democrats believe two-term Congressman Michael Bost (R-12th, Murphysboro) is vulnerable because his district — which covers the Metro East area to Carbondale —was formerly represented by a Democrat. However, Democrats say they have not made much headway in the rural district of congressmen John Shimkus (R-15th, Collinsville).
In the Chicago's suburban 6th District,  Roskam has long defended his position that the ACA premiums were too high and the system was unsustainable. The 6th District covers parts of Cook, DuPage, Lake, Kane and McHenry Counties.
"Obamacare has already failed — if we do nothing, insurers will continue to exit the marketplace and millions of people will lose coverage," he wrote in a press release May 4.
"The AHCA will responsibly replace Obamacare," he wrote. "The AHCA provides generous tax credits to people who don't get coverage at work or have access to Medicare or Medicaid. It introduces competition and choice into the marketplace to bring down costs and improve access to care. The bill reforms Medicaid and provides more than $100 billion to help states provide coverage for those who cannot afford it."
In 2016, Roskam defeated Democrat Amanda Howland, winning 59.5 percent of the vote to her 40.5 percent. But voters in the 6th District chose Hillary Clinton over Donald Trump.
Roskam has been criticized for poor constituent relations skills. He has dodged and cancelled town halls and meetings with voters, preferring to host telephone town halls that critics say are rigged with supporters.
More than 21 progressive and Democrat groups across the district have created a Coalition for a Better Illinois 6th, which bills itself as "committed to making our elected officials aware of the diverse values of the people in the 6th Congressional District of Illinois."
"Many of us are concerned with Roskam's lack of leadership on healthcare," said Patrick Watson, who runs the coalition Facebook page. The group does not endorse candidates, he said. "The [ACA repeal] has energized people around the district to hold Roskam accountable. This is energizing people who have never been involved before. I think the vote is something that's going to come back on him in 2018."
In Winnebago and DeKalb Counties, Democrats are taking a fresh look at Republican Kinzinger who ran unopposed in 2016 and had no GOP challengers in the primary. In 2011, Kinzinger started his career by winning a GOP primary when the 16th District was remapped.
In Winnebago County, around 7,790 households participated in ACA health insurance as of January, 2017, out of 114,000, or 7 percent. In DeKalb County, 2,900 households participated out of 37,300, or 7.7 percent.
"We cannot wait any longer to bring relief to the American people suffering under Obamacare. In Illinois, premiums have gone up more than 40 percent," Kinzinger wrote in a statement after the vote. "Across the country, outrageous deductibles and fewer provider choices are commonplace under Obamacare," Kinzinger said.
"The so-called 'Affordable Care' Act, Obamacare, has had a damaging effect on patient care, insurance coverage and our economy. Today I voted to repeal and replace Obamacare, just as the American people asked for on Election Day. The AHCA puts patients back in charge of their own healthcare, and includes several layers of protection for individuals with pre-existing conditions. 
"This legislation has several steps to go before it becomes law and we have many improvements to make. But today, I acted to move this healthcare reform forward to make real progress for my constituents and our country."
"[Kinzinger's] been a better and more moderate Republican [than his predecessor] and that's how he's fended off attacks from Democratic party," said Winnebago County Democrat Chair Charlie Laskonis. "With this vote, I think it makes him looks like he's siding with extremists here. Before the election, he made it clear he was no big fan of Donald Trump, but now that's not so clear," Laskonis said.
"[Kinzinger] is also a military guy, and he plays that up a lot." Kinzinger holds the rank of major in the U.S. Air Force.
Democrats have stepped forward to challenge Kinzinger.
Hospital consultant Neill Mohammed, 36, of DeKalb started his campaign the week after the Nov. 8 election, he said.
"It's places like the 16th District that are the hardest hit by this bill," Mohammed said. "A lot of rural hospitals and urban hospitals in places like Rockford typically serve Medicaid or underinsured patients. When those patients were covered in 2012 by ACA, for hospitals it took off the burden of charity care, which is uncompensated and the most expensive and least effective way to offer healthcare."
Mohammed said he's the product of an "American dream" marriage of his father, a Pakistani immigrant who earned a second degree at Northern Illinois University and a South Dakota mother of Irish and German extraction.
"Maybe my life would have been easier in this campaign if my name were Jones," Mohammed said, "But growing up in DeKalb, I never had any experience of exclusion or ethnically based discrimination because of my name or background."
Other Democrats also declaring their candidacy for the 16th are Ottawa attorney Chris Minelli and 25-year-old Rockford native Nathan Arroyave, who said he supports a progressive platform inspired by the campaign of Bernie Sanders.
Paul Stoddard, chair of the DeKalb County Democrats, said he was optimistic at the interest in the 16th District seat.
Stoddard also believes the 14th District of Hultgren may be in play. The 14th District covers parts of DeKalb, DuPage, Kane, Kendall, Lake and McHenry counties.
"The 14th District is closer into Chicago and more of an urban and suburban population," Stoddard said. "The DCCC has listed it as 'winnable' for the Democrats," Stoddard added.
Hultgren issued a statement after the AHCA vote saying the AHCA bill was not the perfect solution.
"Maintaining the status quo under a failing law is simply unacceptable. I have had great concerns about this bill, and expressed those to Speaker [Paul] Ryan and House leadership. But doing nothing isn't an option, which is why I supported this amended bill as an important next step in the longer process of broader health reform that will benefit Illinois."
Hultgren's statement said the ACA was in a "downward spiral" that was accelerating with premium spikes and fewer companies participating in the ACA exchange. "The forecast for next year is more desperate, which is why I support moving a solution forward that does something to protect care for people in the 14th District."
Peoria-based Congressman LaHood in the 18th District faced a town hall of rowdy constituents in April who challenged the Republican plan to repeal the ACA.
"Pre-existing conditions is an area that we need to protect, and I'm supportive of that. I also think being able to keep your kids on their parents' insurance is a good thing until 25 or 26. I commit to you that keeping those two things, whatever we vote for, has to be part of that," he said at the town hall.
The 18th District covers parts of McLean, Peoria and Tazewell counties, in which 10,382 households with insurance through Affordable Care Act are located.
Local Democrats think LaHood won't escape the sting of voters who may find themselves punished by new insurance changes.
"One of the things with the recent vote on healthcare is that it's a personal issue that goes beyond ideology and goes beyond whether you are liberal, conservative, or independent," said Eureka College history professor Democrat Junius Rodriguez, who ran against LaHood in November. LaHood easily won the contest in the conservative central Illinois district with 72 percent of the vote to Rodriguez's 28 percent. "I think there are folks on the right who voted for Trump who may have remorse when they are looking at pre-existing conditions and premium costs from a high-risk pool.
"This healthcare vote is a vote that will be remembered by voters for quite some time," Rodriguez continued. "Just like the passage of the Affordable Care Act in 2009 had a direct impact on the 2010 midterm [elections], it wouldn't surprise me that you wouldn't see a similar response.
"This is a conservative district that's center-right, and even if every single Democrat voted on election day, the only way they would win is by pulling in independents and moderates. What [LaHood] must be fearful of [in 2018] is losing independents and moderate Republicans who are getting Trump fatigue."
On the other hand, Rodriguez said local Democrats were energized.
"I have seen more grass roots activism among Democrats, independents and moderate Republicans since the inauguration than I've ever seen before. I think anything is possible in the 2018 election."
Language in the AHCA also takes a step toward defunding Planned Parenthood of more than $430 million in federal money by defining which organizations can receive Title X funding and excluding the national women's reproductive health organization. Republicans have opposed funding Planned Parenthood as a major provider of abortions in the United States.
"This is a major victory for all of our efforts this year this major priority for the Pro-Life movement," said Eric Scheidler in a video for the Pro Life Action League, based in Aurora. Scheidler urged supporters to "put pressure on our senators to get the job done and send this bill to President Trump for final passage, stripping Planned Parenthood of all their federal funding."
Restricting legal abortion access caught the attention of younger college and university Democrats in the 13th District, represented by GOP Congressman Rodney Davis. The central Illinois district covers parts of 14 counties, including Metro East's Madison and St. Clair, but also includes multiple college campuses including University of Illinois Champaign-Urbana, University of Illinois Springfield, Southern Illinois University Edwardsville, Illinois Wesleyan and others.
"Repealing the ACA is attacking healthcare and [legal abortion access] is what's generating all the tension for college students and their families," said Rahime Aliu, resident of the College Democrats of SIUE. "We need both the reliable healthcare and women of lower economic status need not just abortions, but other women's health services like mammograms."
Davis co-sponsored the Title X Abortion Provider Prohibition Act that prohibits federal family planning funding unless the entity being funded will not perform abortions or fund entities performing abortions. The act makes exceptions for rape or incest or abortions performed when pregnancy would endanger the health of the mother.
"District 13 is considered to be a contraceptive desert, and the only Planned Parenthood, or any sort of clinic dedicated to women's health, is in Springfield," said Cat Yurkovich, of Gillespie, a member of Indivisible IL-13. "Rodney Davis is extremely opposed to Planned Parenthood. I'm a client of Planned Parenthood for 35 years and also an independent contractor who depends on Planned Parenthood as my only source of healthcare," she said.
Davis has promised to repeal ACA since he first ran in 2012. On the date of the vote, he issued a statement on his website criticizing Obamacare:
"Americans deserve a health care system that provides a choice of insurance they can actually afford. Many want to pretend Obamacare is working — that it has covered 24 million people or lowered premiums by an average of $2,500 like was promised but neither of those are true. The facts are Obamacare covered less than half of those it promised to cover, premiums in Illinois went up by an average of 45 to 55 percent last year, and 29 million still don't have insurance coverage even though it's mandated by the government," he wrote.
"President Obama and Democrats in Congress had seven years to fix Obamacare through regulatory reforms, which did not need congressional approval, but failed because the law is fundamentally flawed. Obamacare is collapsing and we have a duty to our constituents to pass a solution."
Aliu said university students on far-flung university campuses in the 13th District are upset about the AHCA passing and are communicating with each other via social media, including Facebook, Twitter and Instagram about coordinating a strategy for 2018.
"In two days, I got over 50 notifications and multiple messages, attachments and conversations with a number of students on other campuses with the concern over defunding Planned Parenthood as well as the ACA. We're bouncing ideas off of each other, and that is going to increase even more."
Aliu said college students were activated by the Bernie Sanders campaign, and were willing to volunteer for the mainstream Democratic party in a post-Trump world.
Aliu spent the summer in the neighboring 12th District campaigning for Democrat lawyer C.J. Baricevic in a failed effort to defeat GOP Congressman Michael Bost, who also voted for the AHCA
"It's eye opening how our nation has changed in the past few months," she said.
"What Bernie brought to the table has stuck to us. He did get us involved; he did get us out there. Some of us left [after Hillary Clinton won the primary], but we're back now."
Pam Gronemeyer of the Madison County Democrats said Bost held a formerly long-time Democrat seat in a district that covered the Metro-East area and reached all the way to Carbondale.
"Bost was saying until the very end that he was undecided about how he would vote on the AHCA," Gronemeyer said. She said she believed he did not want to alienate his constituents who had insurance through ACA. More than 11,000 households in Madison and St. Clair counties bought insurance through the ACA in January of 2017, or about 5 percent of the two counties' 203,000 residents.
"Obamacare was based on a one-size-fits-all approach that put bureaucrats in Washington in charge of your health care," Bost said in a statement on his website after the vote. "[Obamacare] led to higher costs, fewer choices, and less access to the care people need. Its flaws are structural and cannot be fixed by tweaking at the margins. Many of the counties in the Illinois 12th Congressional District only have one option through the exchange under Obamacare, and that plan's premiums have skyrocketed by 70 percent. In some states, insurers are fleeing entirely.
"The American Health Care Act is not perfect, but it is a step in the right direction to decrease premiums and expand and enhance health care options so Americans can find a plan that's right for them. Importantly, the bill provides a stable transition to help ensure low-income Americans have access to quality, affordable options through a new, competitive, state-based private insurance marketplace."
Gronemeyer, of the Madison County Democrats said she saw fewer inroads in the rural Republican 15th District represented by John Shimkus.
"For seven years, I've fought to repeal all of Obamacare's mandates, middle class taxes, abortion subsidies, insurance company bailouts, and unaffordable, one-size-fits-all health insurance plans. I also assured my constituents that our replacement would include protections for patients with pre-existing conditions. My vote today does all of the above," Shimkus wrote on a statement on his website.
"Passage of the American Health Care Act (AHCA) is a win for President Trump, but more importantly it's a win for the millions of Americans who are forced to buy a product they can't afford to use. The AHCA will empower states to offer, and patients to choose from, a broader range of affordable insurance plans that better fit each individual and family's unique needs."
Gov. Bruce Rauner issued a statement that the AHCA would endanger the Illinois residents under the Medicaid Expansion.
"The bill that passed in the U.S. House today continues to be of deep concern to our administration. Recent changes did not address fundamental concerns about the bill's impact on the 650,000 individuals that are part of our Medicaid expansion population, nor have those changes eased the concerns of the 350,000 people in the individual market who are dealing with skyrocketing premiums and fewer choices. We will continue to voice our concerns as the law moves to the Senate," Rauner wrote.
"The Affordable Care Act is a seriously flawed law that should be changed. Difficult as the task has proven, we are hopeful that our federal lawmakers will continue to work hard to get this right for the people of Illinois and our nation."
Illinois Sen. Dick Durbin has stated that losing the ACA will harm rural downstate Illinois residents and damage rural hospitals.
"The Illinois Congressmen who voted to repeal health care today ignored clear warnings from every Illinois medical organization that this will be a disaster for our state," Durbin said in a statement. "They were driven by political arrogance instead of common sense. My recent medical experience [with surgery] reminded me how vulnerable we all are. I will fight this Republican health care repeal in the Senate until Hell freezes over."
— Illinois GOP defend health care votes, Democrats hope for 2018 damage  —