U of I Extension educator to share safe canning
June 18, 2019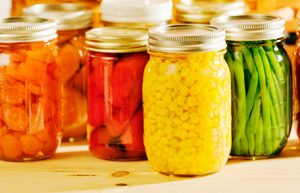 Whether just starting out or updating your knowledge, join University of Illinois Extension Educator Laura Barr for one of three upcoming seasonal programs on home food preservation.
"Canning is a simple, smart way to make the most of the fresh produce available this time of year," Barr said. "Food preservation is coming back into practice, with more people supporting local economies, growing their own food or simply wanting to enjoy the taste of summer in the cold of winter. However, it is important to know the latest scientific updates on the canning process, as we preserve, serve and share our foods."
The focus on evidenced-based practices and scientific principles is a mission of U of I Extension, said Barr.
During a "Yes, You Can: Preserving Food Safely" session, participants will learn the basics of food preservation, receive up-to-date food safety guidelines, understand the latest scientific methods, pick up recipes and ideas, and can have your pressure canner gauge tested.
"If you have a dial gauge pressure canner you need to get it tested once a year," Barr added.
There are three choices throughout August for the "Yes, You Can: Preserving Safely" presentation. The dates and locations are as follows:
In Kane County, on July 10 from 10 a.m. to noon at the Extension Office, 535 S. Randall Road, St. Charles.
In Kendall County, on July 18 from 1 to 3 p.m. OR 5 to 7 p.m. at the Extension Office, 7775B Illinois Route 47, Yorkville.
Register online at go.illinois.edu/extensiondkk. There is an $8 fee per person, which will cover the educational session and pressure canner gauge testing. Youth must be accompanied by a participating, paid adult.
Registration closes one week prior to each class, and space may be limited. If you need a reasonable accommodation to participate in this program, please contact your local University of Illinois Extension office.
Early requests are strongly encouraged to allow sufficient time for meeting your access needs.