How They Voted. Illinois Representatives' Votes in Congress
Illinois Representatives' Congressional Votes —

May 27, 2015
How They Voted.  Illinois Representatives' Votes in Congress
United States House of Representatives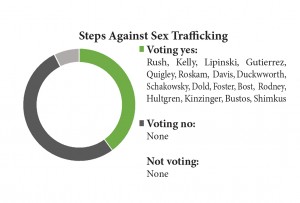 Steps Against Sex Trafficking: Voting 420 for and three against, the House on May 19 sent President Obama a bill (S 178) that would strengthen existing federal laws and create new ones to combat human trafficking and help its victims to recover. The bill establishes a Domestic Trafficking Victims' Fund financed by fines on those convicted of crimes involving sex trafficking, child abuse and human smuggling. Hyde Amendment abortion restrictions would apply to the bill's expenditure of public funds for women's health care but not to reproductive services paid for by the new, privately financed victims' fund.
Ted Poe, R-Texas, said the bill "goes after the trafficker — the slave master, the slaveholder. It treats the child as a victim and not as a criminal and not as a child prostitute. It rescues the victim, and it targets the demand — the buyer, the child abuser — that buys these children for pleasure."
No member spoke against the bill.
A yes vote was to give final congressional approval to the bill.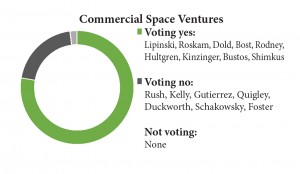 Commercial Ventures In Space: Voting 284 for and 133 against, the House on May 21 passed a GOP-drafted bill (HR 2262) to update federal laws designed to promote and govern commercial ventures in space, including space tourism. The bill would make Treasury funds available to backstop private-insurance coverage of commercial launches; extend until 2026 a moratorium on the Federal Aviation Administration closely regulating the safety of space-flight crews and passengers; require space passengers to waive in advance their right to sue launch providers and other parties, even in instances of negligence, and give commercial firms the legal right to minerals they mine from asteroids, among other provisions.
Lamar Smith, R-Texas, said the bill "will keep America at the forefront of aerospace technology, promote American jobs, reduce red tape, promote safety and inspire the next generation of explorers."
Donna Edwards, D-Md., said Congress must set policies that "encourage the commercial space industry and protect those who participate as the users of the industry's services and activities. Sadly, this bill just doesn't measure up to that responsibility."
A yes vote was to send the bill to the Senate, which is developing similar legislation.
United States Senate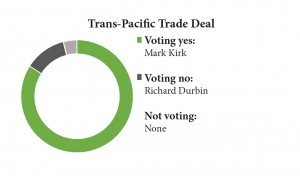 Trans Pacific Trade Pact: Voting 62 for and 38 against, the Senate on May 21 advanced toward expected final passage a bill (HR 1314) that would enable trade agreements — including the 12-nation TransPacific Partnership — to move through Congress with up-or-down votes without amendments and without being subjected to Senate filibusters. The bill gives President Obama the fast-track Trade Promotion Authority he requested for his bid to shepherd the TPP into law. The pact would lower or remove tariffs and duties to spur trade among the U.S., Australia, Brunei, Canada, Chile, Japan, Malaysia, Mexico, New Zealand, Peru, Singapore and Vietnam, which account for nearly 40 percent of the world's gross domestic product (GDP).
Orrin Hatch, R-Utah, said: "Our nation's economic health and prestige are on the line here today. The (Trade Promotion Authority) bill is the only way Congress can effectively assert its priorities in our ongoing trade negotiations."
Sherrod Brown, D-Ohio, said: "Why we are rushing to end debate before it has truly begun is mystifying." He said Memorial Day was "some artificial deadline that somebody somewhere set" for passing the bill.
A yes vote was to allow fast-track congressional consideration of the TPP trade agreement.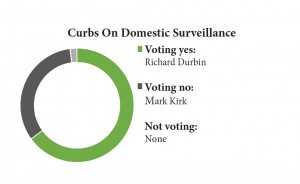 Curbs On Domestic Surveillance: By a vote of 57 for and 42 against, the Senate on May 23 failed to reach 60 votes needed to begin debate on a bipartisan, House-passed bill (HR 2048) that would end the National Security Agency's collection and storage of bulk data on Americans' telephone calls and other telecommunications under laws such as Section 215 of the USA Patriot Act. Under the bill, when the agency requests authority from the Foreign Intelligence Surveillance Court to search telecom records involving U.S. citizens, it would have to provide specific information — short of probable cause — to identify its target in the context of a terrorism investigation. The agency would obtain its desired records from databases in the private sector, subject to court review. The bill would set up an outside panel to advise and monitor the intelligence court on privacy issues. It measure would establish a mechanism for prompt disclosure to the public if the court were to approve an overly broad records search. Overall, the bill renews three sections of the USA Patriot Act that are due to expire June 1. These are the only sections of the post-9/11 law subject to periodic renewal, with the remainder of the law a permanent part of the U.S. code.
A yes vote was to advance the bill.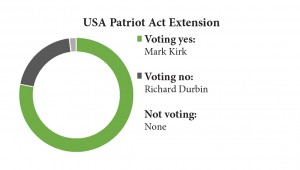 USA Patriot Act Extension: Voting 45 for and 54 against, the Senate on May 23 failed to reach 60 votes needed to start debate on a bill (S 1357) that would extend for 60 days the only sections of the post-9/11 USA Patriot Act that are not permanent law. Scheduled to expire June 1, these three sections permit roving wiretaps on non-citizen terrorist suspects on American soil, allow surveillance of "lone wolf" suspects not linked to terrorist organizations and permit the government to conduct secretive searches without probable cause of business, library, bookstore, tax, medical and other sensitive records during terrorism investigations. In each case, authorities would need Foreign Intelligence Surveillance Court approval to conduct the surveillance.
Congress is in a weeklong Memorial Day recess. The Senate will meet Sunday, May 31, to vote again on efforts to keep parts of the patriot law from lapsing. House leaders have given no sign they would return to session before June 1.
A yes vote was to extend three sections of the USA Patriot Act for 60 days.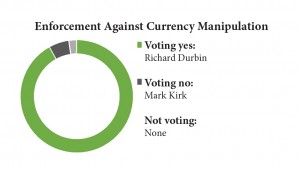 Enforcement Against Currency Manipulation: Voting 48 for and 51 against, the Senate on May 22 defeated an amendment to HR 1314 (above) that sought to add an enforceable ban on currency manipulation to the TransPacific Partnership trade deal now being negotiated by the U.S. and 11 other nations. The amendment's goal was to establish currency manipulation as a formal negotiating principle in the TPP, alongside those concerning environmental protection, fair labor standards, intellectual property rights and other core issues between trading partners. If a ban on currency manipulation were formally added to the TPP, alleged violators could be held accountable in international tribunals. At present, currency disputes usually are addressed through diplomacy rather than legal proceedings. Senate critics of the TPP suspect countries such as Japan and Indonesia are devaluing their currencies to make their exports cheaper and imports from the U.S. more costly, but there has been no official confirmation of that.
Debbie Stabenow, D-Mich., said: "Currency manipulation is the mother of all trade barriers. We can compete with any car manufacturer in the world, but we can't compete with the Bank of Japan."
Orin Hatch, R-Utah, said "a vote for (this) amendment is a vote to kill the PPR, "because President Obama and U.S. negotiating partners have said they would not accept such a currency provision.
A yes vote was to formally add a currency provision to the TPP.