Illinois' hotel, camping and gas costs could dent summer driving
By Kevin Beese Staff Reporter —

July 11, 2019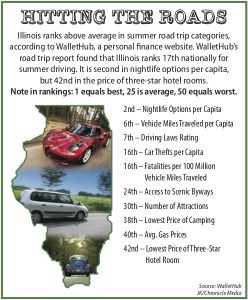 Despite Chicago's skyscrapers, parks and museums, Springfield's historic sites, southern Illinois' Cahokia Mounds and Galena's charm, Illinois is expected to just do all right in attracting summer road trippers.
The state's higher-than-average gas, camping and hotel costs may be part of the reasons keeping tourists away this summer, according to a personal finance website.
Illinois was 17th of the 50 states in WalletHub's summer road trip rundown.
One of the state's biggest detriments for summer road trips, according to WalletHub, is its hotel prices. Illinois ranked ahead of just eight other states in the average cost of three-star hotel rooms.
"Costs are definitely an important factor when choosing a travel destination. While there are travelers who are willing to pay more for accommodation based on the attractions in a certain state, there are also others who are deterred by more expensive hotels," said WalletHub analyst Jill Gonzalez. "We looked at the lowest three-star hotel room price, and for Illinois it was $127. The top-ranked states for this metric are Arizona and Arkansas, with costs as low as $54 per night."
Gas prices in Illinois are another downer for potential tourists. The Land of Lincoln will take a bigger bite out of the travel budget for drivers of Lincolns and other vehicles.
Illinois is 40th of all states for average gas prices.
"Since we ranked the states based on their attractiveness for summer road trips, the cost of gas is one of the most important factors," Gonzalez said. "Gas price is the main concern for those who are looking to hit the open road, but are on a budget. Illinois' ranking could be keeping them away."
The average gas price in Illinois was $2.91 per gallon on July 4, according to the Illinois Policy Institute. Alabama had the cheapest gas, at $2.48 per gallon, according to WalletHub.
Illinois' campground fees also may be putting the brakes on people heading here during the summer, according to WalletHub.
"As in the case of hotel prices, camping costs could be turning some tourists away from the state," Gonzalez said. "Those who are looking to save while traveling will go for cheaper destinations."
WalletHub does not have specific stats regarding the number of people who choose camping as their lodging option.
"However, the prevalence for camping is higher among those going on road trips," Gonzalez said.
WalletHub listed the lowest price of camping in Illinois at $57 per day, nearly double the rate charged in Big Sky country. Wyoming had the cheapest camping sites, at $30 per day, WalletHub data showed.
Illinois is at the top, however, in nightlife options per capital, trailing just Nevada with its glitzy Las Vegas and Reno. Illinois has 0.35 nightlife options per capita compared to Nevada's 0.41 options per capita.
That may draw a younger tourist crowd to Illinois this summer, according to Gonzalez.
"Nightlife options are among the activities people consider when deciding where to travel," she said. "However, nightlife does weigh more for younger, single people than for those traveling with their families. "
Illinois also ranks in the top 10 of states for vehicle miles traveled per capita.
"A high ranking in this category means less vehicle miles traveled per capita," Gonzalez said. "That is a good thing, as it indicates traffic fluidity." (Trying sharing that tidbit with someone on the Eisenhower Expressway at 5 p.m. some weekday).
Illinois has 8,353 vehicle miles per capita. The top-ranked state for this metric is New York, with 6,523 vehicle miles traveled per capita.
Illinois also stays in the top 10 for driving laws, according to WalletHub.
"The driving laws rating is a binary metric based on the total number of driving laws in each state," Gonzalez said. "The highest ranked states have more laws. This rating is important as it contributes to the safety of travelers. Illinois' rank means that it is among the states that have six to 10 driving laws, with front and rear primary enforcement seatbelt laws, or seven or more laws without both primary enforcement seatbelt laws."
kbeese@chronicleillinois.com