How They Voted. Illinois Representatives' Votes in Congress
Chronicle Media —

March 25, 2017
Report for week ending March 24, 2017.
UNITED STATES HOUSE OF REPRESENTATIVES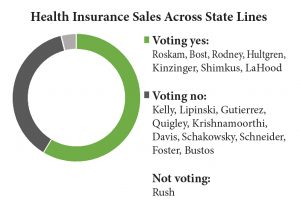 Health Insurance Sales Across State Lines: Voting 236 for and 175 against, the House on March 22 passed a bill (HR 1101) that would allow small businesses to band together to form "association health plans" qualified to sell policies across state lines free of Affordable Care Act requirements. Supporters said the bill would give small firms more scale for competing against large corporations. But critics said that by pre-empting state laws, the bill would result in skimpy health plans from states with low standards flooding markets in well regulated states.
Bradley Byrne, R-Ala., said the bill would help small businesses "increase their bargaining power (and negotiate) for lower health-insurance rates on behalf of their employees just like their large competitors do."
Joe Courtney, D-Conn., said: "The guts of this bill — and it is quite extraordinary coming from the Republican Party — is to pre-empt state governments from having any say over the solvency and the benefit design" of association health plans.
A yes vote was to send the bill to the Senate.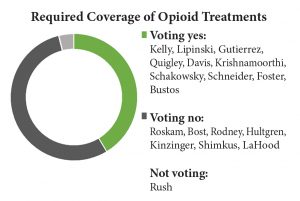 Required Coverage of Opioid Treatments: Voting 179 for and 233 against, the House on March 22 defeated a Democratic motion requiring that association health plans established under HR 1101 (above) cover opioid abuse and other forms of drug addiction. The Affordable Care Act requires health policies sold in the U.S. to offer 10 "essential health benefits," one of which is coverage of drug abuse. The association health plans that are the focus of this bill have no such requirements.
Carol Shea-Porter, D-N.H., said her state "is on the front lines of the heroin, fentanyl and prescription opioid crisis. Our communities are struggling, and helping people get treatment is key to turning the tide."
Virginia Foxx, R-N.C., said: "We have seen what happens when the federal government dictates the kind of health insurance individuals can and cannot buy. Healthcare costs skyrocket and patients have fewer choices."
A yes vote was to adopt the motion in behalf of opioid coverage.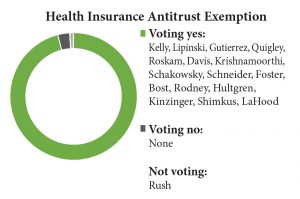 Health Insurance Antitrust Exemption: Voting 416 for and seven against, the House on March 22 passed a bill (HR 372) that would end the health-insurance industry's 72-year exemption from federal antitrust laws under the McCarran-Ferguson Act. Health insurers are now regulated by the state where they are based and subject to that state's antitrust laws. Under this bill, the Department of Justice and Federal Trade Commission would provide another layer of enforcement against monopolistic practices such as collusion in setting premium rates, allocating market shares and rigging bids on contracts.
Doug Collins, R-Ga., said: "By restoring the application of our competition and antitrust laws to the health insurance industry, we strengthen the foundation for a competitive health insurance market."
No member spoke against the bill.
A yes vote was to send the bill to the Senate.
UNITED STATES SENATE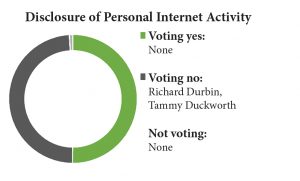 Disclosure of Personal Internet Activity: Voting 50 for and 48 against, the Senate on March 23 nullified a Federal Communications Commission rule that Internet service providers such as AT&T, Comcast and Verizon must obtain customer consent before they share sensitive user information such as browsing and app activity with advertisers and other parties. The requirement was published in October but has not yet taken effect.
Jeff Flake, R-Ariz., said: "When a regulation diminishes innovation, harms consumer choice and is just all-around confusing, it is a bad regulation." He added that the FCC is "already obligated to police the privacy practices of broadband providers" under federal and state laws.
Richard Blumenthal, D-Conn., said: "Signing up for the Internet shouldn't mean you sign away your right to privacy. Just as telephone networks must obtain consumer approval before selling customer information, broadband providers ought to be required to obtain affirmative consent" in advance.
A yes vote was to send the nullification measure (SJ Res 34) to the House.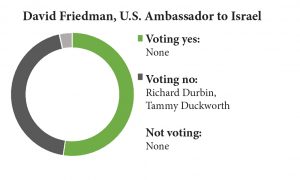 David Friedman, U.S. Ambassador to Israel: Voting 52 for and 46 against, the Senate on March 23 confirmed David M. Friedman, 65, a lawyer who has represented The Trump Organization and President Trump in bankruptcy litigation, as U.S. ambassador to Israel. Friedman supports Prime Minister Benjamin Netanyahu's expansion of Israeli settlements in Palestinian territories and advocates moving the U.S. embassy from Tel Aviv to Jerusalem.
No senator spoke in Friedman's behalf in floor discussions that preceded this vote.
Opponent Brian Schatz, D-Hawaii, said Friedman "is very passionately for settlements and…against the two-state solution, which means he is basically against decades of bipartisan U.S. foreign policy" to secure peace between Israelis and Palestinians.
A yes vote was to confirm Friedman.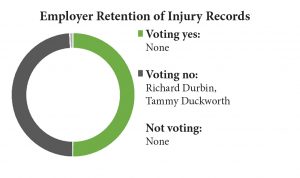 Employer Retention of Injury Records: Voting 50 for and 48 against, the Senate on March 22 nullified an Occupational Safety and Health Administration rule on the obligation of employers to keep updated records of employee injuries and illnesses. Under the rule, employers could be fined for record-keeping infractions for up to five years after the date of the incident. If the rule is nullified, the liability span likely would be reduced to six months from the date of the incident.
Bill Cassidy, R-La., said nullification "will not decrease workplace safety" because "the rule is about paperwork violations and not workers' health or safety."
Sherrod Brown, D-Ohio, said that overturning the rule "will allow employers to falsify their safety records with impunity. Companies can avoid OSHA rules and inspections by underreporting harm to their workers…."
A yes vote was to send the nullification measure (HJ Res 83) to President Trump.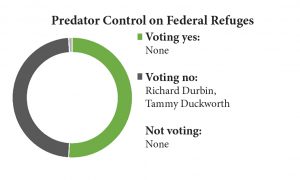 Predator Control on Federal Refuges: The Senate on March 21 voted, 52 for and 47 against, to nullify a Department of the Interior rule that would prohibit inhumane methods of killing bears, wolves and coyotes on the 16 federal wildlife refuges covering 77 million acres in Alaska. Overriding state laws, the rule outlaws practices such as shooting grizzlies from aircraft and gassing wolves in their dens. The rule requires predator control to be undertaken only for conservation purposes or to provide subsistence to indigenous populations. Denouncing the rule as a federal overstep, critics said Alaska has responsible practices for managing its wildlife population.
Dan Sullivan, R-Alaska, said his state "is a patch of many different ownerships of our land — state, federal and native lands. The moose and bear…don't know these borders. One agency needs to be in charge, and that is the state agency."
Chris Van Hollen, D-Md., said: "By overturning this rule, Congress would permit extreme and cruel hunting practices that include killing wolves and pups in their dens and trapping, baiting and using airplanes to scout and shoot bears and cubs."
A yes vote was to send the nullification measure (HJ Res 69) to President Trump.