PRIME TIME WITH KIDS: Make 'pine tree' votive candleholders
By Donna Erickson —

November 30, 2017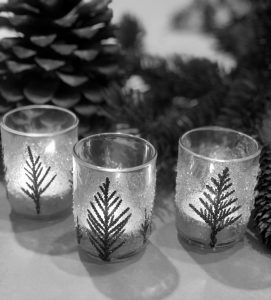 Creative time also can be vocabulary-building time when your kids learn how to say and spell "arborvitae." Check it out online or, depending on where you live, take a walk together and discover the common hardy shrub with flat spraylike green branches that grows in most zones of the country. Here's the fun part. Take a closer look, and see how the tips on branches resemble the shape of a pine tree.
"Why not glue the flat tree-like tip portions of the branches onto clear glass votive candleholders?" thought my friend Lisa MacMartin, who is always on the hunt for natural materials for sharing projects with children at her welcoming store and family craft studio, Heartfelt, in Minneapolis (heartfeltonline.com).
I gave her idea a try. After clipping a few sprigs in my backyard, I flattened them between pages of a thick book for a week. When pressed, the mini branch tips were ready for adhering to clear glass votive candleholders. For the holidays, a dash of white glitter on the sticky glue was the perfect wintry touch.
Press a few branch tips, and you'll be set for a family craft night making these festive votives for a cozy candle lit evening in your home. Or, wrap extras up for hostess gifts when you share the season with others.
Here's the stuff you'll need:
pressed stems of arborvitae

scissors

standard-size clear-glass votive candleholders available at craft stores, or upcycle clear glass jars with labels removed

Mod Podge water base sealer, or household white glue

paper plate

small paintbrush

fine white or sparkly white glitter
Here's the fun:
1. Trim four "tree-shaped" ends of the arborvitae to fit a bit less than the height of the votive holder.
2. Pour Mod Podge or glue onto plate. (If using glue, dilute with a few drops of water). Brush Mod Podge or glue mixture on a section the size of one of the "trees" on the outside of the glass. Press greenery with your fingers until it adheres. Lightly brush on another layer or two of the adhesive. Sprinkle with glitter. Repeat as you go around the candleholder.
3. Once dry, your votive holder will be set for service. Place a lit candle inside, and watch it shimmer.
Extra idea: If you don't have access to arborvitae, instead, print and cut out images of pine trees or other natural images online or from magazines.
Safety note: An adult should always be present when burning candles.
***
Donna Erickson's award-winning series "Donna's Day" is airing on public television nationwide. To find more of her creative family recipes and activities, visit www.donnasday.com and link to the NEW Donna's Day Facebook fan page. Her latest book is "Donna Erickson's Fabulous Funstuff for Families."
© 2017 Donna Erickson; Distributed by King Features Syndicate
—PRIME TIME WITH KIDS: Make 'pine tree' votive candleholders–