Largest and longest-running auto show returns to Chicago
Chronicle Media —

February 10, 2017
The 2017 Chicago Auto Show has a myriad of offerings to enhance the experience of visitors to McCormick Place.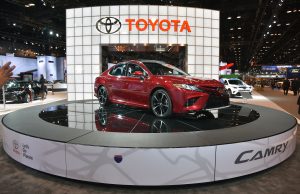 The show, which runs through Feb. 20, features two additional indoor test tracks this year, swelling the total number of indoor riding opportunities for attendees to five. Returning are Camp Jeep, Fiat Chrysler Automobile's multi-brand track and Toyota's RAV4 & Highlander Experience. New for 2017 is a Ram proving ground and Mercedes-Benz' "Iron Schöckl."
Named after the Schöckl, a mountain in Austria, the Iron Schöckl challenges the Mercedes-Benz G-Class by forcing it to undertake a 45-degree incline. Then, at the top, the G-Class enters a movable platform, teeters to point downward and undertakes a 45-degree descent.
Ram's proving ground boasts six stations designed to highlight the pickup's capabilities. They include an active level station, construction culverts, torque pull, towing demonstration, mountain climb and high-wedge turn.
"With two additional test track opportunities, we think more than 80,000 attendees will take rides on the show floor this year," said Mike McGrath, 2017 Chicago Auto Show chairman. "Our indoor test tracks combine with our outdoor test drive opportunities to create a show experience unlike any other in the nation."Test tracks have been a Chicago Auto Show staple for 12 years. Back in 2005, Jeep built its first indoor test track at the Chicago Auto Show, and the brand has returned every year since.
More than 20 vehicles made their world debut during this week's Media Preview, including Dodge Durango SRT; Ford Expedition; Hyundai Elantra GT; Mitsubishi Outlander Sport; Nissan TITAN King Cab and Midnight Editions; TRD Sport editions of the Toyota Tundra and Sequoia; Subaru Legacy; and Volkswagen Tiguan LWB.
The show is open to the public daily at 10 a.m. beginning Saturday, Feb. 11 and runs through Presidents Day, Monday, Feb. 20, 2017. As always, the show features nearly 1,000 cars, trucks and SUVs, appearances from celebrities and sports icons and interactive exhibits for the whole family.
New this year, show organizers are enhancing and streamlining the attendee experience with a new program called epass. Attendees who visit the show can activate their ticket (both mobile and box office tickets) to scan at kiosks located throughout the show floor to request vehicle information on-demand, sign up for test drives and even enter contests.
The show's official app, now in its third year, is the
perfect virtual companion for attendees. The app is available for Android and Apple iOS devices and contains a complete schedule, virtual show floor map and complete listing of vehicles on display. People who download the app can register to win a two-year lease on a Buick Envision or GMC Acadia. The app also acts as an epass for attendees.
As in previous years, the Chicago Auto Show will host an array of special events throughout the show, including:
Women's Day: Wednesday, Feb. 15. Women are admitted for $7. Manufacturers present special women-oriented programs on the purchase, lease and maintenance of vehicles.
Chicago Auto Show Food Drive: Wednesday-Friday, Feb. 15-17. Show patrons who bring three cans of food will receive a coupon for a $7 adult admission. All food will be donated to A Safe Haven Foundation.
Telemundo Hispanic Heritage Day: Friday, Feb. 17. Manufacturers develop and host Hispanic celebration events throughout the show.
Family Day: Monday, Feb. 20. The Chicago Auto Show will host family-friendly events on Presidents Day.
For a complete schedule of events and more information, visit the Chicago Auto Show web site.
Read the current issue of the Cook County Chronicle
Free subscription to the digital edition of the Cook County Chronicle