DuPage County's agricultural roots live on at Naper Settlement
By Cathy Janek  for Chronicle Media  —

August 18, 2017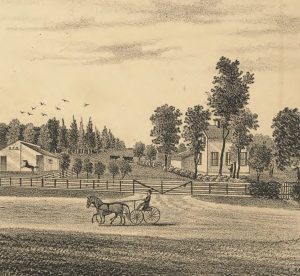 If you look hard enough, pockets of corn and soy bean fields can still be found on small plots of undeveloped land in Naperville and the surrounding region. 
Those last remaining parcels are a small reminder of a different era for the sprawling city of more than 146,000 people—many whose only affiliation with farm life is the name of their subdivision. 
Of Naperville's 191 residential subdivisions, many tout names like Farmington, Farmstead, Green Acres, Clow Creek, and Rose Hill Farm—all paying homage to the city's early farming history and a time  when cows outnumbered people in DuPage County and where most of the people living in Naperville and surrounding region were tied to the farming industry. 
 Jennifer Bridge, curator of exhibits and interpretation at Naper Settlement said that until the early 1900s more than 35,000 cows could be found in DuPage compared with only 27,000 people. 
The last cow was relocated about 15 years ago, much like the last group of farmers who for the most part also have given up cultivating land in Naperville and ending a long and rich history of agriculture in the community. 
"You may still see some market farms that will grow crops in Naperville; however, most of those have relocated their crops out of Naperville," Bridge said.  "They still may have a farm stand in town, but their acreage is elsewhere." 
In early years, farming in the region largely consisted of growing grain crops—some of which was transported along the Great Lakes to the East Coast.  
Soon after the Civil War and as the population of the city of Chicago grew, Naperville farmers instead turned to dairy farming. 
Although it was economically more lucrative to be a dairy farmer, Chicago was one of the earliest cities to implement sanitary measures related to the "cooling and pasteurizing of milk and farmers in Naperville had to comply," Bridge said. 
"It was tougher for smaller family farms to purchase the necessary equipment to pasteurize the milk; some of them transitioned to growing corn and soy beans," she added.  
After World War II, Bridge said, the acreage in Naperville dedicated to farming began to decline. 
With the growth of industries along the Interstate 88 tech coordinator in the late 1970s and 1980 that land become more valuable for development over farmland. 
At that time, some farmers swapped their Naperville farmland for farmland "farther out" while other farmers retired. 
Several years ago, the Wheatland Plowing Match Association, one of the longest running plow matches in the country, decided to disband and donated several pieces of farming equipment along with a $100,000 donation to the Naperville Heritage Society, administrator of Naper Settlement. 
At the same time the Settlement also began researching its own collection to see what stories existed in the farming artifacts. 
An exhibit unveiled this past spring —  Naper Settlement Community Roots: Agriculture in Naperville — delves into Naperville's farming history as "an outgrowth of all these things coming together," Bridge said. 
The equipment and donation will be used toward the development of an Agricultural Interpretive Center—a 5,000 square foot exhibition space that will feature interactive exhibits, virtual technology, hands-on activities and a collection of farming artifacts and equipment at Naper Settlement. 
"Farming was one of the major industries in town since its founding. It has always been an important part of the city's history," Bridge said.  
While farming for more than subsidence has ceased in Naperville, Bridge said as a side note–a 25 member chapter of the student-led Future Farmers of America recently re-established at Naperville Central High School. 
— DuPage County's agricultural roots live on a Naper Settlement   —