Lombard man charged in high-speed chase
September 15, 2023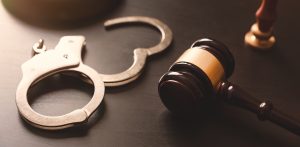 A Lombard man has been accused of leading police on a high-speed chase, reaching speeds in excess of 110 mph.
Jameel Hall Smith, 26, a resident of the 300 block of West Maple Street, is charged with two counts of aggravated fleeing and eluding a police officer, a Class 4 felony; three counts of misdemeanor DUI; and eight misdemeanor and petty traffic offenses, including reckless driving and possession of open alcohol by a driver.
Class 4 felonies are punishable by one to three years in prison and a fine of up to $25,000.
Hall Smith was being held in DuPage County Jail in lieu of $500,000 bond.
DuPage County Circuit Court Judge Michael Reidy set an additional bond of $250,000 for Hall Smith following allegations that he failed to appear in court in June on retail theft charges.
Shortly before 11:30 p.m. Tuesday, Sept. 12, Carol Stream police officers attempted to initiate a traffic stop on a vehicle for speeding, no registration light and no front headlight, according to police. When officers activated their emergency lights, the driver, later identified as Hall Smith, accelerated away from officers, police said.
It is alleged that Hall Smith continued to flee officers weaving in and out of traffic and reaching speeds in excess of 100 mph along Geneva Road and North Avenue. Hall Smith entered Interstate 355 and continued to flee officers reaching speeds in excess of 110 mph before crashing into the center median causing the car to hit a semi-truck and lose a front tire, according to police.
Hall Smith allegedly continued to drive on his front axle for about two miles before exiting the car and fleeing on foot. He was taken into custody following a brief foot pursuit, police said.
Following the crash authorities smelled alcohol on Hall Smith's breath and found an open bottle of tequila in his car, police said.
"The allegations that while under the influence of alcohol, Mr. Hall Smith led officers on a 110-mph high-speed chase are beyond disturbing," DuPage County State's Attorney Robert Berlin said. "I can't be more clear — anyone who attempts to flee from police will be caught and will only find themselves facing more serious charges. Thankfully, no innocent motorists or pedestrians were injured or worse as a result of Mr. Hall Smith's alleged actions.
"I urge everyone, if you hear sirens and see flashing lights behind you, pull over. Attempting to outrun the police will only make things worse for you. I thank the Carol Stream Police Department for not only their work on this case, but also for their ongoing efforts to keep our roadways safe."
"I am grateful that nobody was hurt due to the senseless actions alleged against this individual who, through his actions, demonstrated complete disregard for others," Carol Stream Chief of Police William Holmer said. "Thank you to State's Attorney Bob Berlin and his team for their approach to holding these offenders accountable."
Hall Smith's next court appearance is scheduled for Oct. 6 for arraignment in front of Judge Reidy.