Elgin youth program shows positive effects of community policing
By Kelli Duncan For Chronicle Media —

August 23, 2018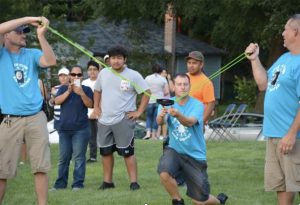 As Elgin Police Officer Mike Kuta walked through the National Night Out block party at Abbott Middle School, there did not seem to be a single neighborhood kid there who he didn't know by name.
He stopped to say hello to each kid he works with and likes,  asking them about how their families and reminding them to grab a bite to eat in the school's cafeteria.
National Night Out is an annual event where neighbors in different cities across the country come together to get to know their police officers. But for Kuta, building relationships with the neighborhood youth is all in a day's work.
"There are plenty of negative interactions that people have with police officers, so anything positive that we can do to change that is important," Kuta said. "Having that kind of relationship with the community makes our job easier then when we're on the street and interacting with people.  They know that it's not us versus them."
At Abbott's National Night Out party on Aug. 7, they were also celebrating the last session of the Kids United Youth Initiative wrapping up the program's eleventh year, according to Kuta.
Kids United is a summer-long youth leadership program designed to give kids in Elgin something to do over the summer instead of potentially getting into trouble.
As the School Resource Officer (SRO) for Abbott, Kuta leads the program each summer along with his fellow SRO's from other schools in the area.
"Ultimately we're just trying to give the kids a fun, safe place to be to affect them in a positive way and build some relationships with some really great kids," Kuta said.
Kuta said Kids United has been run by the Elgin Police Department since 2007.
Before the EPD took over the program, it was run by the Elgin Parks and Recreation Department. Superintendent for the Parks and Recreation Department, Maria Cumpata, said the program began as an open gym back in 1995.
Today, however, Kids United offers much more—something that makes it unique among other summer youth programs. According to Kuta, Kids United has activities for kids and teens of all interests from soccer to arts and crafts to yoga.
"We try to incorporate some learning into the program too," Kuta said. "We've had the Gail Borden Library come in and they'll do some reading activities with them."
They also host a "culinary cop" cooking class twice a week. Supervisor for the Parks and Recreation Department, Sue Rushka, said the cooking class is one of her favorite activities.
"Each week, a different officer brings in a recipe to teach to the kids and they just love it," Rushka said.
The program is split into two age groups — kids ages 9 to 12 come on Mondays and Wednesdays from 4-9 p.m. and teens ages 13 to 17 come on Tuesdays and Thursdays from 4:30-9:30 p.m. Kids United is held at either Abbott Middle School or Larsen Middle School each summer.
"The kids love it because it's tons of fun," Rushka said. "But the parents love it because they know their kids are safe for five hours a night, five days a week.   They couldn't ask for a better person to look after them.
Kuta said they had an estimated 400-500 kids register for the program this year, but they typically cap each night at around 100-120 participants depending on how many volunteers they have.
Kuta said the best part of the Kids United program are their weekly field trips every Friday.
"We've done a lot of different stuff with the field trips," Kuta said. "We've taken them down to Navy Pier and rented one of those sail ships where they took them out on the water for a little bit…another time we went down to the quarry in Naperville and then to Lou Malnati's for pizza."
Kids United is funded each year by a grant from Elgin Township making the program completely free for the families that participate. The kids are provided with a meal every day that they come thanks to a partnership with the Northern Illinois Food Bank.
"We have a lot of kids that are on the free or reduced lunch program, kids that are living in poverty or in Section 8 housing and it can be very difficult for them in the summer," Kuta said.
Kuta said that for some of the kids that he works with, he may be one of the only positive role models they have.
"Having access to not just police officers but adults in general that are responsible and have careers who they can ask questions…that's one of our main goals is to be a resource to spread some positivity," Kuta said.
"The most rewarding thing is when we have kids that come through the program and they love it so much that they end up becoming volunteers with us once they turn 18," he said.
That was the case with Elizabeth Garcia. Garcia entered the Kids United program when she was 17 years old and loved it so much that she decided to become a volunteer.
"At Kids United, I got to meet so many new people and people from other schools as well that I never even knew," Garcia said. "And I still talk to them since I volunteer there I still see a lot of them and it's just really fun."
Garcia has been volunteering with Kids United for three years now. She said her main priority as a volunteer is to make sure everyone is engaged and having a good time.
"Some kids may be shy or may not know anyone there so sometimes they start off on their phone in the corner.  So I try to get them involved," Garcia said. "But then after the first couple of days you see the same kid with a bunch of little friends running around, playing sports or having a good laugh and that's really nice."
Garcia is currently attending Elgin Community College and hopes to transfer to Harper College to become an ultrasound technician. She said she often talks to the kids about what college is like and how they can start preparing for their futures.
"They tell me what they would like to do when they grow up. I just think it's a good way to be a role model for them so they can look forward to being something after school and know that being in school is actually good," Garcia said.
Rushka said she thinks the reason Kids United has been so successful in Elgin is due to the dedication of the School Resource Officers and their volunteers.
"I love them all, I love what I do," Rushka said. "My whole heart and soul is in it and you can just tell that all of the officers and the volunteers feel the same way."