Midwest Museum of Natural History: Sycamore's hidden gem for science-lovers
By Kelli Duncan For Chronicle Media —

July 25, 2018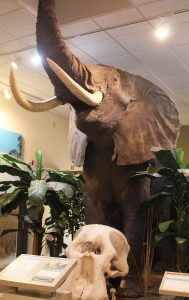 Downtown Sycamore's Midwest Museum of Natural History has everything imaginable for the science-lover: interactive exhibits, live reptiles and a world-class collection of mounted taxidermy animals.
Lauren Orton, curator of education and acting executive director, said that the museum has a unique collection of mounted animals, especially for a town the size of Sycamore.
"A lot of people, if they think, 'I wanna see an elephant or learn more about a giraffe,' they immediately think of the Field Museum in Chicago," Orton said. "But here we are just a moderate-sized museum right in Sycamore, Illinois and you can come out, spend a day at the museum and see our giraffe or our African elephant, Ralph."
And Ralph truly is a sight to see.
Although the museum is home to seven permanent exhibits featuring mounted animals from all around the world, the most impressive is the African exhibit.
As visitors pass by polar bears, large moose and ferocious jaguars and turn the corner into the African exhibit, they are often surprised by Ralph, the stuffed African elephant who looms over children and adults alike.
"I would have to say Ralph is my favorite," Orton said. "Every time I come around that corner on a tour and people see Ralph, the African elephant, their eyes just get so big and they're so amazed because no one really realizes how big, how massive they truly are."
Although he is one of just a handful of mounted elephants on display in the U.S., Ralph is by no means the museum's only star.
There are animals from different ecosystems and environments around the world, all carefully arranged to show visitors what they would look like if they were still in the wild. Each exhibit features interactive elements that allow spectators to learn more about the biology, geology and anthropology of the region.
Orton said that the museum has grown to be an important educational resource for the community.
"I think our museum promotes good stewardship of the environment and of animals in general," she said. "Kids learn a lot about how our interactions with the environment are impactful so I think that's very important, especially for the younger generations, but for adults as well."
All of the mounted animals housed in the museum were given to them by an anonymous, private donor shortly before the museum opened in 2005.
The museum also has one temporary exhibit room which is currently being used to house  an "Evolving Universe" exhibit. This exhibit teaches kids about the planets in the solar system and features a rocket ship large enough to climb right inside!
Orton said that another unique aspect of the museum is taking in as many rescued reptiles as they can, from snakes to lizards to turtles. They also have fish, amphibians, hermit crabs and even a few tarantulas.
The museum partners with an organization called Friends of Scales as well as with the Chicago Herpetological Society to take in animals that need a home. Most of their reptiles are former pets that were released into the wild and could not fend for themselves.
Visitors are welcomed to venture into the museum's basement  to see the live animals or explore the Discovery Den.
Orton said they try to take the reptiles out of their enclosures regularly so they can get some exercise and hang out with museum guests.
June is "Reptile Month" at the museum, so guests can come on Thursdays, Friday and Saturdays to see the reptiles up close and participate in the Animals with Scales scavenger hunt to win some super cool prizes.
Rockin' for the Reptiles
On Saturday (June 23) the museum held its annual summer fundraiser, Rockin' for the Reptiles, where their reptiles were on display for members of the community to come and interact with.
Proceeds help care for the animals and cover costs like food and electricity for heat lamps.
For the main event, the Chicago Herpetological Society brought out large mats to hold a turtle race where kids gathered around and cheered their favorite.
Dissections program
The museum also promotes learning through a dissections program.
Orton said that the museum has offered dissections of a wide variety of different specimens. The most recent was of a sheep brain. The next dissection, which is currently open for registration, will be held on Aug. 23 at 7:30 p.m. and participants will dissect a pigeon.
Persons interested in participation can register online through the museum's website. Dissections are $35 for anyone with a museum membership and $40 for non-members.
Orton said the museum won an Award of Merit in Educational Programing from the Illinois Association of Museums in 2015 for their dissection series.
"It's something we're very proud of and people seem to really love it," Orton said. "It lets participants learn about the biology of these animals in a way that's cool and interactive."
The museum is also open to any field trips, outreach programs and scout troops.
"We try to help out with all kinds of educational activities," Orton said. "Like if the Boy Scouts or the Girl Scouts are working on a specific badge, we can make up a custom program that compliments that really well."
Artists at the museum
Orton said that one of her favorite programs is Artists at the Museum, which was started by their former Curator of Collections. 
"The second Saturday of every month, artists can come to the museum and just kind of draw and we provide some inspiration for them because we have so many different, unique animals here," Orton said.
The museum provides a unique opportunity for artists to get up close and personal with wild animals from around the world because they are an entirely open-air museum—meaning the animals aren't kept behind glass. Instead, they are left in the open and mounted in positions that they would actually be in if they were still in the wild, making the whole experience very realistic!
"I had one artist tell me that she felt like she could really connect with and reproduce the cape buffalo that we have here because she could really see all of the grooves and bumps on his horns," Orton said.
Artists at the Museum is open to any medium of art that won't make a mess. Participants simply have to pay the entrance fee for the museum and can stay as long as they like. Orton said that the artists typically have an informal meeting at the end of the day where they critique each others' work.
Photographers are also welcome to come and be inspired as well. The museum recently held their Spring Wildlife photography competition and will announce the winner in the next few days.
This annual competition is open to area amateur and professional photographers who wish to submit a photo that they've taken of anything Spring-themed. The first place winner will be awarded a high quality drone for taking aerial videos and photographs.
The Midwest Museum of Natural History is open to the public Thursday through Saturday from 10 a.m. to 5 p.m. Admission is $8 for adults, $7 for seniors and $5 for children 11 years and under. Visit mmnh.com to plan a visit.
—Midwest Museum of Natural History: Sycamore's hidden gem for science-lovers–