Youth mental health first aid training coming to McHenry County schools
May 2, 2019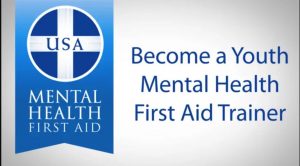 McHenry County schools are working in partnership with the McHenry County Mental Health Board to deliver Youth Mental Health First Aid Training to address the increased number of students with social-emotional issues and psychiatric disorders.
The National Alliance on Mental Illness reports that approximately 1-in-5 youth aged 13-18 (21.4%) experience a severe mental disorder at some point during their life. The Illinois Hospital Association reports that 358 children under the age of 18 in McHenry County required inpatient mental health services in 2016. Nearly one-third of these youth had multiple admissions during the years.
A new Illinois law (House Bill 4658) that went into effect in January mandates that school boards adopt and implement policies to recognize and address mental health issues. In its community-wide effort to support mental illness, the McHenry County Mental Health Board has become a "hub" for collaborative discussions among school districts and agencies countywide to determine how to collectively meet the needs of McHenry County youth.
In January, the board approved $36,000-$40,000 in funding to provide Youth Mental Health First Aid training to both public and private schools to help them meet the new mandate. The five-day training will be provided by certified national trainers and facilitated by the Crystal Lake chapter of NAMI, which is committed to partnering with schools to address the mental health needs of area youth.
"When reviewing opportunities to help McHenry County not only meet but exceed expectations of HB 4658 through access to evidenced-based programming, Youth Mental Health First Aid was identified as a key strategy," said Scott Block, executive director of the McHenry County Mental Health Board. "The Mental Health Board views this opportunity as an investment into the well-being of our County's youth and welcomes the evolving partnership between the community behavioral health system and education system."
Kristin Schmidt, assistant director of special education for Crystal Lake Elementary District 47, oversees the district's social-emotional learning program. She is also in her second year serving as a NAMI board member. Schmidt was instrumental in bringing McHenry County schools and community agencies together for initial discussions about youth mental health. She also helped to develop the "train the trainer" model for the YMHFA training to make it affordable and accessible to all school districts in the county.
"We're in a position where we need to find creative and out-of-the-box solutions as to how we support our students," said Schmidt. "Bringing all the major stakeholders in the county together for quarterly meetings has allowed us to have a shared vision and coordinated approach and to partner in ways we haven't in the past."
According to its website, the Youth Mental Health First Aid program is designed to teach adults who regularly interact with young people how to help an adolescent (age 12-18) who is experiencing a mental health or addictions challenge or is in crisis. Topics covered include anxiety, depression, substance use, disorders in which psychosis may occur, disruptive behavior disorders (including ADHD), and eating disorders.
One representative from each school district in McHenry County serving students age 12 and up have been invited to attend the YMHFA training in August. Upon completion of the program, attendees will be able to deliver a condensed version of the program (one-day training) to classroom teachers and other school personnel during the 2019-2020 school year. The training will be geared to middle and high school district administrators, special education staff, social workers and psychologists. While the initial focus will be on middle and high schools, the training will eventually expand to include elementary schools.
"YMHFA is a renowned program that will allow us to build the capacity of our teachers to understand the needs of their students," said Schmidt. "Support from Scott Block and the Mental Health Board has been paramount in shifting the way we function as a county and has allowed us to find creative new solutions to meet the needs of our community."