Peoria's City Hall gets national recognition as best in nation
By Holly Eitenmiller For Chronicle Media —

March 24, 2017
Nov. 2, 1897 was described as an abysmal day when Peoria citizens gathered on the empty lot at the corner of Fulton and Madison streets to drop mementos into the new city hall cornerstone.
A band assembled amid the array of metal, wood and Lake Superior sandstone as enthusiastic visitors deposited train tickets, newspapers, family photos and assorted other items into the gleaming copper keystone. Among them, an electrotype of the alignment of planets on that day.
It would likely thrill those citizens and officials to know that almost 120 years later, the gem of a building they envisioned on that gray day would champion the inaugural title of Best City Hall in a first-ever competition hosted by Engaging Local Government Leaders.
"We're polishing a shelf for the trophy, we just don't know how much room to make for it," City of Peoria communications specialist Stacy Peterson said, tongue-in-cheek. "Peoria will be the first inaugural title holder and we like think we set the bar pretty high …"
"It was nice to see our building acknowledged on a nationwide platform," Peterson continued, on a more serious note. "People are very proud of our the city hall. We didn't anticipate the level of turnout … more people voted for this than they did in the (recent) primary."
ELGL'sBen McCready said more than 200 nominations arrived in at the competition's onset, many of them duplicates, ultimately leading to around 90 competitors, some from outside the United States.
ELGL volunteers then narrowed the list to 64 candidates and launched an NCAA bracket-style competition.
"The idea came from ELGL leadership. After we launched City Hall Selfie Day in 2016, we saw the appetite for it, and there was the interest in doing something additional," McCready said. "We recognized cities using social media, and late last year, we saw the conversation center around people being interested in their city hall buildings."
Founded in Portland, Oregon in 2010, ELGL is a network of volunteer groups in the United States, China, South Africa and other countries with a shared goal to engage municipalities, park districts, counties and other forms of local governments in relationships with one another which foster positive outcomes.
Local leaders are encouraged to leverage social networking tools such as Facebook and Twitter to bolster enthusiasm for public service and share ideas, successes and struggles while on that path, for the betterment of themselves and the community.
"We describe ourselves as a 'big tent network' to help people find their path to leadership in local government," McCready explained. "We're very transparent. We host different initiatives, webinars and conferences."
A global view of ELGL would be one, perhaps, of an international society of current and upcoming community leaders seeking to champion the communities they serve through public service with a sense of civic pride.
Peoria beat out such competitors as Pasadena, Calif., Effingham, Ill, Kannapolis, N.C. and, in the final round, Peoria went head-to-head against Vancouver, Wash. and its gleaming, modern city hall building.
Whether or not history — or social networking antics — prevailed one may never know. But the win is a bright spot for a city still smarting from the withdrawal of Caterpillar Inc.'s headquarters and the discouraging news of an ensuing federal investigation into the company's financial dealings.
City Hall was built 30 years before the earth moving giant was a gleam in Peoria's eye. In the late 1800s, Peoria was a hub of railways, both passenger and freight, was and a national banking leader. And, as the city hall has was in design phase, it contributed 43 percent of the nation's revenue via liquor excise taxes through nearly 100 breweries and distilleries.
Listed on the National Register of Historic Places, the building at 419 Fulton St. remains a stately reminder of this tremendously prosperous time. It's an architectural treasure that Peterson said she revels in.
"We have groups that come to tour the building, Boy Scouts, visitors of all sorts, and I like to get down to the first floor early to see their expressions," Peterson said. "You don't see architectural style in the Flemish Renaissance and it really strikes as color and structure alone. The prominent marble interior … it's more like a museum than a government building, and, of course, there's the Italian white marble sculpture."
The sculpture Peterson speaks of; "Love Knows No Caste", was created in 1889 by Peoria sculptor Frederick Triebel, and resides at the center of the open atrium rotunda beneath a Tiffany-style skylight sheltered by cupola bell tower.
A matrix of cast iron banisters wind upward to the fourth story, each level showcasing carefully preserved masterpieces; the city council 3 Muses mural of 1912, an 1898 Trapp and Hocking ceiling Mural and an 1880's fireplace in the mayor's office.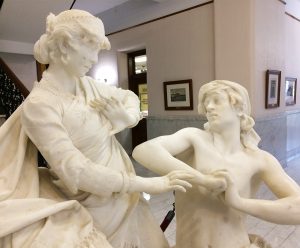 Beyond its breathtaking architectural features, Peterson said it's the memories visitors share that are equally as valuable.
"People visit, and they tell us how their father worked here, and how their grandfather worked here," she said. "It's more than just a building to people here. On a local level, people are proud of city hall because their families were a part of its history, and that means a lot to them."
— Peoria's stately City Hall gets national recognition as best in nation —