The Faithful & the Frightful:  How faith groups view Halloween
By Lynne Conner For Chronicle Media —

October 31, 2018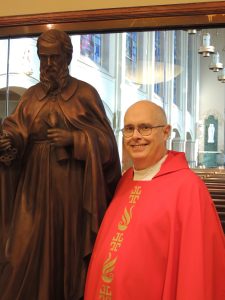 Gone are the smiling paper Jack-o-lanterns, cute Kleenex ghosts and whimsical dancing skeletons of Halloweens
past. Instead, the "must-have" Halloween decorations of today are creepy killer clowns statues, blood drenched yard effigies and costumes which glorify all things gory and gruesome.
How did this childhood, costumed ritual of collecting pillowcases full of candy turn into a celebration of horror, evil and darkness?
To better understand the origins, history and evolution of Halloween, representatives from three local faith communities: Christian, Jewish and Muslim, weighed in on how their religious traditions view Halloween.
Monsignor Eric Barr, a retired priest of the Catholic Diocese of Rockford, author and Celtic spirituality expert said that the roots of Halloween lie in the ancient Celtic pagan feast of Samhain (SOW-in). During this harvest time feast, held on Oct. 31 the ancient Celts believed that the dead could "cross back over" as ghosts to the realm of the living.
"So, how did the pagans keep from being scared to death by the ghosts? They wore masks which fooled the ghosts and kept the pagans from being recognized," Barr said. "Another belief about Samhain is that the dead try to play a trick on the living or if they happen to like the living, the dead will give them a treat. Additionally, pagans celebrating Samhain, feared the dead and would often carve faces into turnips to scare them away.
"When St. Patrick arrived in Ireland, he recognized that activities like Trick-or-Treating and carving vegetables were not associated with worshipping pagan gods. St. Patrick sought to take the Irish pagan religious experience and turn it toward the one true God and his Son Jesus who saves us and give us everlasting life," Barr added.
"As a result of St. Patrick's missionary work in Ireland, pagans began honoring the Christian holy people who had gone before them, the saints," he said. "This becomes the Catholic feast of All Saints Day.
"Through the years, Samhain evolves into 'All Hallows Eve', Halloween on Oct. 31, followed by All Saints Day, Nov. 1 and All Souls Day, Nov. 2 which is a time to honor friends and relatives who have passed away," Barr said.
In present day America, Halloween seems to have lost some of its childhood innocence and evolved into an evening of scary, supernatural horror.
"What's really happened in our modern day and age, is that as we've grown away from Christianity, the pagan aspects of…Halloween have become greater again," Barr said.
"Though most people celebrate it as a fun time, there are some people who take Halloween as seriously as the pagans did," he said. "Real elements of evil, like tarot cards, Ouija boards and dabbling in the occult, do not belong in any Christians' celebration of Halloween."
The Catholic faith, Barr said, doesn't have a problem with people participating in light-hearted Halloween activities; although he would like to see a stronger emphasis given to All Saints Day and All Souls Day.
One way that many Catholic schools and youth organizations honor All Saints Day is to have children learn about saints and then come to a church sponsored fall event dressed as a particular saint. Other public and parochial schools may host an after school "Boo Bash" where kids can wear a costume of their choice as long as it's not scary or gruesome.
Rabbi Binah Wing of Temple Beth-El in Rockford, said that the Jewish perception of Halloween varies among the different denominations of Judaism. Most Orthodox and all Ultra-Orthodox Jews, she said do not recognize or participate in Halloween.
"If you were to look at it (Halloween) in the most literal way, it probably would be considered a non-holiday; as there are pretty heavy Christian overtones to it," Wing said. "Halloween, or 'All Hallows Eve', precedes All Saints Day, which is a Christian holiday. I think there are also elements of the supernatural…ghosts, goblins and people coming back from the dead, which we don't believe in as Jews."
According to Wing, most of the Jews who attend Temple Beth-El are Reform Jews who may or may not participate in Halloween.
"I think…most of the modern Jewish community looks at Halloween in much the same way, as they view Valentine's Day. In its original form, Valentine's Day has Christian roots; but now, it's come to be almost a secular holiday."
Seeing Halloween as more of a cultural or secular celebration, Wing said, means that most Jewish children in Rockford do participate in the festivities of the season.
"In this area, the Jewish community is very, very small, so to tell a Jewish kid growing up here, not to celebrate Halloween is just not practical."
Additionally, Wing said that she appreciates how many public schools are referring to Halloween parties as 'fall parties'. She does offer a recommendation on buying Halloween costumes, "…I would encourage the parents of young children in my congregation to choose costumes for their kids which are more fun, less scary and don't portray the supernatural world."
The Jewish holiday of Purim, Wing said, offers Jewish children a chance to wear costumes and enjoy treats all while learning about their faith. The celebration of Purim recalls events from the Old Testament book of Esther. Since there are elements of disguise in the story, Jewish children may dress in non-scary secular costumes or as characters from the Book of Esther.
"Purim is a time to celebrate the survival of the Jewish people from those who have harmed us," Wing said. "It's a biblical story, but the message carries through Jewish history."
"Views and opinions (on Halloween) vary widely among Pentecostals and even within our congregation," said Lead Pastor Anthony Bailey of Silver Hill Pentecostal Church in Rockford. "Personally, I don't participate (in Halloween) due to its promotion and involvement with darkness and evil," he notes.
Bailey's decision against observing Halloween comes from his personal study of the "holiday"' and its components.
"I know there are innocent elements of the holiday for children, but I choose not to participate in Halloween due to my personal research and Christian faith. I feel that…holidays, whatever they may be, which include the promotion and/or celebration of witchcraft and the occult are not advisable."
As some members of Bailey's church do take their children Trick-or-Treating, he advocates a well-educated and well-informed understanding of the tradition before participating in it.
"There's nothing inherently evil about going door to door in your neighborhood and receiving candy as long as the costumes are innocent and the behavior does not dishonor Christ," he said. "Ultimately, Christian participation in Halloween is a matter of conscience before God…you must be careful not to dishonor God and violate your Christian values."
As a positive, educational alternative to Halloween, Bailey's church does provide recreational opportunities for congregants to dress up as biblical characters and share in Christian fellowship.
According to Sarene Alsharif, the Public Relations Community Liaison for the Muslim Association of Great Rockford (MAGR), the Muslim view on celebrating Halloween is as varied as the people of its faith.
"In Rockford, we have people in our congregation from over 70 different countries. We can't really put them into one 'cookie-cutter'; everybody is different. It's a cultural choice for many Muslims.
"Some families wish to participate because they see it as an 'American' holiday. Others chose not to because they want to hold on to their cultural identity. Still others, don't participate because they don't want their children eating so much candy," she said.
Alsharif, who works as a dietician, chooses not to have her children participate in Halloween because, "the mess
ages behind it are not positive ones. For health reasons, too, there is no way that a child needs to consume that much candy."
The Muslim faith, Alsharif said is pretty neutral on the observance of Halloween.
'"We don't have any religious dictates for or against the Halloween, but we do have a cultural celebration in our Mosque and Muslim school."
This 'international day' party, Alsharif said is way beyond the scope of Halloween.
"Everyone comes dressed in the traditional costume of their native country. It's amazing and so beautiful to see the different dresses, suits, hats and shoes of these countries. It's so much fun and a very educational event as the children talk about their homeland and hear about their friends' countries of origin.
"Students also brings a food from their native country and everyone goes around sampling the different cuisine," she said. "It's the same idea as Halloween, but there is richness, there's education, there's culture and it's so much more meaningful than dressing up as the latest superhero."
Neveen Sheikhali, a Muslim college student and friend of Alsharif's has fond memories of childhood Trick-or-Treating but as an adult, has seen an ugly side to Halloween.
"Just because it's Halloween, don't take the opportunity to dress up in a costume that would offend someone's race or religion," she said. "It all comes down to practicing the basic beliefs of any religion: respect, concern for others and accountability to God."