Bow-WOW! Canines are kings as doggie daycare franchise expands into Elmhurst
Cathy Janek —

February 28, 2017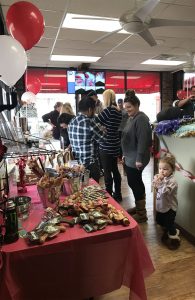 Linda Ciprella spent a long career in the software services industry but never looked back after opening her first Camp Bow Wow in Oak Park, offering playtime and overnight stays for dogs.
"I had a long career in the corporate  world, but nothing has been more satisfying or joyful as when I am in camp first thing in the morning and a dog comes up to me who is smiling and happy and can't wait to play," she said.
Just before Christmas, Ciprella branched out from her initial Oak Park location and opened her second locally franchised, Camp Bow Wow location in Elmhurst.
"We always had planned on opening a second location farther west, and Elmhurst was one of the cities I was interested in," she said.
Located at 641 S. Illinois Route 83 in Elmhurst, the newest location of Camp Bow Wow held a grand opening recently that included local rescue groups, a demonstration by a search and rescue team of dogs, a presentation by Elmhurst Police about dog bite prevention, and pet-related vendors.
About 100 attendees also toured the facilities and met the camp counselors.
Camp Bow Wow is the largest doggie daycare franchise in the United States.  With more than 130 locations, each is locally owned and operated.
Most of Camp Bow Wow customers come for doggie day care or the boarding—although some use the onsite grooming options available to dogs, Ciprella said.
Camp Bow Wow's Elmhurst location recently bestowed "camper of the month" honors on one-year-old French Bull Dog Capone, Domini DiMaggio with Camp Bow Wow said. Beating out other campers of the week including Scooter, a Boston Terrier,  Bandi, a Great Dane and Lab mix, and Leo, a Yorkie Poo.
Each week, Camp Bow Wow nominates a dog of the week and those dogs vie for camper of the month through votes on Facebook.
Capone was nominated because he "plays with everyone" and is "a very good listener."
Many of the dogs who come to doggie daycare do so to burn energy, Ciprella added.   A walk or run with an owner may not be enough to burn the energy and calm some types of dogs.
For other dogs, it alleviates the boredom and monotony of being at home alone each day, Ciprella added.
"Sometimes dog owners who work from home bring their dogs to Camp Bow Wow so that the owner can concentrate on their work and their dog can enjoy playtime with other dogs," she said.
Each dog undergoes an interview process to ensure that they are a good fit to play with other dogs.
"One of the biggest advantages of bringing a dog to doggie daycare is when that family goes on vacation and the dog comes and stays with us for an extended stay, there is little stress for that dog because he already knows us," Ciprella said.
"The dogs know the routine.  They get a lot of exercise,  so they sleep well at night and have a good appetite" she added. "They are coming to a place they know and love and not a place that they come to once a year when the family goes on vacation."
Overnight guests to Camp Bow Wow sleep in individual cabins, and beginning at 6:30 a.m., begin a day that rotates between mealtimes, rest time, and playtime.
Playtime includes time with other dogs of similar size in an indoor/outdoor play area.
"Some dogs play by roughhousing, others chase each other, some like to hide behind the play equipment, and some are content to watch the other dogs or snooze," she added.
Always supervised by a Camp Bow Wow counselor, Ciprella said, "The counselors are always there to make sure everything is active and safe."
However, dog owners who are nervous about leaving their pet can always check up on them via the live web cam.
Web cams are set up in each play area, so owners can see their dog playing with other dogs from their computer or phone.
"It gives owners piece of mind," Ciprella said. "It takes a lot stress and guilt out of leaving family members behind."