How They Voted. Illinois Representatives' Votes in Congress
Chronicle Media —

March 20, 2017
Report for week ending March 17, 2017.
UNITED STATES HOUSE OF REPRESENTATIVES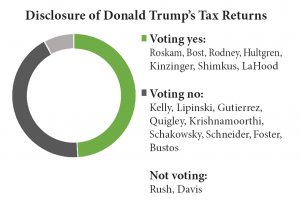 Disclosure of Donald Trump's Tax Returns: Voting 223 for and 183 against, the House on March 15 blocked a Democratic attempt to force consideration of a resolution directing the Ways and Means Committee to use its authority under law to obtain from the Treasury copies of President Trump's tax returns from 2006 through 2015, review the documents in a closed session and then "report the information therein" to the full House. The resolution was quashed by a parliamentary ruling by the presiding officer representing the Republican majority that the measure did not qualify as a "privileged question" entitled to floor action under House rules. On the vote being reported here, Republicans upheld that ruling after it was appealed by Democrats.
Joseph Crowley, D-N.Y., who offered the resolution, said disclosure would enable House members to "judge whether (Trump's) decisions are being made for himself, his business, or for the greater good of the American people. At the end of the day, if President Trump has nothing to hide, then he should be willing to do what every president since Richard Nixon has done, and that is, release his tax returns."
No Republican spoke on either the disclosure resolution or the parliamentary situation surrounding it.
A yes vote was in opposition to the Democrats' bid for disclosure of the president's tax returns.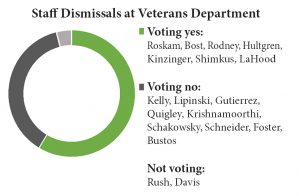 Staff Dismissals at Veterans Department: Voting 237 for and 178 against, the House on March 16 passed a GOP-sponsored bill (HR 1259) that would reduce civil-service job protections and weaken collective-bargaining rights at the Department of Veterans Affairs in order to make it easier for the agency to fire or discipline employees with poor performance records or misconduct issues. The bill, which covers Senior Executive Service employees as well as rank-and-file civil servants at the 350,000-employee department, also would improve protections for whistleblowers and allow the agency to reduce pensions and recoup bonuses in certain circumstances.
Doug Lamborn, R-Colo., said the department cannot now "take swift action against employees who prevent veterans from getting the benefits that they have earned. We should be able to terminate senior executives at failing hospitals that force veterans to languish on secret wait lists."
Minority Whip Steny Hoyer, D-Md., said the bill would "undermine the collective bargaining rights…of VA employees serving as doctors, nurses, physical therapists and others in critical jobs, and disrupt the collaborative relationship between VA managers and employees that is essential to a successful workplace environment."
A yes vote was to send the bill to the Senate.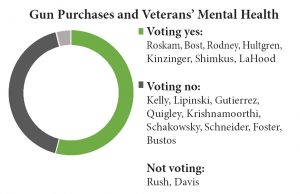 Gun Purchases and Veterans' Mental Health: Voting 240 for and 175 against, the House on March 16 passed a bill that would require patient-by-patient judicial review before the Department of Veterans Affairs can submit the names of veterans with serious mental issues to the FBI's system of background checks on gun purchasers. Such referrals now occur without judicial oversight. Under the bill (HR 1181), a judicial authority must rule the person "mentally defective" before any referral to the FBI. Foes of the existing policy said it violates Second Amendment rights, while backers said it is common sense to keep guns away from a population afflicted by post-traumatic stress disorder (PTSD) and high rates of suicide.
Ken Buck, R-Colo., said: "The decision to strip any constitutional right from anyone, most importantly our veterans…needs to be made with due process."
Mike Thompson, D-Calif., said it was "absolute stupidity" for the bill to "make it easier for veterans to take their own lives. I don't want to see another veteran become a statistic."
A yes vote was to send the bill to the Senate.
SENATE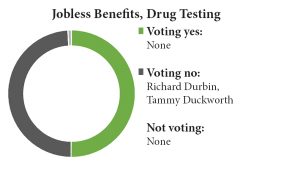 Jobless Benefits, Drug Testing: The Senate on March 14 voted, 51 for and 48 against, to nullify as too soft an Obama administration rule under which states can subject applicants for unemployment compensation to drug testing. The Department of Labor rule limits scrutiny to occupations where testing already occurs such as aviation, railroading and mass-transit. Republican advocates of a replacement rule support drug checks on a broader array of occupations or even blanket testing.
Majority Leader Mitch McConnell, R-Ky., said that under a replacement rule, "States will be better able to implement drug testing for those seeking unemployment insurance and help individuals suffering from substance abuse to access necessary care and treatment…."
Richard Durbin, D-Ill., said the unemployed "are entitled to receive that insurance when they lose their job to circumstances beyond their control. By supporting blanket drug-testing…(Republicans) are targeting hard-working Americans who in many cases have fallen on hard times."
A yes vote was to send the nullification measure (HJ Res 42) to President Trump.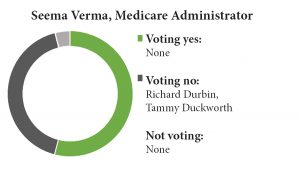 Seema Verma, Medicare Administrator: Voting 55 for and 43 against, the Senate on March 13 confirmed Seema Verma, a private healthcare consultant, to head the Centers for Medicare and Medicaid Services. With 4,000 employees and annual expenditures topping $1 trillion, the CMS helps administer care to more than 100 million Americans through Medicare, Medicaid, the Children's Health Insurance Program and Affordable Care Act marketplaces. Verma has helped several states develop new procedures for their Medicaid programs, including tightened eligibility standards and use of health savings accounts.
Praising Verma's work on Medicaid programs in Indiana, Iowa, Michigan, Ohio and Tennessee, Orrin Hatch, R-Utah,  called her "the ideal candidate" to revamp "a federal entitlement program long in need of structural changes."
Chris Van Hollen, D-Md., said that because of Verma's "lack of adequate healthcare experience and her willingness to consider rash policies that are far out of the mainstream, I do not believe that she is equipped to (administer) policies that affect millions of Americans."
A yes vote was to confirm Verma.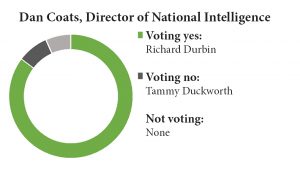 Dan Coats, Director of National Intelligence: Voting 85 for and 12 against, the Senate on March 15 confirmed former Indiana GOP Sen. Dan Coats, 73, as the director of national intelligence. Created in response to 9/11, the office is charged with overseeing and meshing the work of the 16 U.S. civilian and military intelligence agencies.
Richard Burr, R-N.C., said Coats "will be a forceful advocate for intelligence collection but, again, never jeopardizing that line of what is legal and what is not."
Ron Wyden, D-Ore., protested the intelligence community's failure over several to provide Congress with information it has requested on the operation of the Foreign Intelligence Surveillance Act, which comes up for reauthorization this year.
A yes vote was to confirm Coats.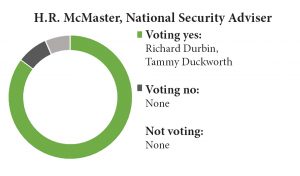 H.R. McMaster, National Security Adviser: Voting 86 for and ten against, the Senate on March 15 reconfirmed Army Lt. Gen. H.R. McMaster as a three-star general, enabling him to remain on active duty while serving as President Trump's national security adviser. McMaster, 54, is decorated for service in the Gulf War and later combat in Afghanistan and Iraq. He joined the administration Feb. 20 to replace retired Marine Gen. Michael Flynn, who resigned under presidential pressure after one month on the job.
Chris Van Hollen, D-Md., expressed hope that McMaster "will remain faithful to his reputation for dissent, will challenge President Trump when he takes a dangerous approach to the world, will restore order to the National Security Council and will steward a foreign policy that makes America safer."
Minority Leader Charles Schumer, D-N.Y., objected to political adviser Steve Bannon's presence on the National Security Council, warning that McMaster's advice "may not be followed and instead the fevered dreams of Bannon will influence the most sensitive national security discussions."
A yes vote was to qualify McMaster to remain on active duty while serving as national security adviser.