Hope springs eternal at SoxFest
By Karie Angell Luc For Chronicle Media —

January 28, 2018
The sold-out SoxFest 2018 brought out Chicago White Sox fans to the 26th annual fan convention at the Hilton Chicago, 720 S. Michigan Ave., Chicago.
The three-day weekend began with an opening ceremony during the afternoon Friday.
Before the ceremony, White Sox management answered questions by the media about a process commonly referred to as an effort to "rebuild" the program.
"We have a great deal of excitement heading into this season, but we also know objectively where we're at in this thing," said Rick Hahn, Chicago White Sox vice president and general manager. "We've made a lot of progress in the last year, year plus. We feel we're much closer than we were when we started this process to being able to field a team that can contend for championships on an annual basis.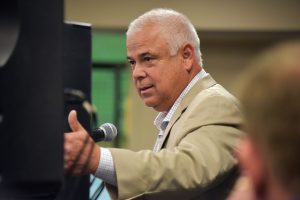 "We've got a pretty special group here."
Rick Renteria, Chicago White Sox manager, said it was a positive step to add younger players to the program.
"They're pretty happy to be here, they're very excited about the prospects of what the organization is doing and how we're going to continue to move forward," Renteria said.
"And it's really important for them to be doing it together."
Ron Kittle, former left field Sox player (1983 Rookie of the Year and All-Star), was present at the media reception and also at the opening ceremony.
"You just want guys who play hard, shut their mouth and do their job and are nice to the fans," said Kittle, who suggested the term "rebuild" might have been coined by the sports media.
"And these kids are going to do that," Kittle said.
Matt Davidson, a Sox infielder, said, "Every day that we play, we're getting better and more experienced. And we're such a young team and that's only going to be so valuable as the days go by."
Yolmer Sanchez, also a Sox infielder, said, "I just try to get better, that's the key, I try to get better every day. Hopefully, it's better than last year."
"It's an honor to be here," said Alec Hansen, a top prospect and a pitcher.
Through Sunday, ticket holders could have the opportunity to connect with former Sox stars and current players via interactive spaces, autograph sessions, question-and-answer seminars and more.
"I grew up a Sox fan and I raised him that way," said Scott Hadley of Memphis, Tenn., who brought his son Jackson Hadley, 8, a second-grader.
Jackson, who confirmed he's a lifelong Chicago White Sox fan like his father, said he's optimistic the Sox could snag the 2018 World Series.
"I think we might win this year with all of the new, young guys, let's just hope," Jackson said.
Scott Hadley, a former Downers Grove resident, acknowledged the team's, "young talent," he said.
"I think the rebuild has been great, they have a lot of great people," Jackson's dad said.
"It should be good for years to come."
Scott Hadley added Memphis has a significant Chicago Cubs fan base.
Is it time to return hometown World Series bragging rights that the Cubs enjoyed in 2016 to the Chicago White Sox?
The Sox won the World Series trophy in 2005.
"It (the trophy) just looks better in White Sox hands than the Cubs," Scott Hadley said.
"Let's put the Sox logo back on it."
Max Luc contributed to this story.
— Hope springs eternal at SoxFest . —