Pace on track to add Wi-Fi to all suburban buses
By Igor Studenkov For Chronicle Media —

February 20, 2018
Over the course of last year, Pace suburban bus transit system has been quietly adding wireless internet to all of its buses. And, according to Pace spokesperson Maggie Daly-Skogsbakken, they are mostly done.
Even before then, Pace already had some Wi-Fi capable buses. It's been a regular feature of premium routes for years, and when Pace introduced expanded service along Jane Addams Memorial Tollway in December 2016, the express buses had Wi-Fi from the get-go. But last year marked the first time the transit agency put it in on regular routes.
According to Daly-Skogsbakken, there were two major factors behind the change — the new buses and the new camera system on both new and existing buses. As of Feb. 7, most of the buses in Pace's fleet already have them. Once the last batch of buses arrives — with the transit agency expects to happen within the next few months — the entire system will have Wi-Fi.
In recent years, a number of public transit providers in Chicago area and beyond have considered adding wireless Internet capability. In all cases, the technology is similar. Each vehicle — be it a train car or a bus — is equipped with a transmitter that uses cellular phone frequencies to send and receive data.
In 2013, Amtrak teamed up with Illinois Department of Transportation, Wisconsin Department of Transportation and Michigan Department of Transportation, to add Wi-Fi to most of the trains traveling between Chicago and destinations in Illinois and other nearby states. The service debuted effective Feb. 10, 2014 on all routes serving Illinois and Michigan, as well as the Chicago-Milwaukee  Hiawatha route. The release issued at the time noted that the Wi-Fi "utilizes multiple cellular carriers to provide the best mobile experience possible, taking advantage of 4G technologies where available."
At the time, then-Illinois Governor Pat Quinn said that the connection "will make each trip more productive and enjoyable" And Mark Gottlieb, Wisconsin's then-Secretary of Transportation, said that it would be especially appealing to business travelers, since they would be able to use time productively.
At the same time, Metra was exploring putting Wi-Fi on its own trains. After the transit agency determined that the $72 million upfront cost of putting the hotspot transmitters in, let alone maintaining Wi-Fi, was "prohibitive," so it tried to find a sponsor. When none materialized, Metra  decided to implement something on a smaller scale.
In February 2016, it launched a pilot, putting the hotspots on 11 cars — one per each line. Each car was marked as Wi-Fi capable. The response provided was positive, and, on Aug. 24, 2016, Metra added hotspots to 50 more cars scattered across the entire system. As with the pilot cars, they were clearly labeled.
Since then, Metra hasn't added any more hotspots — though it did add Wi-Fi to waiting areas in all four of its downtown Chicago terminals. According to a statement posted on its website, it was a simple matter of costs. The statement also indicates that each Wi-Fi hotspot costs $2,000, and the data usage charges are about $250 a month per hotspot. With a total of 62 hotspots in operation, that adds up to $186,000 per month.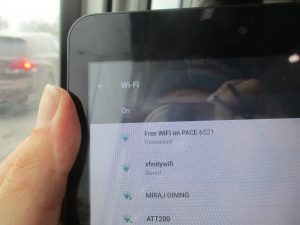 Meanwhile, the South Shore Line, which runs between downtown Chicago and South Bend, Indiana, serving Chicago's Hegewisch neighborhood and municipalities throughout northwestern Indiana, began piloting free Wi-Fi in 2015. Since then, it expanded wireless internet to its entire fleet. With only one line instead of Metra's 11, it has fewer trains to equip, so the costs are lower — though according to a Nov. 15, 2016 online bulletin, it had to change the signal frequency to keep the service affordable.
Unlike the two train service providers, Pace didn't have to pay anything extra for the Wi-Fi.
"It was part of a fleet-wide vehicle replacement and transition to a new camera system," Daly-Skogsbakken explained. "All new buses came with the new system, which requires Wi-Fi."
Since the cameras already required wireless internet access, she said, it made sense to piggyback on that.
Even before that, all of the Pace's major projects that used new buses came with Wi-Fi. That included Arterial Rapid Transit corridors project and Jane Addams Memorial Tollway service expansion express buses. While the first ART corridor, the Pulse Milwaukee bus, isn't expected to debut until later this year, the transit agency has already been using its buses. As Daly-Skogsbakken previously told the Chronicle, the vehicles arrived earlier than expected, so the transit agency decided to take advantage of that. While for the most part, the buses have been used on routes that are slated to become Pulse bus corridors, they have occasionally been used on other routes.
The future Pulse buses gave riders a preview of what having Wi-Fi on regular routes would be like. Since then, Pace has put hotspots of most of the buses throughout its system.
"We are waiting on the delivery of final batch of new buses," Daly-Skogsbakken said. "That delivery is expected in the coming months. Once that occurs, the entire fleet will have Wi-Fi."
During the month of January and the first full week of February, the Chronicle has field-tested Wi-Fi on buses serving northern and northwestern suburbs. While the majority of new and older buses had working hotspots, a few buses did not.
The one major part of the system that still needs wireless Internet, she said, is Pace's South Division. Due to the state budget impasse, the delivery of some of the new buses was delayed.
According to Pace's website, the South Division includes most of the routes that serve southern Cook County and the nearby portions of Will County. That includes Route 352, the busiest route in the entire system and the only Pace route that operates 24/7. The transit agency currently plans to add a third Pulse line — the Pulse Halsted line — along the corridor.
Ultimately, Pace plans to add Wi-Fi hotspots to all fixed-route buses, including the Niles Free Bus routes and Woodfield Trolley, which offers free service in between Woodfield Mall and other major destinations throughout the Village of Schaumburg. Daly-Skogsbakken noted that paratransit buses and Call-n-Ride service vehicles won't be included.
As with Metra and South Shore Wi-Fi, each hotspot creates a Wi-Fi network with a unique name with a common element. In Pace's case, its bus Wi-Fi names always have the agency's name and "Wi-Fi" included somewhere.
Daly-Skogsbakken said that the response the transit agency got has been largely positive.
"Passengers appreciate being able to access the internet while commuting," she said. "Occasionally, we'll hear that the Wi-Fi is a little slow or spotty, but that's to be expected at times when everyone is using it or in more rural areas."
— Pace on track to add Wi-Fi to all suburban buses . —-