A return to the spotlight
February 5, 2014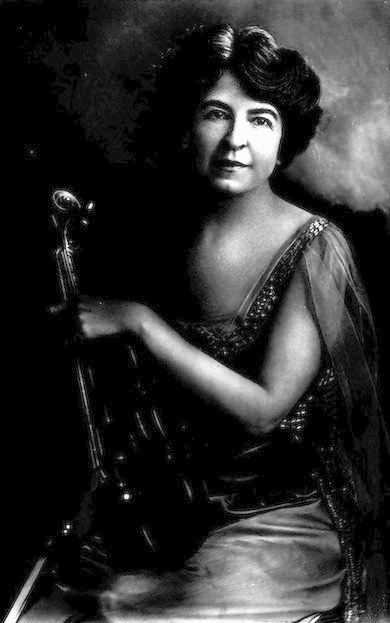 Violinist Maud Powell (Library of Congress image)
Grammy recognition introduces a new generation to the genius of violinist Maud Powell
Aurora may have many claims to fame but there's been only one Maud Powell.
Arguably the most famous person to emerge from the city, Powell was a musical prodigy as a child, spent formative years in Aurora and went on to worldwide acclaim in the late 19th and early 20th centuries as a leading violinist and pioneering recording artist.
"Maud Powell was a superstar, she was a real celebrity," said Mary Clark Ormond, Aurora Historical Society president. "She traveled to all four corners of America continually by train because she wanted to bring classical music to the United States."
Memories slowly faded after the virtuosa's untimely death of a heart attack in 1920 at age 52. But she was not totally forgotten thanks to the efforts of local and national supporters and noted artists like violinist Rachel Barton Pine.
Powell was given a grand reintroduction to new generation late last month with a posthumous Grammy Award from the National Academy of Recording Arts and Sciences. 
She joined The Beatles, The Isley Brothers and Kris Kristofferson as 2104 Lifetime Achievement Award recipients.
Aurora's Historical Society celebrated the honor with a special reception featuring Powell memorabilia and a video last Friday at the city's David L. Pierce Art and History Center.
Along with her many tours and appearances, Powell also left a prodigious collection the nearly 90 recordings made in the infancy of recorded music.
"Every industry needs its pioneers and the recording industry found one in legendary American violinist Maud Powell,"  wrote Barton Pine, in a tribute for grammy.com. "In 1904 Powell stepped into a recording studio to play into a recording horn and helped launch the science and art of recording the violin."
Pine nominated Powell for the Grammy. She and Karen Shaffer, Powell biographer and president of the Maud Powell Society for Music and Education, accepted the award on Saturday, Jan. 24 at a special invitation-only ceremony. 
The award was also acknowledged during the Sunday, Jan. 25 nationally- televised Grammy Awards ceremony.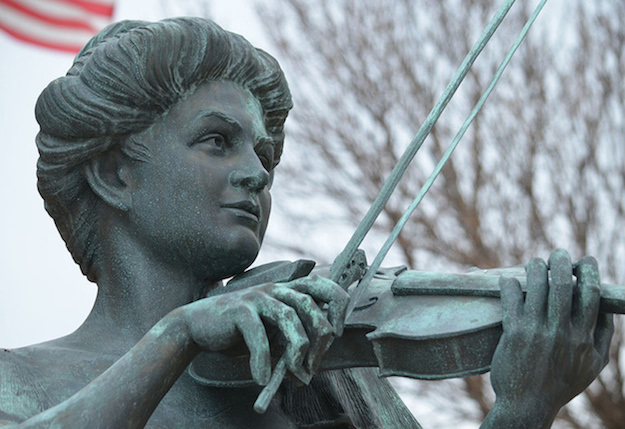 A statue of Maud Powell (above, far) is in a prominent location in downstate Peru, Ill. A full-size cutout of Powell with violin stands next to an early record player (above, immediate). Below is a three-dimensional representation of Powell's right hand.  A very young Powell is shown at bottom. (News Bulletin photos).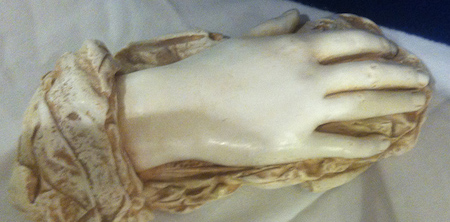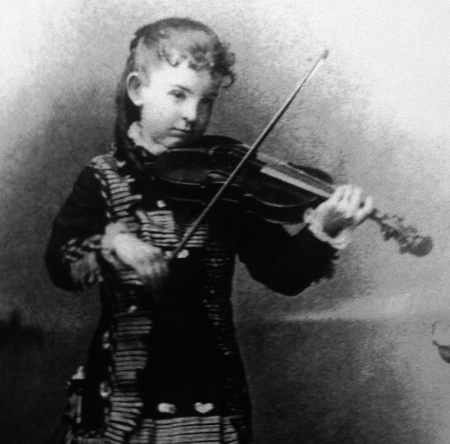 Powell was born in 1867 in downstate Peru, a community that celebrates her with a eight-foot bronze statue and is home base for the annual summer music festival.
Her mother, Minnie, was a pianist and composer. Her father, William Bramwell Powell, was a school superintendent in Peru and the East Aurora district and later in Washington, D.C. Maud Powell's uncle was John Wesley Powell, noted Grand Canyon explorer and later co-founder of the National Geographic Society.
Powell was 3-years-old when her family moved to Aurora. She started violin lessons in 1874 and began performing in 1876. Powell later studied in Chicago and by age 13 moved on to advanced training with top violin  masters in Europe in the 1880s.
By the middle of the 1880s she was touring Europe and the United States with a variety of orchestras and artists and later played with her own Maud Powell Trio on tour.
"She appeared as a soloist in the orchestras of nearly every great conductor of the period," a New York Times obituary stated. 
In November 1904 she began recording for Victor Company's Celebrity Artist Series (Red Seal Label). Her 1907 recording of Czech composer Franz Drdla's Souvenir became a best selling recorded work.
Powell died of a heart attack on Jan. 8, 1920 in Uniontown, Penn. while on tour.
Despite her travels and honors, Powell always considered Aurora and the Fox Valley area to be special.
"All her life she called Aurora her hometown," Ormond said. "She came back innumerable times, she maintained her friendships here, she visited her girlfriends and she always made sure to wear a snake bracelet — the town's going away present to her — and every time she came back to play she wore that bracelet."
In 2002, Powell was among the charter inductees in the Fox Valley Arts Hall of Fame, which recently announced its 2014 class of honorees.
The Naxos label has released collections of Powell's original recordings from the original Victor Red Seal series: Maud Powell, The Complete Recordings 1904-17, Vols. 1-4.
Barton Pine, meanwhile, has recorded a collection of Powell's works—American Virtuosa: Tribute To Maud Powell.
"Maud Powell is the violinist I most admire," Barton Pine wrote. "Dedicated to her art, brave in her repertoire choices, nurturing of young artists, tireless in utilizing music to break down social barriers and elevate society, her example inspires me every day."
—Jack McCarthy