Chicago Auto Show reflects industry's REBOUND
February 12, 2014
Scion's bright and visually busy display space is quiet during a media day event at the Chicago Auto Show last week. But the pace picked up on Saturday as the public entered for a 10-day run.  News Bulletin photos by Brandon Bressner and Jack McCarthy.
For the American automotive industry these are good times indeed.
After domestic sales plunged in the wake of the financial crash and recession, the National Automobile Dealers Association said some 15.5 million cars and trucks were sold in 2013 and sales are projected to climb by nearly a million more this year.
It marks an impressive rebound from the low points in 2009 when just 10.6 million vehicles were sold domestically.
Improved fortunes and offerings are on display at the 106th annual Chicago Auto Show, now running through next Monday at McCormick Place.
"The Chicago Auto Show is uniformly regarded as the finest auto show in the country," said Kurt Schiele, 2014 Chicago Auto Show chairman. 
It's also North America's largest and is expected to draw up to 1 million visitors who will check out nearly 1,000 different vehicles, take test drives and visit other related exhibits.
"It gets crazy," said one product spokesperson during last Thursday's relatively quiet media day. "There's so many people that you kind of get moved along with them."
But McCormick Place is big enough to handle the throngs as crowds descended on the show starting last Saturday. The Auto Show takes up an estimated 1 million square feet covering two large exhibition halls.
The hardest workers will be the largely female spokespersons who traditionally pose with the vehicles but also offer encyclopedic knowledge of their product.
But it's all part of the job.
Molly Michelle, a self-taught Chicago-based model and actor, worked the luxury care area and explained the  features of a $320,000 Rolls Royce Wraith.
"I started off in Michigan and I 'Googled' how to be an actress and model," she said. "I started checking out a lot of library books and read a lot and I took a lot of notes. Then I started networking, got an agent and it all took off from there."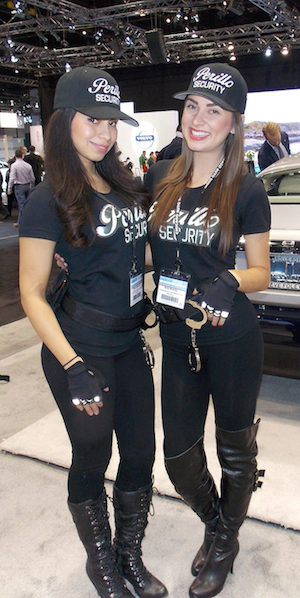 Spokesmodels like Molly Michelle (above, right) and partner keep a close watch on a luxury car area at the currently running Chicago Auto Show at McCormick Place.  News Bulletin photos by Brandon Bressner and Jack McCarthy.
The Chicago Auto Show debuted in 1901 in the Chicago Coliseum, a one-time Civil War prison camp converted into exhibition hall south of downtown Chicago, the show's home through 1935. 
It moved to larger quarters at the International Amphitheatre at 43rd and Halsted in 1936 and remained there until 1960. 
The Auto Show switched to the newly-built McCormick Place for a five-year run from 1961-66. When fire destroyed the exhibition hall in 1967 dealers moved back to the Amphitheatre until a rebuilt McCormick Place reopened in 1971. 
Here's a quick look at some show highlights:
Take a drive—Toyota carted in tons of dirt, rocks and wooden beams to create a trucks course with a see-saw, water crossing and a 15-foot hill climb to help promote its new off-road TRD Pro series.  Chrysler/Fiat's track showed off maneuverability and interior attractions along with a quick acceleration and braking to complete a short test run. All told, the show offers three indoor tracks and manufacturers also had up to six outdoor chances to test drive vehicles.
Technology—Consoles on most vehicles today offer touchscreens with access to GPS maps and directions, satellite and Internet radio, mobile phone connections and more. But there's no full-blown Internet and that's a good thing since checking web pages and email while driving can be a serious — if not fatal — distraction.
What's new  — Among product introductions included Subaru's updated and more fuel-efficient Legacy, Kia's 2015 Soul EV electric along with a tweaked 2014 Optima Hybrid. Volvo made a worldwide introduction of its Polestar performance sedans. Chevy debuted its City Express Van. And Ford showed off it's life-size Tonka Truck, a partnership with toy maker Hasboro to produce the Tonka F-150. No word if a toy Tonka truck is included.
Life of luxury — Fans of Rolls Royce, Bentley, Bugatti, Ferrari, Lamborghini and other ultra luxury car makers can check out some of those offerings. Many are priced well north of $200,000 and top out at $1.5 million. 
The 106th Chicago Auto Show, produced by the Chicago Automobile Trade Association, runs through Monday, Feb. 17 at McCormick Place, Lake Shore Drive at 23rd St.
Show hours:  10 a.m. -10 p.m. daily,  except Monday, Feb. 17, 10 a.m.-8 p.m.
Admission: General admission to the 2014 Chicago Auto Show is $12 for adults (ages 13 – 61), $6 for children (ages 7 – 12) and $6 for senior citizens (ages 62 and up). Any child 6 years or younger may enter the show free of charge when accompanied by a paying adult. Advanced ticket sales are available online at www.drivechicago.com. Weekday discount tickets, which are $6 off general adult admission tickets, are available at area new-car dealers, participating Fifth Third bank locations and Shell gas stations. Please contact Donna Young for group rates at dyoung@cata.info. 
Exhibits: In all, nearly 1,000 different vehicles will be on display plus hundreds of interactive, aftermarket, accessories and auto-related exhibits, competition vehicles, antique and collector cars. The Chicago Auto Show also features several indoor test tracks and outdoor ride-and-drive opportunities. Hundreds of different vehicles will be on display as well as dozens of interactive, aftermarket, accessories and auto-related exhibits, competition vehicles, antique and collector cars. The Chicago Auto Show also features three indoor test tracks and multiple outdoor ride-and-drive opportunities. Quick Reference Guide
More information — www.chicagoautoshow.com 
–Jack McCarthy