Cougars' 18-7 April record best in history
May 8, 2014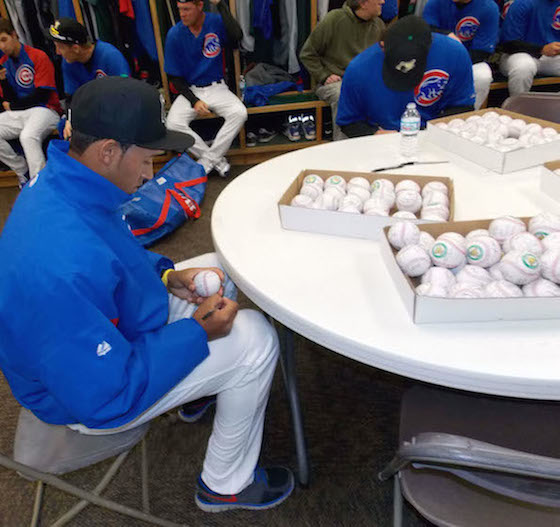 Cougar players sign baseballs in the clubhouse before heading outside for a recent workout. (News Bulletin photo)
The Kane County Cougars achieved a bit of history in April.
The Cougars, Class-A affiliate of the Chicago Cubs, compiled a record of 18-7 which is the best record for the month of April in the 24-year history of the franchise. 
The team's winning percentage of .720 puts them just ahead of the 2003 Cougars squad, which went 18-8 that season in the month of April and included familiar names such as Joe Blanton, Nelson Cruz and John Baker. 
Entering May, the Cougars' winning percentage was 3rd-best across all levels of Minor League Baseball, trailing only Class-A Dunedin and Hagerstown.
Showing consistency in numerous phases, the Cougars' .260 team batting average was 4th-best in the Midwest League while the team's ERA of 3.26 was also 4th-best. 
Offensively, outfielder Yasiel Balaguert was among the league's top 5 hitters in several offensive categories including RBI and hits. 
Four Cougars players had 10 or more RBI so far this season including Balaguert (19), Will Remillard (15), Jacob Rogers (13) and Jake Hannemann (11).
Top pitchers included starter Paul Blackburn, who was 2-1 with a 2.84 ERA in 5 starts. One of the top international signings by the Cubs last season, pitcher Jen-Ho Tseng, was 2-0 with a 2.66 ERA in 4 starts. Closer Zack Godley had 5 saves.
Elsewhere in the Cubs' system, pitcher Jeff Antigua ('13 Cougar) made his first appearance of the season at Triple-A Iowa this last week.
At Double-A Tennessee, pitcher Pierce Johnson ('13) has made two starts while reliever Armando Rivero ('13) has made eight appearances. At Class-A Advanced Daytona, infielder Gioskar Amaya ('13) is batting .435 in 14 games. Outfielder Bijan Rademacher ('13) is batting .365. Pitcher Felix Pena ('13) is 1-3 with a 1.55 ERA in 5 starts while Tayler Scott ('13) is 2-2 with a 3.46 ERA in 5 starts. 
Detroit Tigers infielder Miguel Cabrera ('01) is batting .270. Baltimore outfielder Nelson Cruz ('03) is batting .284 with 7 home runs and 25 RBI while teammate Jemile Weeks ('08) is batting .375 following a recent call-up from Triple-A Norfolk. Los Angeles Dodgers infielder Adrian Gonzalez ('01) has 8 home runs and 23 RBI. Los Angeles Dodgers pitcher Josh Beckett ('00) has a 2.45 ERA in 4 starts. Philadelphia pitcher AJ Burnett ('98) has a 2.15 ERA in 6 starts.  San Francisco pitcher Santiago Casilla ('03-'04) has a 1.17 ERA in 13 relief appearances. Texas pitcher Pedro Figueroa ('09) has made 10 relief appearances while Detroit pitcher Ian Krol ('10) has a 3.38 ERA. 
–News Bulletin news sources